Features
Sci Fi Fidelity Podcast: Game of Thrones Season 8
Our genre television podcast hosts tackle the highs and lows of Game of Thrones season 8 just before the series finale.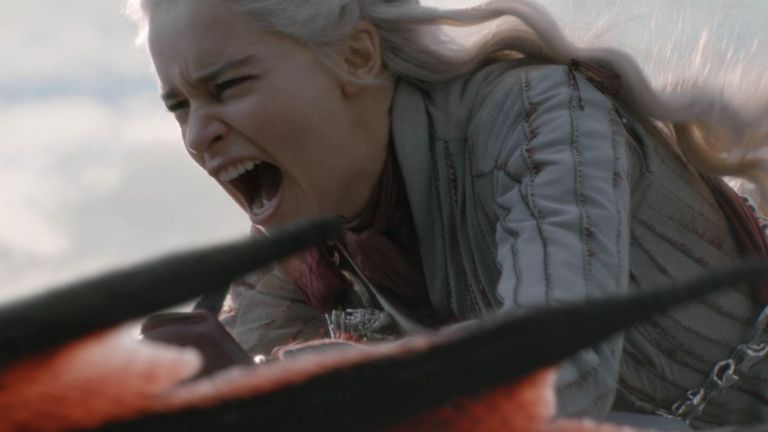 When we decided to talk about Game of Thrones for the first time ever in the four years Sci Fi Fidelity has been in existence, we though we'd be focusing on the shocking deaths and the epic scale of the final battles, and that certainly has been a part of our discussion. What we weren't anticipating was the controversy surrounding character motivations, battle tactics, and rushed conclusions. Our podcast focuses on the positives and argues against some of the pickier criticisms out there.
Yes, we agree that some of the battle strategy was inscrutable, but we talk about why Rhaegal needed to die, as an example. We also tackle questions such as why Daenerys did what she did in "The Bells," why Jaime did such an abrupt about face with Brienne, why Arya's actions have been so important in all of her appearances this season, what we loved about Cleganebowl, and where we think the finale might take us, although we're still not sure about that white horse.
Further Reading: Game of Thrones Season 8 Episode 6 Predictions for Finale
We're always in favor of highlighting a show's strengths in our podcast, whether it be with one season wonders like The Passage or with juggernauts like Game of Thrones. We particularly enjoy marveling at the massive scope of the battle scenes or the attention to detail with the special effects, such as when we spoke to visual effects supervisor for the show, Thomas Schelesny, about how they create Drogon, who is such an integral part of the show, especially in season 8.
See how many of our arguments you agree with by downloading the latest episode of Sci Fi Fidelity or subscribing in your podcast app of choice, or simply listen below! Each month we share analysis of shows currently airing, discussion of topics of interest, or interviews with people behind the scenes. Enjoy the Game of Thrones finale tonight!
Subscribe: Apple Podcasts | Spotify | Stitcher | Acast | RSS
Michael Ahr is a writer, reviewer, and podcaster here at Den of Geek; you can check out his work here or follow him on Twitter (@mikescifi). Dave Vitagliano has been writing and podcasting about science fiction television since 2012. You can read more of his work here.