Features
Sci Fi Fidelity Podcast: Daybreak Showrunner Deconstructs Opening Season
Daybreak showrunner Aron Eli Coleite comes on the Sci Fi Fidelity podcast to explain season 1 twists and make predictions about season 2.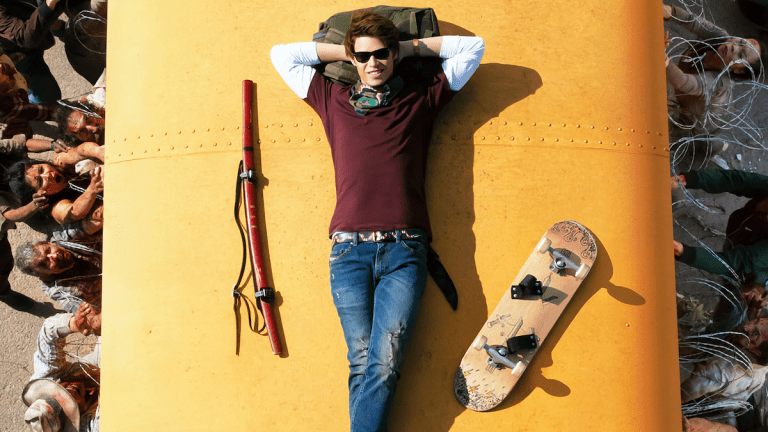 This article and podcast contain spoilers for Daybreak season 1.
Daybreak is one of those shows that makes everyone think that it falls into a specific genre (zombie apocalypse comedy) with a particular audience demographic (Gen-Z young adults), but it actually has much broader appeal and may not be about zombies at all. So says showrunner Aron Eli Coleite in our interview with him on the Sci Fi Fidelity podcast recently, in which he talked about how Matthew Broderick joined the cast, why Josh is not necessarily the central character, and why we should be worried about the change of leadership in the season finale.
Daybreak was always designed to showcase multiple perspectives, not just Josh's, as evidenced by the shifting narrative styles of each episode. "The thing that's great about Josh is he's a great Trojan horse for us to also introduce all these other characters who are also on their own hero's journeys," Coleite says on the podcast. "Josh is this cis white male, and he's a very typical lead. And then when we get to hand off to Angelica or Wesley, we start to realize everybody's the star of their own movie… but their movies look a lot different than Josh's."
more: Daybreak Comic Creator Brian Ralph on the Jump to Netflix    
Having seen so much of the story from Josh's perspective, viewers might not be worried enough about the takeover of Sam Dean at the end of Daybreak season 1. "It's not about vilifying Sam," says Coleite. "It's about getting into the humanity of what a breakup is… We're witnessing a traditional high school breakup happening in front of us; it just carries the stakes of the end of the world with it. When you break up in high school, it does feel like the world's ending, feels like you choose sides. Who keeps whose friends? How do you see each other in the hallways without wanting to try to bad mouth the other one? We're just going to do that on an apocalyptic level in season two."
Although we're still waiting on a renewal announcement from Netflix, a Daybreak season 2 seems likely, but in the meantime, fans can enjoy the audio drama follow-up, The Only Podcast Left, which began its 6-episode run on podcast apps on November 7, 2019. "Basically it was if we could take the A.V. Club who are experiencing the same show that we are, but basically the way that they were able to survive the apocalypse was by hacking into most all the cameras around Glendale, powering them up and using them to look at what's going on around Glendale so that they could survive," explains Coleite. "So it kind of served as a fan cast for what's happening in the apocalypse. And it was a way of us doing a recap type of podcast, but then the drama of these characters starts taking over the podcast itself."
While you're in your podcast app looking up The Only Podcast Left, listen to the full audio of this interview with Aron Eli Coleite on Sci Fi Fidelity, and be sure to subscribe so that you never miss an episode! Each week we review a currently airing show, discuss a topic of interest to genre television, or interview someone from behind the scenes of our favorite series. Find us in your podcast app of choice or simply listen below!
Subscribe: Apple Podcasts | Spotify | Stitcher | Acast | RSS
Michael Ahr is a writer, reviewer, and podcaster here at Den of Geek; you can check out his work here or follow him on Twitter (@mikescifi). Dave Vitagliano has been writing and podcasting about science fiction television since 2012. You can read more of his work here.