News
Schitt's Creek Season 6: Trailer, Release Date, News
Schitt's Creek Season 6 has been ordered by Pop. It will be the last go-around for the Rose family.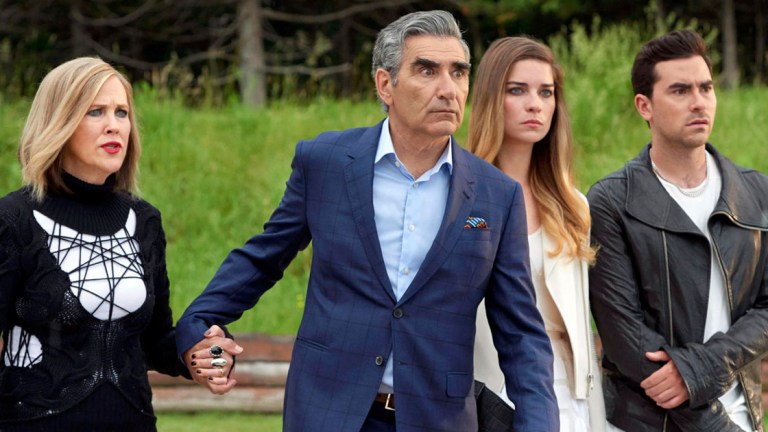 Get your goodbyes in to the Rose family while you can. Schitt's Creek Season 6 has been confirmed but sadly it will be the final season of the ascendant Canadian comedy. 
Father/son duo and Schitt's Creek creators Eugene and Dan Levy made the announcement via press release, which was styled as a letter to the show's many fans. It reads:
To Our Dear Fans, 

We are very excited to announce that Schitt's Creek is coming back for a sixth season on CBC and Pop in 2020! We also wanted to take this opportunity to let you know that we have decided season six will be our last. We are so grateful to have been given the time and creative freedom to tell this story in its totality, concluding with a final chapter that we had envisioned from the very beginning. It's not lost on us what a rare privilege it is in this industry to get to decide when your show should take its final bow. We could never have dreamed that our fans would grow to love and care about these characters in the ways that you have. 

We are all so excited to begin shooting these last fourteen episodes and can't thank you enough for the overwhelming love and generosity you've shown us. We hope you continue to enjoy the rest of our fifth season as we prepare to shoot our sixth! 

Best Wishes and Warmest Regards, 

Dan and Eugene Levy
But we don't have to say goodbye yet! We still have a full season ahead of us, set to premiere in January. Here's everything we know about Schitt's Creek Season 6…
Schitt's Creek Season 6 Trailer
It's here! It's here! The trailer for the final season of the beloved Schitt's Creek. Check it out…
Schitt's Creek is one of TV comedies nicest little success stories. Despite its bizarre name, or perhaps because of it, this story of a riches to rags family gained more and more fandom and acclaim each season. Eugene Levy stars as family patriarch and video store magnate Johnny Rose. Catherine O'Hara plays his wife and former soap opera actress Moira Rose. Their children are privileged weirdos David and Alexis (Dan Levy and Annie Murphy). 
further reading: The Best TV Shows You Didn't Know Were on Netflix
After their business manager defrauds the Roses out of all their money, they are forced to move to small town Schitt's Creek and begin anew. Like all great hangout TV comedies, the premise was designed just to get people in the door and then the strength of Schitt's Creek's characters kept them there. 
Schitt's Creek Season 6 Release Date
Schitt's Creek Season 6 is set to arrive on Tuesday, Jan. 7 at 9pm ET on Pop.
Alec Bojalad is TV Editor at Den of Geek and TCA member. Read more of his stuff here. Follow him at his creatively-named Twitter handle @alecbojalad