News
Saved By the Bell Reboot Release Date, Cast, and More News
The kids of Saved By the Bell are all grown up in NBCUniversal's revival of the 90s sitcom for its new Peacock streaming service.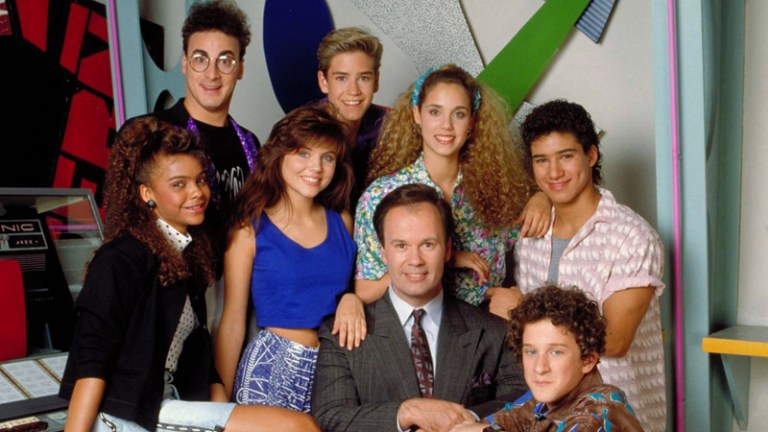 Let's hope that, in the Saved By the Bell reboot being developed for the new Peacock streaming service, Zack Morris is less of a manipulative troublemaker as governor of California than he was as a student at Bayside High. In a series of announcements about the slate of programming being proposed for NBCUniversal's entry into the subscription television model, Saved By the Bell joins fellow reboots Battlestar Galactica and Punky Brewster along with a host of other new shows and back catalogue from NBC's vault.
The new Saved By the Bell will feature the grown-up versions of Slater and Jessie as the network has announced that original cast members Mario Lopez and Elizabeth Berkley will reprise their roles, but although the announcement includes the aforementioned California governor Zack Snyder, there's no word on Mark Paul Gosselaar's involvement. The series will be executive produced by writer Tracey Wigfield along with Peter Engel and Franco Bario for Universal Television.
further reading: Peacock: NBC Streaming Service Release Date, Shows, Price, and News
The logline for the updated Saved By the Bell is as follows: "When California governor Zack Morris gets into hot water for closing too many low-income high schools, he proposes they send the affected students to the highest performing schools in the state – including Bayside High. The influx of new students gives the over privileged Bayside kids a much needed and hilarious dose of reality."
Saved by the Bell Reboot Cast
Deadline reports that Dexter Darden has been cast in the Saved by the Bell reboot in a starring role. Darden is best known for his work in The Maze Runner franchise. He joins the previously announced newbie Josie Totah, who will play Lexi.
Two former Saved by the Bell stars in Elizabeth Berkley and Mario Lopez will be involved in the reboot.
Saved by the Bell Reboot Release Date
Looks like the reimagined sitcom will be taking on a bit of social commentary for its new run! The Peacock streaming service will launch in April of 2020 with acquired content and second run content, and original series such as Saved By the Bell are slated to begin next fall.
Michael Ahr is a writer, reviewer, and podcaster here at Den of Geek; you can check out his work here or follow him on Twitter (@mikescifi). He co-hosts our Sci Fi Fidelity podcast and coordinates interviews for The Fourth Wall podcast.