News
Santa Clarita Diet Featurette Mirthfully Murders for Undead Drew Barrymore
Netflix horror comedy Santa Clarita Diet has released a featurette showing the show's killer comedic approach to zombie tropes.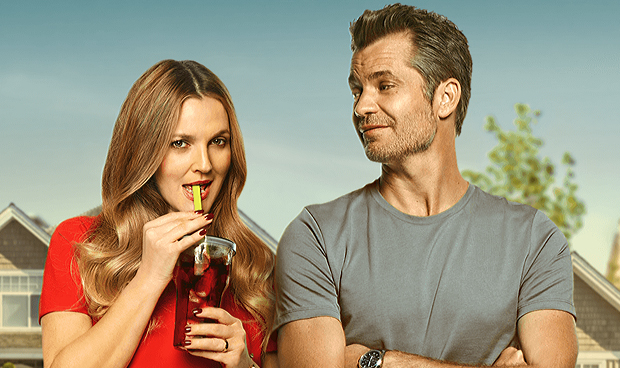 Netflix's upcoming comedy/horror Santa Clarita Diet rests on the foundation of a rather macabre premise, showing a suburban family's clandestine quest to keep a recently zombified wife and mother, played by Drew Barrymore, fed with the flesh of unsuspecting, though apparently deserving, victims. While its satirical-comedic aspects have always been on full display, a new featurette emphasizes that aspect with a look at the family's murderous methodology.
The latest Santa Clarita Diet featurette drives home the point effectively that the two primary players consisting of Sheila (Barrymore) and husband Joel (Timothy Olyphant) are essentially a typical upper-middle-class couple who, after decades together, are locked into the personal prison of routine, not only in marriage, but as parents to daughter Abby (Liv Hewson). Even in their job as real estate agents, we see ennui in their lives with our first glimpse of actor and Conan sidekick Andy Richter as the couple's hard-driving, "coffee is for closers" kind of boss.
However, with last week's official trailer (seen below in the previous article) setting Sheila's undead dilemma into context, it's easier to understand this clip's focus on the radical personality shift in Sheila and her impulsive, id-controlled actions as a human-flesh-craving undead-American. However, the featurette also gives us a glimpse of the disturbing, but funny ways in which Sheila and Joel lure purportedly appalling people into their home to kill them and make meat of them – even in the middle of the day, greeting them at the door guilelessly wearing ponchos for the crimson wetwork that murder, abduction and cannibalism entails… I assume.
The featurette also provides a few notable cameo glimpses. Besides the aforementioned Andy Richter, we see It's Always Sunny in Philadelphia actress Mary Elizabeth Ellis as a neighbor and A Night at the Museum and Reno 911! actor Thomas Lennon. Plus, fans of Syfy's own zombie platform Z Nation will probably be surprised to see Ramona Young out of her Eskimo parka and into a blue vest as a drug store employee.
Santa Clarita Diet gets ready to radically alter the definition of gluten-free feel-good regimens when it debuts on Netflix on February 3.
Our previous article below as it appeared on January 17, 2017:
Santa Clarita Diet Trailer Shows Netflix's Quirky Suburban Take on Zombies
The veil of quirky ambiguity covering Neftlix comedy/horror series Santa Clarita Diet has been lifted with the release of its proper debut trailer. As expected from the promo skits released last week, the trailer showcases a satirical torrent of tongue-in-cheek temerity. Manifesting as an insane amalgam, the show carries the bright affluent frenemy-filled setting of Desperate Housewives, the macabre mission of Dexter and the irreverent interplay of Weeds with a zombie Drew Barrymore, who maintains her charming demeanor, even as a ravenous undead creature. – The 1989 horror-comedy Parents also comes to mind here.
The Santa Clarita Diet trailer sets its tone immediately with a prime example of the logistical issues that face the average serial-killer-zombie when it comes to the disposal of leftovers and how not to act casual when discovered. Indeed, that seedy scene was the result of an incident that upended the lives of a successful So-Cal real estate agent couple and their sunny, affluent suburb lifestyle when Sheila (Drew Barrymore) suddenly discovers that she's dead and that she can't keep anything else down except raw meat, especially the human kind.
Thus, in a hilariously sanguine manner, the show seems to center on the quixotic quest of Sheila's family, notably husband Joel (Timothy Olyphant) and daughter Abby (Liv Hewson) to secretly satiate her cannibalistic cravings on the down-low by feeding her people who are purportedly terrible, turning them into crimson protein shakes. However, the family begin to find themselves becoming illicit enablers as Sheila spins further out of control with her indefatigable zombie state being dominated primarily by her id, incrementally escalating their clandestine operation and setting sparks next to a proverbial powder keg.   
Santa Clarita Diet shows a family with some seriously morbid issues who vow to "f**k everything up together" when the series premieres on Netflix on February 3.
Our original article below as it appeared on January 9, 2017:
Santa Clarita Diet: Promos for Netflix Horror Series Shows a Quirky Take on Zombies
As Netflix's already-enviable lineup of original programming continues to grow exponentially, a mysterious impending series residing in the comedic horror category has released its first set of promos, teasing an irreverent, satirical take on the often-used concept of zombies. While lacking show footage, the teaser has showbiz veteran Drew Barrymore and former Justified and Deadwood star Timothy Olyphant putting in cheeky performances that rib the kind of weight loss commercials that bombard the television airwaves.
While the debut teaser promos for Netflix's upcoming Santa Clarita Diet might give the impression that Drew Barrymore is playing a kooky cannibal pitchwoman, it was recently confirmed to USA Today (via Collider) that the series utilizes zombie tropes, albeit in a uniquely satirical way. The series centers on Barrymore's character Sheila, a suburban So-Cal real estate agent who dies and returns as an apparently photogenic zombie whose continued existence now hinges on satisfying a horrific hunger for raw human meat. Obviously, the lifestyle change will also seriously affect her husband in fellow real estate agent Joel (Timothy Olyphant) and daughter Abby (Liv Hewson). Yet, in a Dexter-type twist, Sheila embraces her new "free range" regimen, justifying it by only selecting terrible people who deserve to be the primary ingredient of her macabre protein shakes.
Relevantly, the Santa Clarita Diet teaser promos, while short on plot, do seem to convey an irreverent tone that's likely to manifest in the series. Indeed, with the driving force behind the series being creator Victor Fresco, a perennial comedy visionary from television shows such as My Name is Earl, Better Off Ted, Andy Richter Controls the Universe and Mad About You, it's clear that this comedic take on the ravenous undead will parallel the everyday situational struggles of a suburban housewife, only this one has an insatiable craving for dead people.
Santa Clarita Diet puts a bountifully bourgeois spin on the zombie genre when it debuts on Netflix on February 3. Check out the promos below!