News
San Diego Comic-Con 2018: News and Highlights
What are the must-know stories out of this year's SDCC? We've got the comic-con news and highlight round-up here!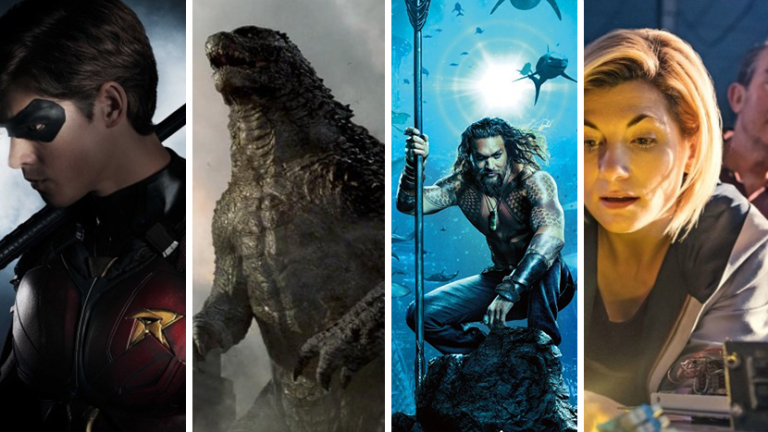 The biggest geeky event of the year, San Diego Comic-Con, is finally up and running! From amazing cosplays to to Team Coco's #ConanCon event to exclusive Comic-Con merch and more, SDCC 2018 is shaping up to be yet another great one. Likewise, the staff at Den of Geek is working no less than our hardest to bring you the most important news and best highlights coming out of this year's press rooms and panels.
Before you get started with the news…
Read the Den of Geek SDCC 2018 Special Edition Magazine Here!
San Diego Comic-Con 2018 News
We're rounding up San Diego Comic-Con's best cosplay this year.
Batman: The Animated Series is finally getting the Blu-ray collection it deserves!
Archie, Jughead, Betty, and Veronica will be back for Riverdale Season 3. 
Let's take a closer look at the massive new trailer for Godzilla's return.
What you need to know about The Orville season 2, including latest news, release date, trailers, cast, and much more!
With one magic word, we track down every DC Universe easter egg and reference in the Shazam movie trailer!
We break down and analyze the Aquaman SDCC trailer scene by scene, and here's everything we've learned!
Liu is the first woman to win Best Writer at the Eisner Awards, plus much more!
Deadly Class, an assassin high school show, is coming to Syfy courtesy of the Russo Bros.
The Purge TV series, which is set for USA Network and Syfy, has been greenlit for 10 episodes. 
Netflix fantasy animated series Disenchantment from The Simpsons and Futurama creator, Matt Groening, arrives this summer.
The Flash Season 5 will run another lap on the CW in the fall! 
Everything we know about Legends of Tomorrow season 4 is right here!
The wait for The Man in the High Castle season 3 continues; meanwhile, here's what we know about the show's return.
Judge Dredd: Mega-City One is in the pre-production pipeline.
The remake of the Carl Sagan education classic will be returning on National Geographic and Fox.
Manchester Black joins Supergirl season 4 as the main antagonist!
The CW's original DC TV Universe show is still on target. Arrow Season 7 is confirmed!
The Roswell reboot, titled Roswell, New Mexico, will add immigration as a main theme in the alien drama.
Supergirl Season 4 will fly for the 2018-2019 season on a new night.
Don't worry, Black Lightning Season 2 will be back on the CW before you know it. 
Nicole Maines is joining Supergirl season 4 and will play the first transgender superhero on television, Dreamer.
The Gifted Season 2 is on its way! Here's the first trailer.
The first trailer for Legacies, a Vampire Diaries spinoff series, is here!
Stan Against Evil is back for a third season!
These Star Wars books will follow the adventures of Padme, Obi-Wan, and Qui-Gon Jinn.
Cartoon Network announced at San Diego Comic-Con 2018 that Steven Universe will be getting his own movie.
The Shazam movie is on the way. Here's the first trailer.
Aquaman is getting his own movie and we have the first trailer!
Wonder Woman 1984 is coming and we've just seen the first bit of footage!
Fantastic Beasts: The Crimes of Grindelwald's SDCC 2018 trailer featured a Harry Potter character reveal (VERY) long in the making.
Godzilla: King of Monsters is headed straight for us in 2019.
IDW's Tales from Vader's Castle horror comic and a Marvel era-spanning Star Wars maxiseries coming soon!
Warner Bros. and DC surprised quite a few people by revealing the next animated Wonder Woman movie.
The new trailer for Fantastic Beasts: The Crimes of Grindelwald has arrived!
Deadpool 2 deleted scenes include more interactions at the X-Mansion and a final scene with… Baby Hitler.
Amazon has renewed its podcast-based horror anthology series, Lore, for a second season, with a new showrunner.
A terrifying clip of the new Halloween is only topped when Jamie Lee Curtis comforts a fan who credits her performance with saving his life.
Deadpool 2 stars Ryan Reynolds and Brianna Hildebrand talk LGBTQ superheroes in the series, and exploring Wade's pansexuality in the future.
If Bangor, Maine, is so scary, why does Stephen King still live there? The Search for Castle Rock skips that part.
The cast and crew of Archer confirmed that Archer Season 10 will head to the final frontier.
Here's everything you need to know about the Venom movie, starring Tom Hardy as Eddie Brock.
Here's what you can expect from the final two episodes of Cloak and Dagger's first season.
The cast of Cloak and Dagger confirmed at Comic-Con that we will get a second season of the Marvel Freeform drama!
Mega Man: Fully Charged features all new adventures starring Capcom's video game icon.
Acclaimed actor Don Cheadle finds his voice in this DuckTales clip.
Batman is getting a whole new look that is all-too-familiar. Yes, the black trunks are back!
Joss Whedon will be executive producing a reboot of his classic Buffy the Vampire Slayer series that will be a more diverse update.
CBS All Access will add a miniseries to its Star Trek offerings in the fall, creating four shorts that share backstories and more.
Glass brings together characters from Unbreakable and Split for a major showdown.
Glass' M. Night Shyamalan recalls when he was told not to say 'comic books' while promoting Unbreakable. That is for 'those people.'
The Flash is destined to die in Tom King's Heroes in Crisis.
The first substantial footage of the Invader Zim revival should spark plenty of childhood memories.
Tom Cruise will return in Top Gun: Maverick, which opens in July 2019. And he won't be alone. Jennifer Connelly is joining the cast!
Get your first look at Star Trek: Discovery season 2!
Spock will be in Star Trek: Discovery Season 2.
Batwoman is coming to the CW Arrowverse in a big way. Not only is she starring in the next crossover, but she's also getting her own series!
Horror fans at SDCC got their first glimpse of the Losers Club all grown-up in It: Chapter Two. So of course Richie runs his mouth.
The Walking Dead Season 9 has cast Samantha Morton as Alpha, meaning some recent comic villains will be joining the show.
What you need to know about The Walking Dead season 9, including latest news, release date, trailers, cast, and much more!
Take on the dumb forces of good in Lego DC Super-Villains.
Everything you need to know about the second half of Fear the Walking Dead season 4, including latest news, trailers, and more!
Voltron Season 7 is on the way! Here's the first trailer.
It's confirmed: Voltron's Shiro had a relationship with Adam.
Brooklyn Nine-Nine Season 6 is happening thanks to NBC. Here's everything we know from SDCC and more!
Joss Whedon's Dr. Horrible's Sing-Along Blog is returning as a comic book for Dark Horse.
Young Justice returns for more crime-fighting action! Here's your first look at the new season.
Van Helsing season 3 will be here before too long, and we've got the latest trailer from Comic-Con as well as other news about the show.
Donna Troy, Jason Todd, Lex Luthor, and Superboy are coming to Titans!
We've got an exclusive sneak peek at one of the BTS treasures Roddenberry Entertainment is releasing from its vault.
The first woman Doctor isn't the only history-making aspect of Doctor Who Season 11.
Gary Dauberman, writer of The Nun and Annabelle, is helming Annabelle 3, a 1970s-set horror where the doll comes for Judy Warren.
Based on what's emerged from the Doctor Who SDCC panel, we look ahead to series 11, the Thirteenth Doctor, and what's ahead.
Jaime King will star as a mother looking for her daughter in the zombie apocalypse in Z-Nation spinoff, Black Summer.
The legendary comic book periodical hasn't seen print since 2015.
In Iron Fist Season 2, Alice Eve will be portraying a character from Marvel history who has tangled with Daredevil, Deadpool, and more.
Geoff Johns is working on a new Shazam series for DC, with art from Dale Eaglesham.
Marvel's Iron Fist Season 2 is on the way and now we know exactly when it will arrive! Here's a new trailer, too…
The Three Jokers mystery will finally be solved in a new miniseries by Geoff Johns and Jason Fabok!
After releasing a full Better Call Saul Season 4 trailer earlier today, AMC has sweetened the pot by unveiling yet another trailer at San Diego Comic-Con. 
It's time to dissect that Titans SDCC trailer to figure out what secrets it might hold about the show!
YouTube Premium is bringing back Doug Liman's Impulse for another season and has offered up a brand new trailer.
Syfy is adapting George R.R. Martin's novella and 1987 movie, Nightflyers, as a TV series. Here's a new trailer from SDCC!
Everything we know about Rise of the Teenage Mutant Ninja Turtles, including latest news, release date, trailers, and much more!
DC's new streaming service, DC Universe, has announced Stargirl as its seventh original series.
It's confirmed: The Walking Dead season 9 will be the last time we see Rick Grimes on the small screen.
The brilliant Kelly Sue DeConnick is taking over the Aquaman solo book!
The Curse of La Llorona tells a more modern version of a Mexican folklore story.
Star Wars: The Clone Wars is returning to our television sets with 12 new episodes.
Batman is forced to team up with the Joker in order to save Jim Gordon in a new book by comic book legend Marc Silvestri!
The first Doctor Who season 11 trailer has arrived! Take your first look at the Thirteenth Doctor.
New young reader graphic novels are coming from DC.
Power Rangers and the heroes of Street Fighter will be teaming up in a new live action short. An official teaser was revealed.
Grant Morrison is taking over Green Lantern comics at DC, with art from the great Liam Sharp!
Nickelodeon is bringing Rugrats back to the big and small screens.
Greta Gerwig is writing and directing a new Little Women movie and it arrives next year!
The Teen Titans are getting their on TV series on the DC Universe streaming service!
More details have been revealed about DC Universe, the one-stop streaming and comic book service for DC superhero fans.
Robert Rodriguez introduces and discusses 18 minutes of footage from Alita: Battle Angel, reflects on the use of technology in storytelling.
Be sure to follow us on Facebook, Twitter, and Instagram for more news and SDCC 2018 highlights!