News
Sami Zayn Impresses in WWE Monday Night Raw Debut
Sami Zayn showed the heart of a champion in his Raw debut. We've got all the details right here...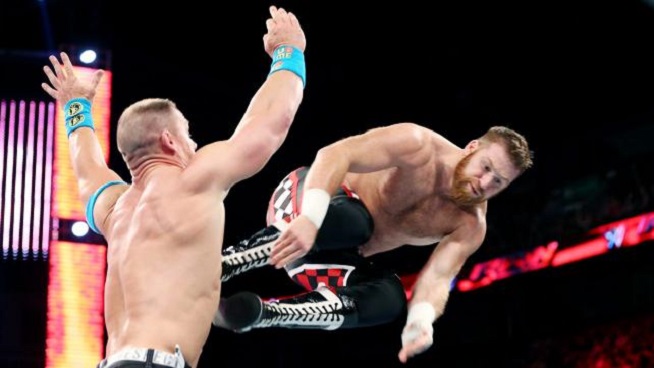 NXT wrestler Sami Zayn will undergo an MRI on his left shoulder according to WWE.com, presumably today, after making his WWE Raw debut on Monday night in his hometown of Montreal, losing to John Cena in a match for the United States Championship.
The emotion, the interplay between Cena and an obviously injured Zayn, made the match even more special than what WWE, Cena, and Zayn were likely hoping for.
First, WWE gave Zayn all the fanfare. It's clear that despite lacking ideal WWE size, he's someone the company things it can get behind. A lot of that probably has to do with Triple H, who is in charge of NXT and also has plenty of pull when it comes to WWE creative.
His debut was no doubt strategically placed. First, they booked it to happen in Montreal, Zayn's hometown. As if that wasn't going to be a big enough endorsement — the hometown crowd exploded when he was introduced — WWE rolled out Canadian hero and Hall of Famer, Bret Hart, to introduce him. It wasn't just an introduction by Bret, it was an endorsement.
Cena and Zayn proceeded to have an excellent match, despite Zayn injuring his shoulder sometime early in the bout, if not before. I'm only guessing, because it's hard to tell from the footage, but Zayn either injured his shoulder taking a suplex from Cena, or it also could have happened before he entered the ring, when he snapped his arms in the air in an effort to pump up the crowd.
After taking a suplex, Cena immediately told the official to check on Zayn, and a WWE trainer also came out to check on him. It was easily apparent that this was not part of the show. Still, Zayn toughed it out, going almost 11 minutes with Cena despite only being able to really utilize one arm. Cena pinned Zayn after a springboard stunner — which is both sloppy and kind of disrespectful to Steve Austin (see below) — and an Attitude Adjustment.
Your typical internet fan (no offense) probably groaned when Cena won, but WWE still did a great service to Zayn. Would it have been a great moment to watch Zayn beat Cena in his debut? Of course it would. But this probably signifies an immediate call-up to the main roster for Zayn after his NXT Title match with Kevin Owens on May 20 at NXT Takeover.
If Zayn is moving up to the main roster, Kevin Owens is winning that match. WWE can't have Owens beat the U.S. Champion, not win the title, not get called up to the roster, but have the loser move up the ranks. It doesn't make sense.
Also, think about the fanfare Zayn received. He debuted in his hometown. A Canadian hero endorsed him, and Cena, after winning the match, raised his arm and gave him the ring in a true display of class and respect. That Cena endorsement might not mean much to the average internet-fan/Cena-hater, but to the general WWE audience, that's a big dose of credibility fired in Zayn's direction.
WWE hasn't given a wrestler a debut like that in a long time. Here's to hoping it's the start of something big for Zayn, and not a footnote in Raw history.
Quick Strikes
1. It's been two weeks now that Cena has used a springboard stunner off the ropes, and I hate it. I'll never like it.
First, it's sloppy. The move on Zayn last night just looked horrible. Cena kind of missed Zayn's head and it just doesn't look good on TV.
Also, I see it as a pretty big sign of disrespect towards Steve Austin, who is arguably the biggest pro wrestler of all time. Austin used the stunner as a finisher. The stunner put down Undertaker, Triple H, Shawn Michaels, The Rock. Now it's used as a setup?
Slap. In. The. Face.
It's probably not intended that way, because Cena does seem genuine in his respect for the business, but this is an oversight that I can't believe WWE and Cena haven't corrected.
2. Dean Ambrose being added to the WWE Title match at Payback is an interesting choice. I'm never a fan of having champions pinned in non-title matches, though. If the product were to be based in reality, wouldn't Ambrose have a case for a one-on-one match against Rollins for the title? Not a multi-man match?
Ultimately, this gives a segment of the WWE audience — the general heel cheerers — someone to root for that isn't Rollins.
Match Results
1. Handicap Match: The New Day def. Roman Reigns & Randy Orton via pin
2. Tyson Kidd & Cesaro def. The Ascension via pin
3. Dean Ambrose def. Seth Rollins via pin
4. Rusev def. Fandango via submission
5. Stardust def. R-Truth via pin
6. U.S. Title: John Cena [c] def. Sami Zayn via pin
7. King Barrett & Sheamus def. Dolph Ziggler & Neville via pin
8. Randy Orton & Roman Reigns ended in a no contest
The Finish
It may have been the great Montreal crowd, but this show was hot. The energy was good all the way through and WWE moved away from some storylines that seemed to be dragging the product down, muddying up storylines and making the show move at a slower pace.
Adding Ambrose to the WWE Title match might mean that WWE has some indicators that Reigns and Orton aren't pulling the weight there alone. Ambrose is an internet darling, and gives that segment of the audience someone to invest in that isn't Rollins, the supposed heel.
Mike covers pro wrestling for DenOfGeek.us. You can read his wrestling thoughts all week on Twitter @MikeMcMahonDOG