News
Samantha Bee's New Mobile Game Is Gamifying The Midterm Elections
Can Samantha Bee save America with a new midterm election mobile game?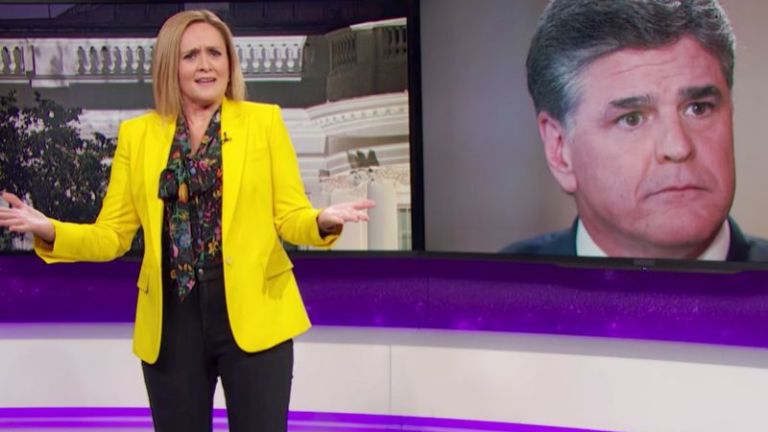 Samantha Bee wants you… to vote already! Full Frontal with Samantha Bee just announced the release of a new mobile game that will fix all the issues facing America by mobile-izing you all to vote in the midterm elections. Bee, with the help of a Silicon Valley entourage, are developing a non-partisan game called The is Not a Game: The Game.
The game description reads: "TINAG:TG is a heart-pounding, prize-stuffed turducken of a trivia game in which average citizens play to the death OR win kick-ass prizes, not sure which." So you play through a menagerie of trivia games and by the end of it you'll go vote, I think that's how it works? Leave it to Bee to rock your world so hard with a mobile game that it leaves you hypnotize to get your ass to the midterm elections.
Hey, America, you have been seriously slacking. Turnout for the midterm elections in 2014 was less than 40 percent of all eligible voters. But don't worry, This is Not a Game: The Game is ready to fix that abysmal turnout. If there was ever a time for everyone to get their act together it's now, for obvious reasons.
I know you all ready to serve your country, but This is Not a Game: The Game won't be available until later this summer for free on Apple and Android phones. So mark your calendars for that general time, because every solid American should neglect their day-to-day responsibilities and submerge themselves in the gaming universe of the Queen Bee. And while you're playing, Bee and the Full Frontal team will be travelling to college campuses around the country making sure that each and every voter-aged person is registered. Word in the press release is that there might also be burritos involved, "If the idea of a functioning democracy is not enough of an incentive to vote, the chance to win a free burrito certainly is, so we're just going to go with it."
If you want to be kept up-to-date with DL information about This is Not a Game: The Game, you can also join the top secret email club. I hear it's super secret.
Bee's mission to "gamify" the elections will come to a head with a special midterm episode of Full Frontal.
Remember folks, only you can save this country from itself, and from that tweeting toddler in the White House. So, download the game, soak it up and make sure you go vote when it comes time for the midterm elections. But in the meantime.