News
Rosemary Wins TNA Knockouts Title on Eventful Impact Wrestling
There were two title changes and a title defense on this week's edition of Impact ...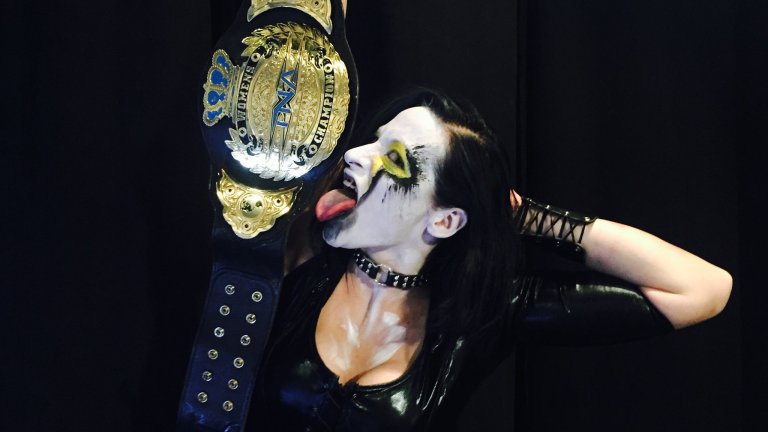 Moose is your new Grand Champion and Rosemary beat Jade in a six sides of steel match to win the TNA Knockouts Title on this week's edition of Impact Wrestling, as TNA also builds towards next week's TNA World Hvt. title match between the champion, Eddie Edwards, and ECIII.
There weren't a lot of shenanigans on this show, just good wrestling with clean finishes and two title changes. 
The Grand Championship change to Moose was so early in the show, it was almost forgettable by the time the night ended, but a lot happened in this episode.
Ultimately, this episode will be remembered for the main event.
The match was really slow at the start and honestly I had trouble keeping attention, but it picked up at the end and the finish was good. The crossbody that Jade hit off the top was impressive and scary at the same time. Comparatively speaking, I felt that this match was better than the Hell in a Cell match between Charlotte and Sasha Banks, but not as good as their rematch on Raw this past Monday.
The crossbody off the top was such a big spot, I almost felt like that needed to be the finish of the match. It was a little weird in that regard, with the crossbody resulting in a kickout but some spit in Jade's face leads to a pin. That has been Rosemary's gimmick though, so it's not horrible. Jade also teased a 450 splash on Rosemary and was cut off with the mist, so it's unlikely that this feud is over with.
It was also interesting to me that Rosemary and Gail Kim exchanged words through the cage after the match. They're teasing that Gail Kim might have to retire, but there's no indication how legitimate that is. They've already used a fake retirement speech in an angle, so this all could be an angle to set up an eventual Rosemary-Gail Kim match for the Knockouts Title.
Keeping the focus on this match, though, it was really good. Jade looked great and really strong as they put over her kicking and striking. Rosemary looked like a monster, taking the kicks and standing right up. 
Elsewhere on this show, Allie finally slapped Maria. Finally! Allie finally got a shot on Maria. The crowd ate it up, starting a "Yes!" chant after the slap. TNA has been very patient building to Allie finally having the confidence to fight back, and the crowd was ready for it here. Good segment.
Eddie Edwards also cut a really good promo with ECIII. After he first won the title, I thought that Edwards' promos were a little clunky. He seemed nervous and not really genuine — similar to Lashley earlier in his career — but he has come a considerable distance even in only a few weeks. He seemed a lot more natural here and a lot more comfortable with the dialogue. ECIII and Edwards both kept the focus on the title, which is where it should be.
1. Moose beat Aron Rex (c) to become the TNA Grand Champion
For such an impactful finish, it sort of felt anti-climactic. Even the crowd seemed to be caught off guard by it. The Grand Championship concept had potential, and I was interested to see how it would play out, but it's just not catching on. In an attempt to mimic MMA, TNA has taken what most people hate about MMA the most — the judges — and implemented that into its presentation.
2. D.J. Z (c) beat Braxton Sutter and Mandrews in a three-way dance to retain the TNA X Division Champion
After the match, Mandrews turned on D.J. Z, kicking out his injured knee.
Great, so they're breaking up the six-man team that no one really cared about anyway. The whole Team X Gold thing was never really explained outside of "it was D.J. Z's idea." It really didn't serve much of a purpose. That aside, the turn with Mandrews was well done. It's a really simple story of a guy getting jealous that his friend is better. The only thing that fell short was that this was the first time Mandrews challenged D.J. Z since they have been teaming. It would have made a little more sense if this was at least his second crack at the title, if not the third. I could believe more then that the frustration built with Mandrews and he finally just snapped on his friend. But this played out well.
3. Matt & Jeff Hardy beat The DCC to retain the TNA Tag Titles
Good match, though it was a little surprising to see the clean win for the Hardys rather than some sort of angle to setup a return match, especially after the build the DCC had coming in with the vignettes leading up to their debut.
4. Rosemary beat Jade to win the Knockouts Title in six sides of steel