News
Roseanne Spinoff The Conners Release Date Confirmed
ABC sets premiere date for The Conners, a Roseanne spinoff without Roseanne Barr.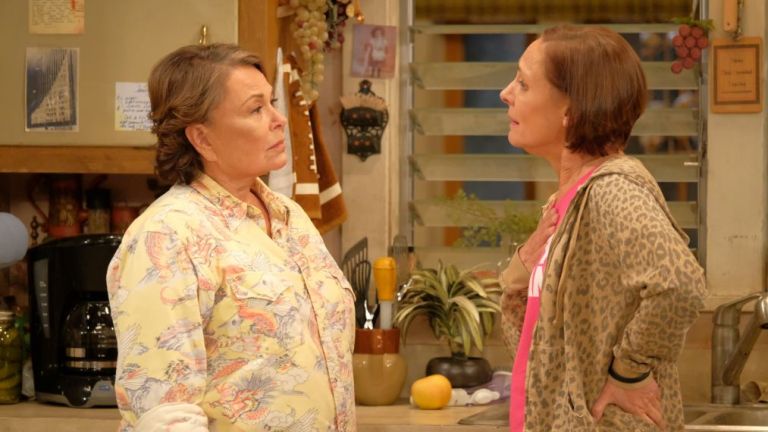 Life goes on at 714 Delaware Street. ABC announced its fall premiere dates for the 2018-19 season, including an October launch for The Conners, the Roseanne spinoff that will not include series creator Roseanne Barr in the cast, according to CBR.
The Conners will lead off ABC's Tuesday schedule starting on Oct. 16. That evening will also see the debut of three new shows, Nathan Fillion's cop drama The Rookie, and the 1970s-set The Kids Are Alright. The Conners will follow the Conner family, sans matriarch Roseanne, who "after a sudden turn of events" are forced to deal with new daily struggles, per The Hollywood Reporter. There is no word on how the spinoff will deal with Roseanne Conner's absence though it's fair to assume it will have something to do with the "sudden turn of events." 
ABC reached an agreement with Barr to forego any creative participation. The network insisted in its announcement that Barr will have no creative or financial stake in the series. She will retain the rights to the character of Roseanne Conner and any future spinoffs involving the character.
ABC had previously swiftly and thoroughly canceled Roseanne in May following the titular stars issuing a series of racially charged and racist tweets. At the time there was some concern for the cast and crew caught in the crossfire who would suddenly be out of jobs through no fault of their own. 
"I regret the circumstances that have caused me to be removed from Roseanne," Barr said in a statement at the time. "I agreed to the settlement in order that 200 jobs of beloved cast and crew could be saved, and I wish the best for everyone involved."
There is no shortage of tertiary characters from Roseanne to take over as lead. Dan Connor (John Goodman), Jackie Harris (Laurie Metcalf), and Darlene Connor (Sara Gilbert) are prime candidates. Reportedly Darlene was the favorite to be the new focus with Gilbert and fellow executive producer Tom Werner being the driving forces behind the reboot. Now it seems clear that the show is going for a more ensemble version of the show 
"We are grateful to have reached this agreement to keep our team working as we continue to explore stories of the Conner family," Werner said in a statement.
Roseanne was television's highest rated show at the time of its cancellation. ABC plans to announce additional cast members and a premiere at a future date.
"The Conners' stories demonstrate that families can always find common ground through conversation, laughter and love. The spinoff will continue to portray contemporary issues that are as relevant today as they were 30 years ago," ABC said in a statement.