News
Rosario Dawson Considers Marvel Exit
Luke Cage Season 2 might end up being the end of the line for Rosario Dawson's Marvel TV run as Claire Temple, says the actress.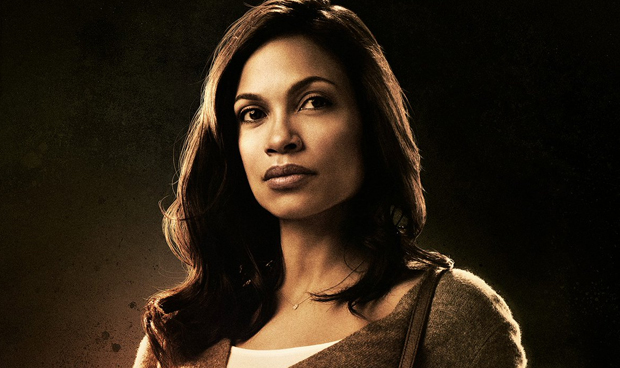 Rosario Dawson's Marvel television character, Claire Temple, has served as the ever-inconvenienced every-person and embattled heart of the Netflix continuity-connected "street level" shows since their inception back in 2015 on Daredevil Season 1. However, all good things come to an end, and for Dawson, the light at end of the Marvel TV tunnel might be getting closer.
Appearing this past weekend at the MCM Comic-Con in London, Dawson provided a rather candid answer during a Q&A regarding her status with Marvel TV. While Dawson's latest run as the nurse-turned healer of heroes, Claire Temple, is set to arrive when Luke Cage Season 2 premieres in late June, it might just be her last. Dawson has commented in the past about her hectic, often-erratic, schedule for the Netflix shows and it all appears to be coming to a head. As she explains (via ScreenGeek):
"Yeah, it's pretty wild actually. I don't know if I'll be back after this, to be honest, but it's been an amazing few years. I've been on a lot of different shows. I mean, I don't know if maybe they do a third season of Luke Cage potentially, or maybe if they figure out some kind of way for me to be on The Punisher – just so I can feel like I've done every show. But it's been like, my daughter is high school, so I kinda wanna' not be 3000 miles away for work."
Indeed, Dawson is a busy actress and is the mother to adopted teenage daughter Isabel (who's already fielded a few uncredited film roles). It's a situation that can't be compatible for the Los Angeles-based actress with the Marvel shows' scattered New York shooting schedule which often requires having to make herself available on the fly to perform scenes without even being told which show is being shot. Yet, the role of Claire is clearly a labor of love for Dawson, who, save for last fall's The Punisher, has appeared on all the solo shows, Daredevil, Jessica Jones and, most notably, Luke Cage, in which Claire struck a romance with the titular character. She also played a major role in last year's crossover series, The Defenders.
Dawson's comments don't seem to be indicative of a desire to immediately walk away from the Claire Temple role unless, of course, the events of Luke Cage Season 2 dictate otherwise. Yet, it could also be the case that the character – who has become somewhat relegated to being Luke Cage's love interest – may have ran the course of her arc. Yet, while Dawson provides a realistic assessment of the role's impermanence from a practical standpoint, The Punisher seems to have become her white whale. Indeed, she still seems to want to check that show off her Marvel TV list. The actress didn't exactly hide her disappointment over missing out on a Punisher appearance when she told Collider last year, "I really wanted to do a cameo on The Punisher, but it doesn't always work that way."
In the meantime, Dawson's Claire Temple will return for Luke Cage Season 2, which arrives on June 22 on Netflix. While she isn't booked for any future Marvel TV roles after that, she will co-star in the 2019-scheduled rom-com, Someone Great, and has lent her voice to the July 24-scheduled animated feature adaptation of the iconic comic book storyline, The Death of Superman (for DC!), playing Wonder Woman.