News
Room 104: Trailer, Cast, and Release Date for New HBO Series
HBO's Room 104 trailer shows a wacky array of guests who come and go in a single seedy motel room. Watch the trailer here!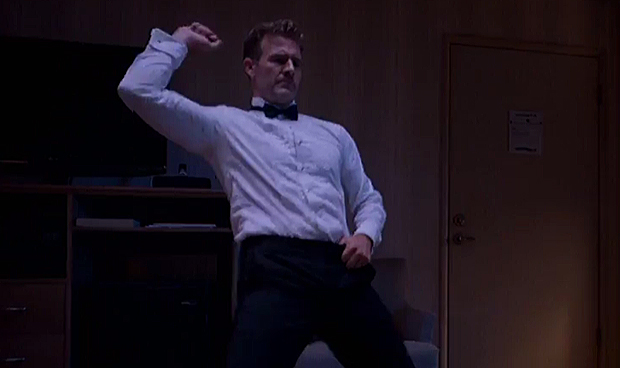 The Duplass Brothers still haven't checked out of HBO. If the trailer for Room 104 is any indication, they won't be doing so anytime soon, either.
If the idea of staying in motel rooms already evokes black-light-clutching reverberations in your very soul, then the Duplass Brothers' new HBO series Room 104 might just send you down a Howard Hughes-like path to sterilizing madness.
Room 104 Latest News
Room 104 is being referred to by its creators Mark and Jay Duplass as "the Tinder of television." This provocative analogy – stated by Jay – supplements an explanation by the visionary siblings on the innately accessible framework of their anthology series, which is a stark contrast to the serious commitment required by today's overwhelming array of quality television content. Moreover, it compelled HBO to allot the Duplass's free reign on casting. As Mark tells THR:
"In the era of peak TV where you guys have so much shit to watch, … we want Room 104 to be your casual dating experience. You pop in, you watch one episode, have some sex with that episode, and you don't even have to come back."
Indeed, the series stands as one of the more unique offerings on the already-diverse original content lineup of HBO. Of course, the anthology series genre is hardly new to HBO, or, for that matter, to the Duplass Brothers, whose celebrity-stocked animated anthology offering Animals was recently renewed for Season 3. Even longtime HBO viewers with rose-colored memories of the episodic, reap-what-you-sow, horrors of 1989-1996's Tales from the Crypt, 1993's David Lynch's Hotel Room or, even further back with the 1983-1991 dark mysteries of The Hitchhiker, will attest to the premium cable outlet's genre cred. However, it seems that, with Room 104, the Duplass's will attempt to distinguish their series through accessibility and an amusing amorphousness.    
Room 104 Release Date
Room 104 checks in to the HBO lineup when it debuts on Friday, July 28 at 11:30 p.m. ET.
Read and download the full Den of Geek SDCC Special Edition magazine here!
Room 104 Trailer
Indeed, the trailer has arrived, showcasing the eclectic lunacy that occurs within the confines of a single motel room.
The Room 104 trailer manages to pack a substantial amount of content in a short amount of time. The series, the brainchild of brothers Mark and Jay Duplass, shows the internal occurrences of an ambiguously-located "average American" motel room, the titular Room 104, through an anthology format with a rotating lineup of guests of diverse ages and ethnicities played by notable actors. While the city of Las Vegas generally touts that "what happens in Vegas stays in Vegas," Room 104 (wherever it takes place,) proves that the seemingly hedonistic aphorism accurately applies to just about any place by the road – especially the ones that charge by the hour. Indeed, the Room 104 trailer, showcasing its "if these walls could talk" premise, depicts events that range from bleak to Bedlam.
Room 104 Cast
Room 104's inaugural season will feature hotel guests consisting of, Hugo Armstrong, Davie-Blue, Melonie Diaz, Jay Duplass, Veronica Falcon, Adam Foster, Ellen Geer, Keir Gilchrist, Philip Baker Hall, Sarah Hay, Poorna Jagannathan, Orlando Jones, Ethan & Gavin Kent, Amy Landecker, Konstantin Lavysh, Sameerah Luqmaan-Harris, Keta Meggett, Natalie Morgan, Ross Partridge, Karan Soni, Dendrie Taylor, Tony Todd, Will Tranfo, James Van Der Beek (pictured above), Mae Whitman and Nat Wolff.
With Room 104, actors and television visionaries Mark Duplass and Jay Duplass continue their working relationship with HBO, serving as executive producers on the series, joined by Xan Aranda and Ross Partridge in that capacity, along with producer Sydney Fleishmann. The series sees the Duplass's utilizing a similar anthology format as their (recently renewed) animated series Animals. The sibling duo have tackled a wide array of projects such as the 2015-2016 HBO dramedy series Togetherness and the 2014 NBC Seeso streaming series Wedlock.