News
Roman Reigns Suspended by WWE
You won't have Roman Reigns to boo for a little while, because he has been suspended by the WWE.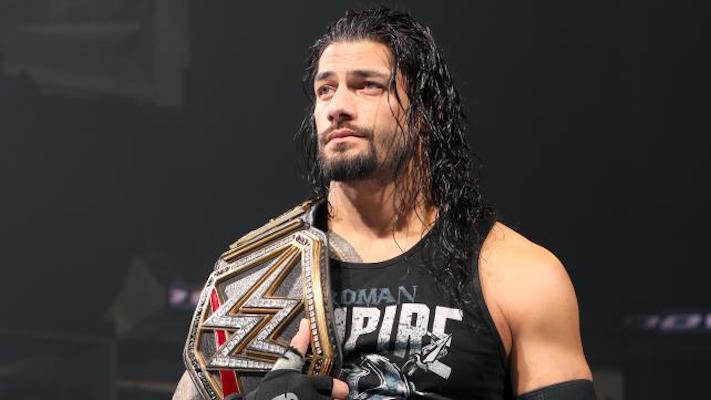 WWE announced on Tuesday that it has suspended Roman Reigns 30 days for his first violation of the company's Wellness Policy. Reigns, who was the WWE World Heavyweight Champion up until Sunday night, when he lost the belt to Seth Rollins at Money in the Bank, will be eligible to return to the company on July 21. That's an important date. Battleground, WWE's next special on the WWE Network, is scheduled for July 24 and Reigns was just added to the main event of that show on last night's Raw, though it's not known if he will remain in the match, which is scheduled to see Dean Ambrose defend the WWE Title against Reigns and Seth Rollins in a triple threat match.
There are a few interesting parts to this story. First, when did WWE realize Reigns failed a test? It's possible that this test was failed sometime last week, and the result was Reigns dropping the championship at Money in the Bank this past Sunday, therefore the champion isn't on the sidelines missing house shows for a month. 
There has also been speculation that the belt was taken off of Reigns, ironically, because of poor house show attendance and poor ratings.
If WWE knew of Reigns' failed test prior to Money in the Bank, or even just prior to last night's Raw, it's more than likely that they intend to keep him in the Battleground main event. However, if this failed test wasn't revealed until talent showed up for Tuesday's SmackDown taping, then Reigns' spot on the card could be in jeopardy. 
It also remains to be seen where Reigns goes from here. He tweeted that he "owned" the suspension, and took full responsibility. That's a good start. But this news isn't going to help him in the eyes of his detractors at all.
In the eyes of WWE management, is he less reliable now than he was before? Once WWE loses trust in a talent, it's hard to earn it back. Between low ratings and low ticket sales, now combined with a failed drug test, climbing the mountain a second time seems as though it could be very tough for Reigns.
The other interesting dynamic is how WWE will handle Reigns at the upcoming draft, which was revealed yesterday to be taking place on July 19, during the first live SmackDown on USA Network.
Reigns has to be drafted by someone, right?
Also, how does WWE handle this suspension on its television? WWE has (smartly) kept its wellness policy and suspensions out of storylines, but this one might be hard to avoid.