News
Roman Reigns is the WWE's Biggest Heel
In the "reality era," as WWE calls it, they're ignoring a very real situation with Roman Reigns …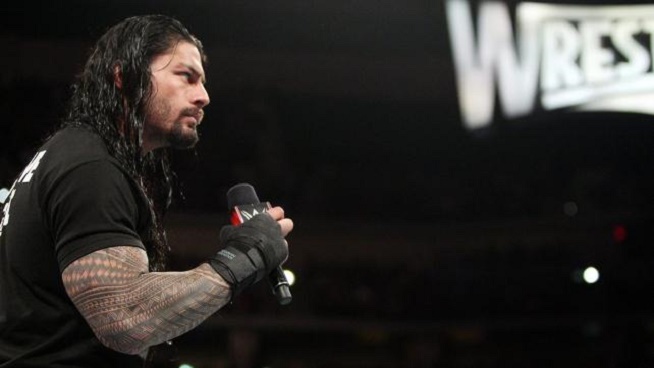 Roman Reigns doesn't know it. In fact, WWE doesn't even know it. The only ones that seem to recognize it are the WWE fans …
Roman Reigns might be the biggest heel in WWE right now.
On Monday Night Raw, Reigns continued his lackluster build towards his eventual, and lackluster title win in two weeks at WrestleMania XXXI. He interrupted a Paul Heyman promo and addressed "these people" behind him. You know, the ones booing his every syllable. He told the hard camera that he would beat Lesnar at WrestleMania, even if "these people behind him" didn't think he could.
That's a great way to talk to the fan base.
But it goes beyond that with Reigns. I just don't think he knows how to be a babyface.
This past weekend, a friend sent me a link to The Josh Podcast, which I had never listened to before. He sent it to me because Reigns was a guest, promoting WrestleMania. This friend is a wrestling fan, and along with the link wrote, "you have to hear this."
So I did.
"I'm not head-butting the fans, I feel like they are head-butting me," Reigns said.
Wait. What?
"I don't do anything but go out there and bust my ass every week. Even when I was with The Shield, I always had the critics. I think a lot of it goes with the background of me not having that independant experience. Especially being paired up with guys like Seth [Rollins] and Dean [Ambrose], because those guys are journeymen."
He then added, as a backhanded compliment, "The things they had to do are second to none."
So, let's break this down for a minute:
– On Raw, he vowed to prove the fans wrong. That's something a heel would say.
– In an interview he basically blamed the fans for booing him. Oh, and he also blamed Ambrose and Rollins. It's their fault too. Because they're "journeymen." That's also something a heel would say.
WWE likes to call this the "reality era," and they have something very real in front of them, yet they refuse to use it. The reality is, Roman Reigns is a heel!
He went on, in this interview, to talk about why the WWE Title match at WrestleMania deserves to go on last.
"If you have the WWE Championship, you are the man. You are on top of the mountain. You're receiving the biggest paychecks. You're going to have the best life."
In other words … I want to be WWE Champion because I want to be rich. Nice stuff coming from a babyface.
And Reigns didn't stop there!
The host asked him about keeping The Shield entrance, coming down to the ring through the people.
"People want those seats now," Reigns said. "It's upped the value of that seating almost to where it's like a front row situation. Those fans that are on that stairwell I'm coming down are right on top of me. You get to see me. You get to smell me. The people are touching me."
Oh, how lucky we peasants are to get to smell the sweaty Roman Reigns.
Give me a break.
Not only that, but what he's saying doesn't make any sense. It hasn't "upped the value" of any seat. It's not like WWE advertises which stairway he's going to come down at your local show, and is charging more for those seats. It's completely ridiculous to say that.
Completely ridiculous, unless you're a self-centered, self-important, egomaniac heel.
Quick Strikes
1. Bray Wyatt's response promo on the Undertaker was awesome. He's firing on all cylinders right now. He's probably going to lose at WrestleMania, and that's fine. Just being in the ring with Undertaker, and cutting these promos week after week, is going to elevate Bray to new heights.
2. Sting spoke. He didn't say much, and it was on WWE Network and not Raw, but it was still pretty cool to see Sting cutting a promo in a WWE ring. He basically said he was going to stop Triple H's tyranny, because he's watched long enough. They never really explained why he cares to begin with, but that's WWE for you. And just to get to see all this history take place, I'm willing to forgive it just this once.
3. John Cena wrestling for the U.S. Title at WrestleMania might do something to elevate that belt. It could. But it can't be a one-time thing. WWE will need to follow-up on this in the weeks after the show. If Cena wins, a promo explaining why the U.S. Title is so important to him could mean something. Cena cut his teeth as U.S. Champion before becoming the face of the company. A storyline where he's vowing to restore the integrity of that belt, in order to make it a true stepping stone to the top again, could mean something. Especially if Cena wins it. The story could be Cena saying, "if you beat me for the U.S. Title, you deserve to be wrestling for the World Title."
Match Results
1. Nikki Bella def. A.J. Lee
2. Ryback def. The Miz
3. Cesaro & Tyson Kidd def. New Day
4. Big Show vs. Erick Rowan ended in a no-contest
5. Dolph Ziggler, Dean Ambrose & Daniel Bryan def. Bad News Barrett, Stardust & Luke Harper
6. Seth Rollins and Randy Orton ended in a no-contest
The Finish
This show felt like a good build-up show to a mid-summer pay-per-view. It just doesn't feel like WrestleMania season. Not whatsoever. Everyone knows the outcome of the main event, and no one is invested in it. Look at the crowd response. I'm sure there will be several thousand Reigns fans in San Fran, at least mathematically that's the case, but will they be heard over 65,000 other people?
There have been a lot of matches throughout history where fans knew the outcome ahead of time. Steve Austin beating Shawn Michaels at WrestleMania 14. Hogan beating Andre at WrestleMania 3. Undertaker every year … except last year.
People were still invested. It's not happening with this show, and it starts with the dud main event.