News
Rockstar Spud Turns Heel, Costs ECIII TNA Title
In a role-reversal from 2015, Spud slams the cage door on ECIII ...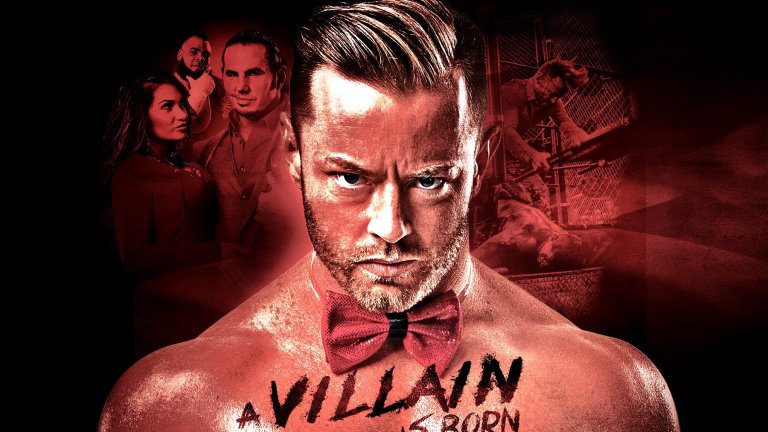 The main event of last night's Lockdownepisode of Impact Wrestlingfeatured what was, by far, the best match in the series between ECIII and Matt Hardy. Hardy and ECIII utilized the cage well and this match actually had a purpose for being inside a cage, with Tyrus interfering in previous matches.
The big finish came when Rockstar Spud emerged, appearing to help ECIII. He would get to the cage door as ECIII was crawling out, and then promptly slammed it on his face, allowing Hardy to escape the cage and retain the TNA World Title. After the match, Spud grabbed a chair from ringside and smashed on ECIII's skull, as he was laying on the ring steps.
Spud turning heel and costing ECIII the match is a nice way to pull ECIII out of the title picture for the time being. TNA can always go back to Hardy vs. ECIII later, but for now it would appear that ECIII is going to turn his attention to Spud while Hardy is likely challenged by Drew Galloway or even a soon-to-be-returning Jeff Hardy.
Also, it was a good connecting of stories. Last year at Lockdown, ECIII cost Spud a match in the exact same manner.
On the whole, this was another solid episode of Impact despite the limitations of every match being a cage match, even if the feuds didn't really call for it. There is now a pattern developing for TNA, with the company delivering quality Impact episodes since debuting on Pop TV last month. There are still some creative missteps here and there, but the pace of the program, and its storylines has been excellent, including the feuds building to a very good crescendo for this special edition of the show.
TNA has, for the most part, kept the old acts of authority off the program. We'll get glimpses of Billy Corgan or Dixie Carter, but they aren't central characters on the show. TNA has been focusing on three or four primary storylines within each show, and then complimenting those stories with auxiliary characters. Jeff Hardy was utilized to boost the Hardy-ECIII feud, and then began a program with Eric Young before being written off TV with an injury.
The pace of TNA has been terrific. Much better than WWE. It's made the show an enjoyable product for the past few months.
Quick Strikes
1. Fun opening match in the tag division between Beer Money and E.Y. and Bram, which set the stage for what this show is all about. Both teams did a nice job keeping the action up, but also not running through every cage spot in the first match. There are certain things that need to be saved for later in the show, such as a big bump near the top of the cage. Beer Money gets a big win and at least appears to be well on their way to a TNA Tag Title shot. The question is when that match happens, because a babyface program between Beer Money and The Wolves should be excellent.
2. TNA did a good job toeing the line well in the Knockouts Lethal Lockdown match. Too much violence within the context of a Knockouts match can get uncomfortable, but this was more about the skills in the ring than it was the weapons hanging on the cage. The Dollhouse still seems like a group just blowing in the wind without a real leader like Taryn Terrell there. Even with Gail and Velvet down a team member, it felt surprising to see the Dollhouse grab the win here.
3. So, Lashley is a heel again, apparently, after a promo with Kurt Angle where Lashley basically said he wanted to end his career on a low note in two weeks. That was quick and unannounced. Lashley still can't get a very good promo. Some of this was tough to watch. Even Angle seemed a bit over the top and a little cheesy, saying things like, "I came our here to talk to these fans!" At least this match has something more to it now. It's not that Angle's last TNA match wasn't a big deal, but taking the clouded line out of the equation and making Lashley a heel, should make the presentation of this match much better.
4. Some of the "humor" in the Grado-Drake match, again just wasn't humorous. Everyone knows that this is Grado, and yet they continue to allow him to compete? From a storyline perspective, why would anyone pay to see another Feast or Fired match again? If you're going book with stipulations, you need to follow through on those stipulations.
Match Results
All matches took place inside a steel cage
1. Beer Money beat Eric Young & Bram
2. Trevor Lee [c] beat Tigre Uno to retain the TNA X-Division Title
3. The Dollhouse beat Velvet Sky & Gail Kim
4. Odarg the Great beat Eli Drake
5. Matt Hardy [c] beat Ethan Carter III to retain the TNA World Hvt. Title