News
Rocko's Modern Life Voice Cast Returns, Creator Talks TV Movie Revival
We have the details on the Rocko's Modern Life TV movie revival!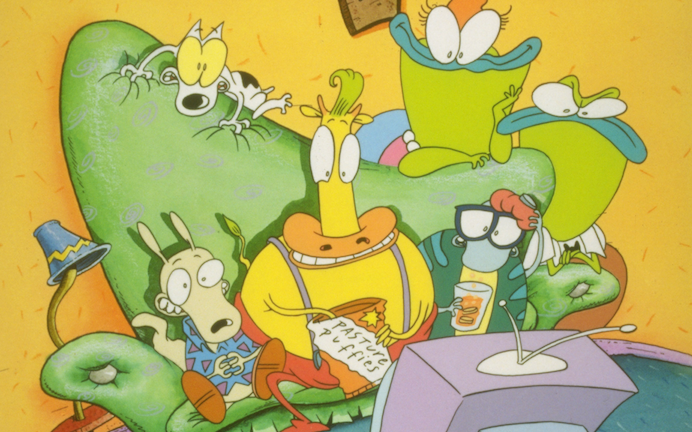 Rocko, Heffer, Filburt, and Spunky blasted off into space 20 years ago. They'll return to earth for a TV movie on Nickelodeon sometime in 2018, and the network announced they will be voiced by the original cast. 
The official title of the movie is Rocko's Modern Life: Static Cling. Nickelodeon sent us the official cast release: 
Carlos Alazraqui (The Fairly OddParents) as Rocko, Spunky, and Leon; Tom Kenny (SpongeBob SquarePants) as Heffer Wolfe, Chuck, and Really Really Big Man; Mr. Lawrence (SpongeBob SquarePants) as Filburt Turtle and Maitre D'; Charlie Adler (Blaze and the Monster Machines) as Ed Bighead, Bev Bighead, Mr. Dupette, Grandpa Wolfe, and Mrs. Fathead; Linda Wallem (Nurse Jackie, executive producer) as Aunt Gretchen and Dr. Hutchinson; Jill Talley (SpongeBob SquarePants) as Nosey and Joe Murray as Ralph.  Additionally, Steve Little (Adventure Time) joins the cast as Cowboy and Cosmo Segurson (Rocko's Modern Life: Static Cling, director) as Pillow Salesman. 
In Static Cling, the gang returns to Earth after they jetted off in the series finale in 1996. They've been lost space ever since, and upon returning, Rocko struggles to adjust to modern life. Nothing ever changes, really. While Rocko has a hard time, and thinks nostalgia is the key to fixing the problem, Heffer and Filburt embrace new technology, social media, and "the endless diversity of food trucks."
Joe Murray, the series creator, wrote and executive produced the special. We spoke with Murray about how Rocko would be updated two decades later. 
"When we approached the production, we did all the backgrounds the same way, hand painted," Murray said. "We pulled recurring characters from the old series. It's pretty close to what it was. It's the '90s show being brought back in 2018. How modern life is now and how the characters would have evolved."
He went into a little more detail on the movie's plot: 
"Rocko is still used to VHS players and he suddenly comes into the 21st century and it's all new to him. It's fun to see someone experiencing all this new technology. Filburt and Heffer embrace it and Rocko is adverse to change. That's really how the story evolves. It's all about change."
Instead of bringing Rocko back in a series of shorts, Murray opted to take Nickelodeon up on a longform project offer.
"It didn't seem like such a stretch because we were used to telling three act stories," he said. "We just expanded it. I came up with the story that was really relevant to what is going on now. There's a twist in there will be a surprise when it comes out. There wasn't really anything they had discussed with me as far as what they wanted to do. The wanted to know if I wanted to refresh the series and the characters. I actually wanted it to be as close to the original as possible."