News
Rocko's Modern Life Movie: New Clip and Netflix Release Date Set
Nickelodeon's Rocko's Modern Life revival is now landing on Netflix with a set release date.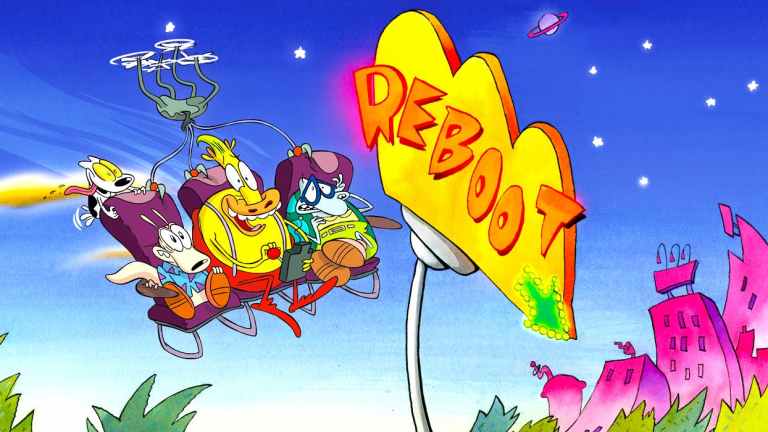 It's been two years since we first learned about the Rocko's Modern Life revival. Now the film is heading to Netflix and finally has an official release date. Titled Rocko's Modern Life: Static Cling, the film is set to release on August 9th, 2019.
The film picks up where the original series left off (Rocko and his friends mistakenly blasted off into space). Rocko's ran from 1993-1996 with 52 episodes over four seasons. Series creator Joe Murray will serve as executive producer of the (for now) one-off revival. You can read our behind-the-scenes feature story on the revival here.
"I'm very happy to be rejoining Rocko and my friends from O-Town again," said Murray in a press release when the film was announced. "What I have found by bringing these characters back is that it's not so much about nostalgia, but a sense that they still feel relevant and fresh to me, and after twenty years, they can't wait to comment on modern life in the 21st century. They still have a lot to say."
The follies of Rocko, Heffer, and Filburt were always the happy medium between the grotesque visual humor of Ren and Stimpy and the story-driven Rugrats. With the network looking to mine its library to capitalize off the successful of its '90's programming block, "The Splat," Rocko is yet another Nickelodeon property to get a revival in some way. Nick reimagined the classic game show Legends of the Hidden Temple with a TV film, made a Hey Arnold! TV film, and is rebooting All That and Rugrats for a new generation. 
Here's everything we know about the Rocko's revival… 
Rocko's Modern Life: Static Cling Trailers
Check out the first sneak peek of the new TV special, titled Rocko's Modern Life: Static Cling, below:
Rocko's Modern Life: Static Cling Cast
Original voice actors Carlos Alazraqui (Rocko), Tom Kenny (Heffer), Doug Lawrence (Filbert) and Charlie Adler (Mr. Big Head and Mrs. Big Head) will reprise their roles. We'll also see the return of Linda Wallem (Nurse Jackie, executive producer) as Aunt Gretchen and Dr. Hutchinson, Jill Talley (SpongeBob SquarePants) as Nosey, and Joe Murray as Ralph. New cast members include Steve Little (Adventure Time) as Cowboy and Cosmo Segurson (Chowder) as Pillow Salesman.
Rocko's Modern Life: Static Cling Plot
Here's the synopsis:
Rocko's Modern Life: Static Cling brings the characters back to Earth after being lost in outer space since 1996. Rocko has trouble accepting this 21st century modern life, while Heffer and Filburt embrace every aspect of new technology, social media and the endless diversity of food trucks.  Rocko whole-heartedly believes that his nostalgia for the past can save him from the tortures of the modern world.
Rocko's Modern Life: Static Cling Release Date
The long-awaited film finally hits Netflix on August 9th, 2019.