News
Rocko's Modern Life: Joe Murray on Whether a Full Season Might Happen, What's on Tap for the Revival
Nickelodeon brought Rocko to Comic-Con. Here's what we learned!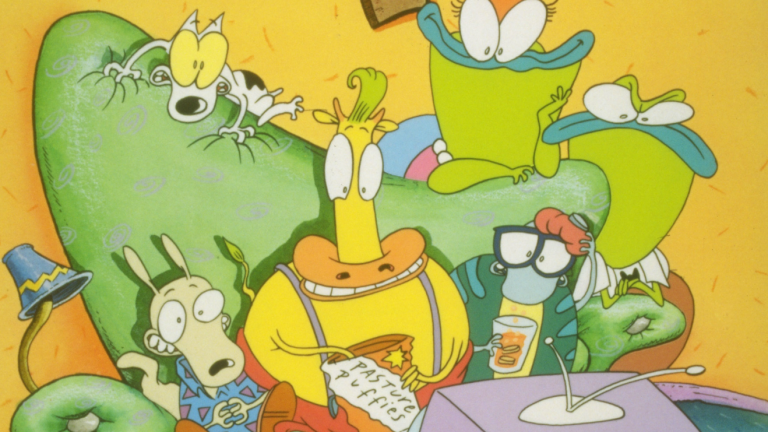 San Diego Comic-Con day 1 is a very dangerous day if you're not prepared. But we were more than ready for a Nickelodeon panel featuring a first look at Rocko's Modern Life: Static Cling, the TV movie revival of the beloved '90s Nicktoon. Predictably, the packed ballroom went bonkers when the first footage showed Heffer announcing: "We're home."
To put the sneak peek video into context, creator Joe Murray spoke about bringing his lovable, if deeply naive, wallaby into the 2017 (the special is set to air sometime in 2018) into an unfamiliar environment to tell a story about change. Right away, we see O-Town is vastly different from when Rocko, Spunky, Heffer, and Filbert blasted off into space in 1996. They're intrigued, but not shy about embracing what life in this decade has to offer. The new O-Town has a version of Starbucks (BuzzBucks), O-Phones (I wonder what major conglomerate makes those…), and Rocko's comic book shop job has been replaced by a 3D printer. Of course, the Chokey Chicken chain still is in business. 
One of the best visuals in this meta take on TV revivals has to be the giant "REBOOT" sign.
What's Rocko Like Today? 
Time has not changed the humor in Rocko one bit. In fact, our way of life in the 21st century, and all the technology that has come since, gave the writing staff an extra jolt in putting this together. They said it basically wrote itself. At the panel, voice actors Carlos Alazraqui (Rocko), Tom Kenny (Heffer), Doug Lawrence (Filbert) and Charlie Adler (The Big Heads), creator Joe Murray, and director Cosmo Segurson weighed in on the revival.
"The characters have not changed," said Segurson. "A lot has changed in those 20 years."
It seems Rocko is going to accept this reality, or at least try to embrace it. Alazraqui said he's tasked with trying to uphold standards of decency in society. As for the other characters…
"Heffer's just an idiot," said Kenny, who voices another not-so-intelligent yellow character on Nickelodeon, SpongeBob.   
The look of Rocko's Modern Life: Static Cling, is definitely a refresh, but not all that far off from the animation of the '90s. They kept the same look by keeping it hand drawn. "It was way too clean for me," Murray joked when he saw the cuts in HD for the first time.
As for the rest of the film, Murray teased: "I think this goes farther than the '90s show in many ways."
Rocko's Future: More Episodes In The Works?
During the panel Q&A, a fan asked if they'd consider doing more Rocko in the future. Murray stood up and pumped up the crowd leading to a big roar.
"The fans have a voice!" he said. Pointing over to the Nickelodeon execs, he said, "They'll make all your dreams come true."
"We haven't talked about it," said Murray, but they're "waiting to see." 
You can read our exclusive, behind-the-scenes look at the new Rocko's Modern Life right here.
Read and download the full Den of Geek SDCC Special Edition magazine here!