News
Rocko's Modern Life Movie: How Nostalgia Welcomes Progress
Creator Joe Murray answered some of our questions about the imminent Rocko revival movie.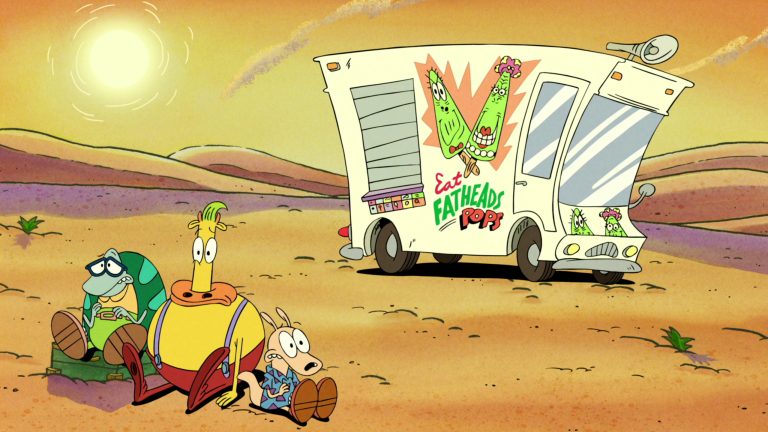 Over twenty years since its last episode, the Nicktoons' classic Rocko's Modern Life will return to Netflix with the revival movie, Rocko's Modern Life: Static Cling. We've seen the movie and it's awesome. It looks and sounds just like it did in the old days but, as creator Joe Murray told us via email, he didn't want to bring Rocko back just to retread old ground:
"The story that I came up with showed that we could do something interesting. At first, I didn't know if we could add to the Rocko legacy. I didn't want to do a reboot or one-off that was a watered-down version of Rocko. I wanted it to push it further with the characters and the story."
The story absolutely does push the world of Rocko forward as the characters find themselves in the 21st century learning to cope with and accept progress and change. One thing Static Cling simultaneously mocks and embraces is advancements in technology. This somewhat parallels the process of making the movie, as Murray explained:
"There were some advances in technology that we used to make Rocko better than it was, but also rejected some technology. All of our backgrounds were hand-painted, and the animation was hand drawn on paper. We actually used some technology to make the film look more like 35mm film that we used in the 90's which is an interesting twist. I think in many ways technology as a whole has helped us overall, but in many ways it has not. It's destabilized us in many ways, and we are too reliant. But change it what it is, eh? We just need to adapt."
read more: Tom Kenny on SpongeBob's Enduring Popularity
Adapting to change is a major theme of Static Cling, driven home by the reveal that a major character is trans. It's an interesting vehicle—a decades-old cartoon revival—through which to emphasize the importance of welcoming progress. But Static Cling uses its place in pop culture as a product of nostalgia to elegantly communicate the importance of this message.
"There's nothing wrong with nostalgia as long as we don't reject all things in the present and accept that change is inevitable," says Murray. "The fans wanting Rocko back is lampooned a bit in the special, in Rocko wanting 'The Fatheads' back and that his world was going to fall apart if he didn't have it. I think it's the extremes we need to stay away from. Revisiting our old friends is good, but they may not be exactly the same as we remember them, and as Ed Bighead says 'if we don't accept what's now, we miss out on a lot of important stuff.'"
Rocko's Modern Life: Static Cling will be available to stream on Netflix August 9th.
Joe Matar watches a lot of cartoons and a lot of sitcoms. He's obsessed with story structure so that's what all his reviews are about. Joe also writes about video games on occasion. He has an MA in English if you can believe it. Read more of his work here. Follow Joe on Twitter for more fun @joespirational!