News
Robot Chicken Season 10: Mr. Rogers Gets Cyborg Revival in Exclusive Clip
Robot Chicken's 10th season is upon us, and the show's latest stop-motion skits will include a super-powerful robo Mr. Rogers.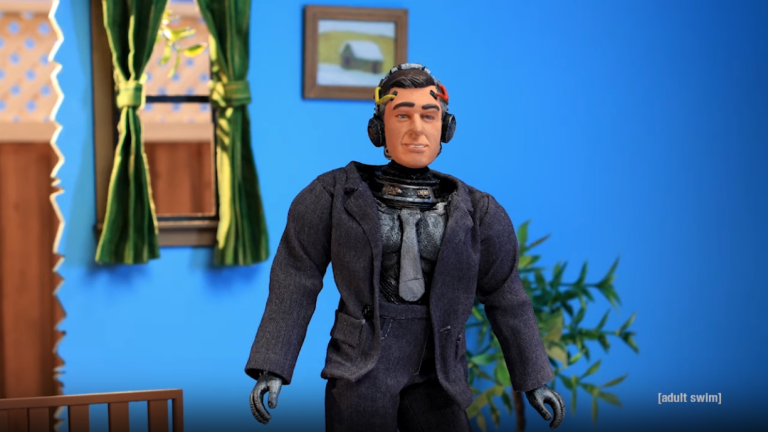 It's a beautiful day in the neighborhood. A beautiful day for a cyborg Mr. Rogers equipped with both kindness and immeasurable strength.
Adult Swim's Robot Chicken never fails to surprise us with its various permutations of pop-culture and Murphy's law. Could reviving Mr. Rogers in the fashion of The Six Million Dollar Man go horribly wrong? Ahead of the show's Season 10 premiere, we've got an exclusive clip where you can find out for yourself:
Robot Chicken's 10th season is a milestone for Adult Swim's hit show, not for celebrating the 200th episode of the Emmy Award winning show, but for attempting top-secret new formats that break new ground in animated sketch comedy.
Robot Chicken uses stop-motion animation to bring pop-culture parodies to life in a modern take on the variety/sketch show format. The series debuted February 2005 and remains among the top-rated original series on Adult Swim. Robot Chicken is created, and executive produced by Seth Green and Matthew Senreich, and their Stoopid Buddy Stoodios partners, John Harvatine IV and Eric Towner, also serve as executive producers. Green and Senreich also write, voice and with Tom Sheppard, direct the award-winning series.
Catch the full season 10 trailer for Robot Chicken here:
Robot Chicken Season 10 returns with back to back episodes Sunday, September 29 at Midnight ET/PT and 12:15am ET/PT