News
Robot Chicken Season 10: Gordon Ramsay Grills Celebs in an Exclusive Clip
Check out this exclusive clip from Robot Chicken Season 10, showing a celebrity edition of MasterChef gone insanely awry.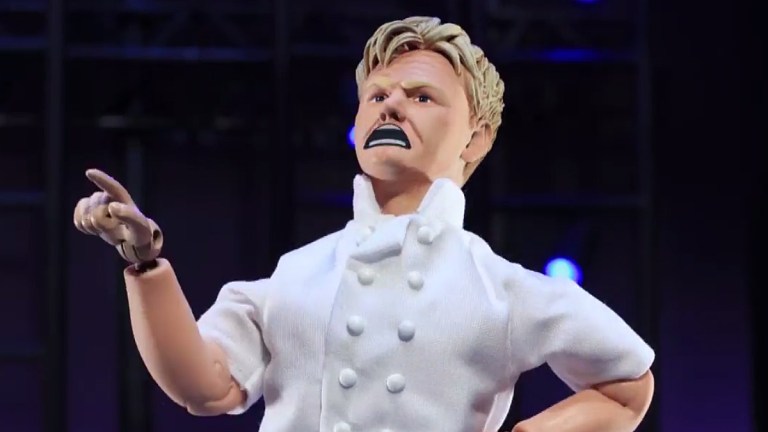 Robot Chicken continues its wanton ridicule of any and all things in the currently-running tenth season, and the Adult Swim stop-motion series, which launched back in February 2005, continues to prove that hasn't run out of steam, or action figures, with which to parody with perfection.   
Pertinently, Den of Geek has an exclusive preview clip for you, showcasing a celebrity edition of MasterChef, in which the notoriously harangue-hurling host, Gordon Ramsay, handles a bizarre lineup of celebrities. – That is, if Bob's Burgers' Bob Belcher, Ratatouille's Alfredo Linguini, SpongeBob SquarePants himself and South Park's long-departed soul-singing cafeteria cook, Chef, qualify as "celebrities" in the conventional sense.
Of course, for those who might not have gotten the joke about Chef and thetans (Scientology's concept of souls), it refers to the voice portrayer of Chef, the late Isaac Hayes, whose embrace of the Church of Scientology and its beliefs wrought conflicts with creators Trey Parker and Matt Stone, leading to Hayes's exit from the South Park voice cast in 2006. The character's absence was subsequently explained – using sound clips of Hayes's past performances – in a memorable episode, in which a child-molesting cult called the "Super Adventure Club" inveigled Chef to join them, maintaining a psychological grip from which he would never break free, eventually leading to his comically gruesome death. – So, yeah, Robot Chicken's hitting that meme.
Further Reading: Seth Green on How Robot Chicken Has Evolved Over 200 Episodes
Robot Chicken is the creation of executive producers Seth Green and Matthew Senreich, through their Stoopid Buddy Stoodios, joined in the latter capacity by John Harvatine IV and Eric Towner. Green and Senreich, who also write most of the episodes, are also primary voice actors, typically joined by celebrity guest voicers. The series, which has earned six Emmy wins and an Annie Award, was originally based on a recurring feature in (the now-defunct) ToyFare magazine, called "Twisted ToyFare Theatre," which similarly used action figures for satirical sketches on the printed page.
Robot Chicken Season 10 airs two new episodes on Cartoon Network Mondays at 12:00 a.m.
Joseph Baxter is a contributor for Den of Geek and Syfy Wire. You can find his work here. Follow him on Twitter @josbaxter.