News
Robert De Niro Is Bernie Madoff in First The Wizard of Lies Trailer
Would you buy stock from the guy who played the guy who pulled off the Lufthansa heist?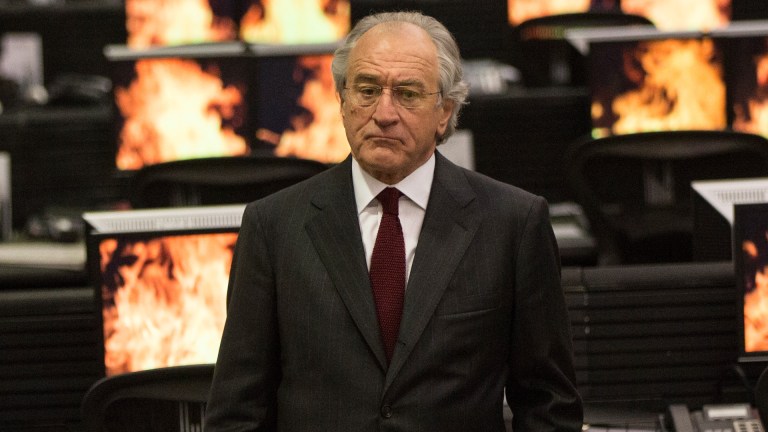 Robert De Niro, who burst onto the cinematic landscape in Mean Streets, will prowl the toughest street in New York, Wall Street, in Barry Levinson's upcoming The Wizard of Lies for HBO. Based on Diana B. Henriques' bestselling book, The Wizard of Lies: Bernie Madoff and the Death of Trust, De Niro will play the title role of disgraced financier Bernie Madoff.
On June 29, 2009, Madoff was sentenced to 150 years in prison for bilking investors out of about $50 billion. Madoff pleaded guilty to eleven felony charges.
"It's a fraud, basically a big Ponzi scheme," Madoff admits in the trailer, "one of the largest Ponzi schemes in American history," according to the official synopsis.
"In 2008, stockbroker, investment advisor and financier Bernie Madoff made headlines around the world when he was arrested for perpetrating perhaps the largest financial fraud in U.S. history. The Wizard of Lies examines Bernie Madoff's Ponzi scheme – his deception, lies and cover-up, all as the financier's wife and sons are catapulted into a harsh and unrelenting spotlight."
This is the first time Robert De Niro (Oscar winner for Raging Bull and The Godfather II) has done an HBO role. The film also stars Michelle Pfeiffer (Golden Globe winner for The Fabulous Baker Boys) in her HBO debut as Ruth Madoff, Bernie's "longtime spouse and unwitting partner during the events that would lead to financial ruin for countless people and institutions, as well as his and his family's destruction," according to the official synopsis.
Nathan Darrow (House of Cards) plays Andrew Madoff. Alessandro Nivola (American Hustle) plays Mark Madoff.
The Wizard of Lies debuts Saturday, May 20 at 8 p.m. ET on HBO.