News
Riverdale: Watch Josie and the Pussycats' Rent Tribute
Watch Riverdale's best-loved band sing "Out Tonight" from Jonathan Larson's acclaimed 1996 musical.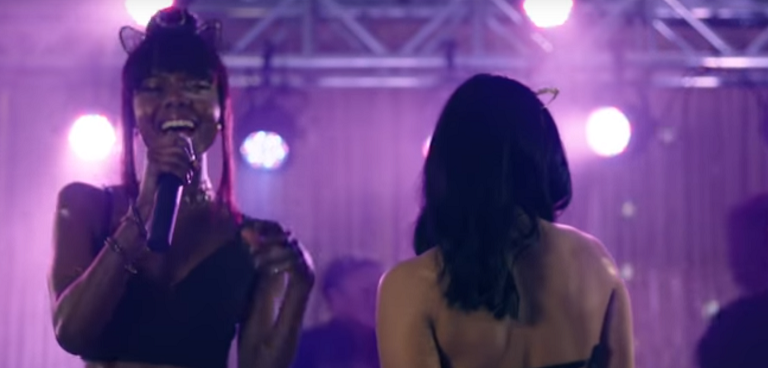 In its brief period on the air so far, Riverdale has become known for its over-the-top musical performances — everything from "Sugar Sugar" accompanied by a cheerleading squad to a rooftop jam session of Kelis' "Milkshake." These sequences are hugely entertaining as they get to showcase just how multi-talented members of the show's ensemble are. (And the fact that they help break up the delirious darkness that often envelops the show doesn't hurt either).
Tonight's episode showcases what could be the most energetic performance to date when Josie and the Pussycats (ft. Veronica Lodge) take on the song "Out Tonight" from Jonathan Larson's Tony and Pulitzer-winning musical Rent. It's a bit of an inspired choice given how much of Riverdale's audience grew up with Rentdue to that show's ubiquity in 1990s culture.
While you debate if Jingle Jangle is to Archie and the gang what heroin was to Mark, Roger, Mimi, Angel, et al, watch the performance below:
Originally performed in the musical by Daphne Rubin-Vega and reprised in the 2005 film version of Rent by Rosario Dawson, "Out Tonight" is a rallying cry to leave your troubles behind and make some fun in this hard life while you can. Riverdale's arrangement of the song makes it an ensemble number, perfectly fitting the theme of friendship that runs like a river throughout both properties. While a truncated version appears in tonight's episode, the CW has done those of us who love musicals and Archie a solid by putting the complete performance online. And aren't you glad they did?
Be sure to join us later today for a review and breakdown of the latest episode of Riverdale.