News
Riverdale: Watch Josie and the Pussycats Cover "Milkshake"
Check out this extended look at a fun Riverdale musical performance, with Josie and the Pussycats taking on Kelis' "Milkshake."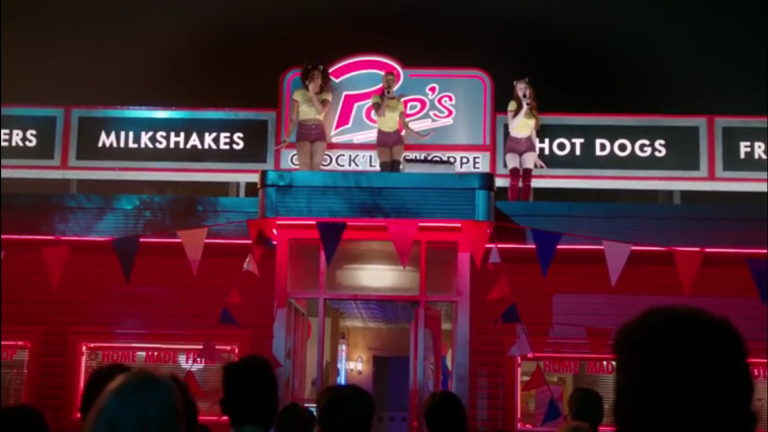 La la la la la, warm it up!
With last week's season premiere garnering Riverdale its biggest ratings to date, it's safe to say that the CW's increasingly campy take on the Archie characters will continue to grow in popularity. And what's not to love? The series has everything from talented leads to a maple syrup blood feud being used as a plot device, and now thanks to new developments like a hooded killer running around and students from Riverdale High getting addicted to a mysterious drug hilariously known as "Jingle Jangle," it's becoming the watercooler show it was always destined to be.
The fact that Riverdale still has time to pause all the dramatic plate-spinning for goofy musical sequences is just another thing to love about it. (Especially when said music doesn't involve Archie pouring his heart out on stage — except of course when he sang "Kids in America" with Veronica, because that was AWESOME).
The latest song to be featured on the show is Kelis' 2003 hit "Milkshake." A performance of the memorable tune is a highlight of tonight's episode, in which Josie and the Pussycats perform a free show at a Retro Night to help out Pop Tate's Chock'lit Shoppe after the shooting of Fred Andrews leaves the business on the brink of ruin. Since the Valerie character is sick with a norovirus (one she hopefully didn't get at Pop's) in tonight's installment, Cheryl fills in her for. While we debate how many more episodes it will be until Betty fulfills her destiny and dons the cat ears, check out the performance below.
This is an extended clip of the song showcasing the friendship among our core characters, and is edited quite differently in tonight's episode. Think of it as an earworm warm-up to tonight's main event. Then head back over to Den of Geek as soon as the episode ends for our complete recap of everything that went down in this evening's installment, including plenty of Easter eggs and Archie Comics references that you might have missed.
Read the full Den of Geek NYCC Special Edition Magazine right here!