News
Riverdale to Stage Heathers: The Musical This March
How very! The musical version of the cult classic Heathers will be the focus of an upcoming episode! Here's what we know so far...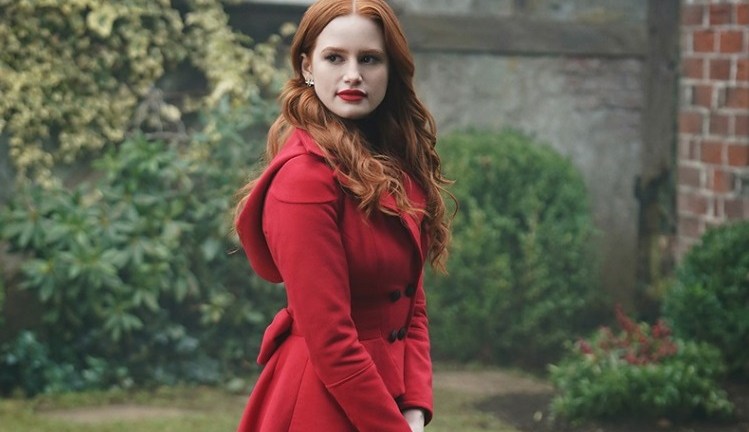 This Riverdale article contains spoilers.
Are you ready to have "Big Fun?" Well, even if you aren't, you will, because this week Riverdale High will be staging Heathers: The Musical. A follow-up to last year's successful  "A Night to Remember" episode (which brought Carrie: The Musical to life with murderous results), this installment focuses on another cult classic about alienated youth and teens behaving badly.
In other words, it's perfectly suited for the bonkers world of Riverdale.
Originally released in 1989, Heathers became a touchstone for outsiders thanks to its dark and hilarious script, and iconic performances from leads Winona Ryder and Christian Slater.
Featuring nine songs from the musical version of the movie — which first came to life in a concert version in 2010 before spawning Off-Broadway, West Coast, UK, and regional productions — the episode will mix ongoing plotlines  with the story of the titular Heathers, and how one of the group's would-be members manages to topple the clique through murdering them with the help of her unhinged boyfriend. (Spawning one of the best lines in film history with "Dear diary, my teen angst bullshit now has a body count" in the process).
In a press release announcing the episode, showrunner Roberto Aguirre-Sacasa had this to say about Riverdale's second foray into the world of musical theater:
Last year, we had a blast doing 'Carrie.' This year, we wanted to honor another iconic teen movie. 'Heathers: The Musical' is BIG FUN, with great roles for the Riverdale kids," said executive producer Roberto Aguirre-Sacasa. "And everyone is singing…"
Thus far, Cole Sprouse's Jughead is the only member of the series' core four characters who hasn't broken into song. This seems to be changing, so all you Swatch-dogs and Diet Cokeheads out there have much to anticipate.
So which Riverdale characters will become Heathers? Here's the cast list for the musical, to give you an idea of the madness you can expect tomorrow night.
Perhape the most interesting news here is how the production is being sponsored by The Farm, the intrique-soaked cult that has been slowing infiltrating Riverdale yet remains narratively backburnered due to all of the other crazy shit that has been happening this season. (To understate things a bit).
To further peak your interest, here's a glimpse of a poster-style image that was created to promote this most special of episodes: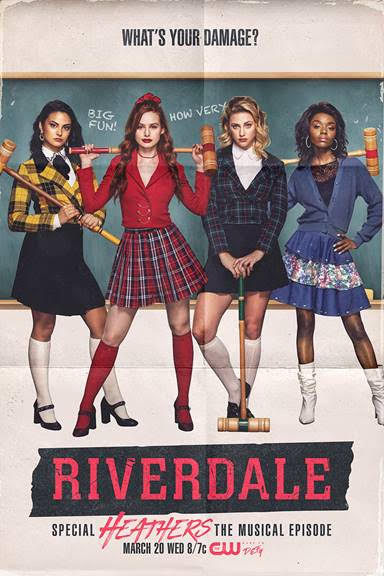 Amazing. To paraphrase Kevin, I am obsessed with how the Riverdale cast has been transported back in time to channel their Heathers alter egos.
But wait, there's more!
To further wet your proverbial whistles, here's a clip that illustrates just how well the Riverdale characters would fit in at Westerberg High. Well, Cheryl anyway:
God that gave me chills. In another teaser of a clip, our characters discuss the roles they'll be taking on in Riverdale High's production of Heathers. I especially love Reggie's line here, as well as Cheryl evoking one of the most quotable lines of the flick…one that she'd never be able to get away with saying on network television.
I'm currently working on my review of this episode, and it's no spoiler to say that its going to be a memorable one indeed. After watching all the music (and possibly some mayhem) of this stunty installment tomorrow night, head back here to read my thoughts.
All I'll say for now is that the extreme always seems to make an impression…
Chris Cummins is a Philadelphia-based writer, producer, and comics historian. Read more of his work here. You can find him on Twitter at @bionicbigfoot and @scifiexplosion