News
Riverdale Season 4: Halloween and Musical Episodes Confirmed
We break down what we learned about Riverdale season 4 at this SDCC 2019!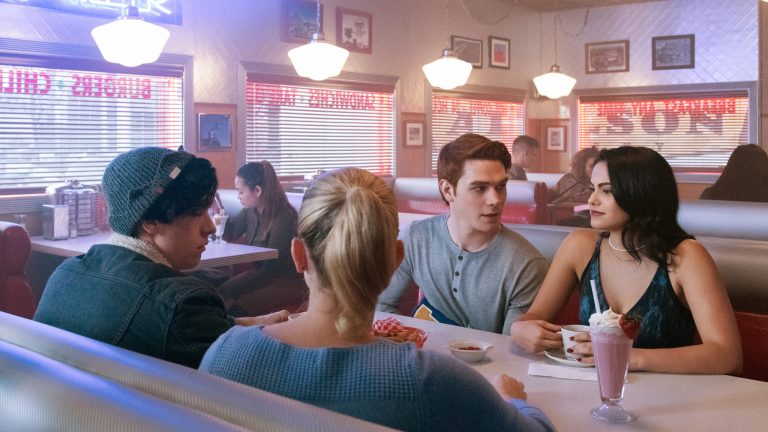 We've already told you about how Shannen Doherty will be appearing on the season premiere of Riverdale season 4as a yet-to-be-revealed character in order to pay tribute to her friend and Beverly Hills 90210 cast member, Luke Perry, as well as some other plot tidbits, but there's more news coming out of San Diego Comic-Con about "the town with pep" that has us super excited.
Perhaps the most interesting revelation is that Riverdale will put out a Halloween-themed episode this season. There is precedent here, as the season two installment "Tales from the Darkside" leaned into the show's supernatural side, complete with Creepshow references and the appearance of horror great Tony Todd, but it wasn't specifically tied into the holiday itself.
Four seasons in and it's a downright shame that we haven't gotten an utterly spooky episode yet…especially since the characters live in a town populated by serial killers and cults. (And that's not even mentioning a certain teenage witch who lives just across Sweetwater River).
In the past, showrunner Roberto Aguirre-Sacasa has hinted that doing an Afterlife with Archie-inspired episode could be in the cards. But will Riverdale actually pull the trigger on such a concept?  Whatever spookiness awaits viewers this Halloween, it likely won't include Jughead as a zombie, which is a bummer, but there's always inspiration to be taken from Vampironica, Jughead: The Hunger, and Blossoms 666.
In lighter news, we've learned that one of the ways that Archie will deal with his father's death (which will be dealt with in the premiere) is by returning to his music. Before you groan at the thoughts of "I'll Try" redux, there's an interesting twist here — namely that he'll be forming The Archies. This will be the CW debut of the group, which also features Betty, Veronica, and Jughead. The Archies have long been a staple of the comics and various cartoons based on the characters, not to mention a successful real-life group whose "Sugar Sugar" was the number one single of 1969. With Josie over on Katy Keene, it looks like this group will fill the musical void she left behind.
The music won't stop there either. At the Riverdale SDCC panel, we learned that the show will feature a third musical episode, although the actual show being performed remaina a mystery for now. (If previous seasons are any indication, it will most likely be a musical that adapted an existing work). Our baseless guess? The American Psycho musical, one that just so happens to have been adapted for the stage by none other than Aguirre-Sacasa.
Elsewhere in the show's boundless love for pop culture, we've learned that Veronica and Cheryl will embark on a new collaboration that has them producing and selling a maple syrup rum. (Reminder: These are teenagers). Their attempts to get this new alcoholic beverage (that frankly sounds delicious) onto the market are being described as Risky Business-inspired. In other words, the series is taking those old pop-culture records off the shelf once more…
Finally, we wanted to leave you with the above blooper reel that is a reminder that, despite all of the organ-harvesting cults and D&D-reared killers, Riverdale is still more fun than anything else. Honestly, we can't wait to see what this shithouse bonkers show does next.
Read and download the Den of Geek SDCC 2019 Special Edition Magazine right here!
Chris Cummins is a Philadelphia-based writer, producer, and comics historian. Read more of his work here. You can find him on Twitter at @bionicbigfoot and @scifiexplosion