News
Riverdale Season 2: Jughead's Evolution And Archie's Spiral
Hear what to expect from Riverdale's next season from Archie and Jughead themselves.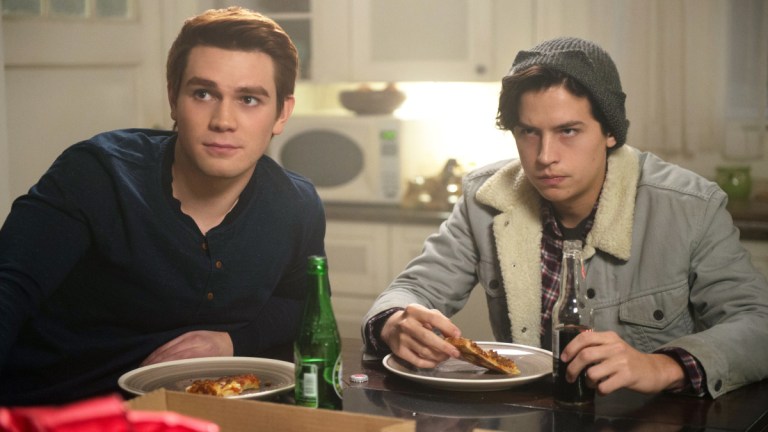 So far, San Diego Comic-Con has been huge for fans of Riverdale. Last night, Josie and the Pussycats gave a surprise concert (during which Camila Mendes and Madelaine Petsch joined the group), and today all of the cast have been on hand to sign autographs for fans and look ridiculously adorable posing for pictures with Doug the Pug before dishing on season two at the show's second-ever panel at the con.
Earlier this afternoon, Den of Geek's Chris Longo got to speak with Archie and Jughead themselves — KJ Apa and Cole Sprouse — about the huge response to Riverdale, hamburgers and the lack thereof, and what fans can expect from the drama's sophomore year.
First up, burgers. The absence of Jughead's notorious appetite was easily the show's biggest problem during its first year. As you may remember, it wasn't until the season finale that the legendarily carnivorous character finally got to chomp down on a hamburger. Shameful really. But don't blame Sprouse, as he had long wanted Jughead's insatiable hunger to be a key component to the character on the show.
"Jughead's eating is obviously one of the most crucial parts of the dynamic of the comics," he told us, adding "but it's also so comical that it had the chance to break the fourth wall. And so that was kind of difficult." Sprouse went to to say that he pitched showrunner Roberto Aguirre-Sacasa a take on Jughead that drew influence from the source material as well as a certain popular manga. "I had pitched him very much like an L representation from Death Note, where he's just this character that's constantly eating."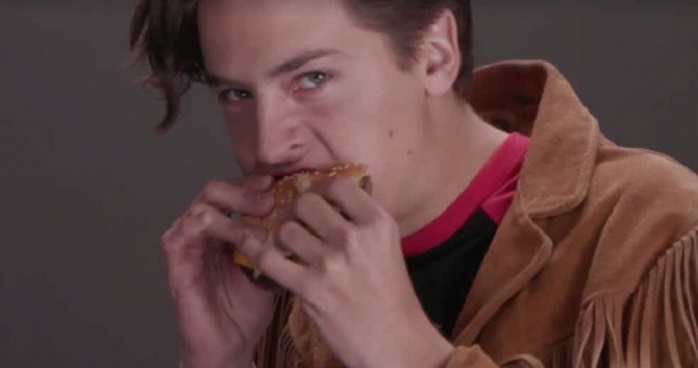 But does this mean we will get to Jug indulging his meat tooth non-stop when Riverdale returns in October? "We definitely get to see lots more of that in season two," says Sprouse. "But he's also homeless and has no source of income, so his eating is being informed by his ability to get his hands on food when he can."
Another difference from the way Jughead is portrayed on TV than in the comics is that he is now in a relationship with Betty Cooper, a change that Sprouse feels speaks of how the character has evolved over the course of Archie Comics' 75-year history. "He started as a woman hater, which is something that probably wouldn't fly politically anymore,"  he smartly observes, before stating "a misogyny Jughead is not really the best narrative."
"Then there was asexual Jughead," in which Sprouse references Chip Zdarsky's newly Eisner-winning run on the character's solo title, "and in this he's in love with Betty." As many longtime Archie fans will be quick to mention, there's room for all of these iterations of the character, a point that the actor who brings him to life seems to agree with vigorously. "This is a new universe. We're not the digests, we're not the (Mark) Waid comics. But he definitely goes towards a more original kind of Jughead telling."
Original yes, and, at the risk of sounding heretical to true diehards, one that fits in perfectly with the show's gritty, melodramatic aesthetic. Besides, TV's Jughead is still a character who gets to espouse a soliloquy about how weird he is, so his essence is most definitely intact.
Meanwhile, New Zealand native KJ Apa finds himself in the unique position of playing "America's Typical Teenager" (as the comics so often refer to Archie). So, what does he think about the show becoming a burgeoning phenomenon? "I was really surprised," he says in an accent that is light years away from how his Archie sounds. "When I first read that pilot I didn't really know what to think. I thought this could be either really good or…it's risky."
A risk that has clearly paid off, with Riverdale getting an early second season renewal and now being binge-watched by new fans on Netflix. It's something that Apa seems to feel genuine gratitude for. "I'm really thankful," he declares. "I think that we're all really lucky that our show is blowing up like this after the first season."
Like Sprouse, Apa also seems to have an understanding of Archie's lengthy history. "I think the fact that we've come from such a big franchise, and that we're the first ones to really put these characters to life off the comic book is part of the reason why it's so successful."
But why does Cole Sprouse think the show has resonated? " I think we set out to do quality work with talented actors and interesting writing, and when all the right ingredients are in the pot it's going to make a good dish," he adds. "I think it's very validating to see the fan reaction that we have." Although he adds that with validation must also come caution. "The validation you have to be super careful about, because the second you start letting that validation inform the narrative or inform the characters or inform anything like that, you're actually doing yourself a tremendous disservice. It's been funny finding that balance." 
The first season of Riverdale was able to deftly find that balance, and its left Sprouse appreciative of the response so far. "But obviously it feels great. As actors, we want to resonate. As storytellers, we want to resonate. The fact that people are (reacting well) makes me feel fantastic."
As the just-released teaser of Riverdale's second season indicates, things are about to get much darker in the once-innocent small town. So what, if anything can the show's core duo tell us about where their characters go next?
Apa clues us in to where we find the oft-shirtless ginger at the start of the season. "Archie's dealing with his dad just being shot, which kind of spirals him." He also suggests that this isn't the happy-go-lucky version of the character we are used to. "We see a whole side of Archie that we haven't seen before, which carries on through the whole season." How so exactly?  "He wants revenge, and it gets gnarly real quick," Apa states with a sense of determination, and maybe even a little foreboding.
And as for Archie's hat-wearing pal? Well, Sprouse gives us some insight. "Jughead is placed with one foot on the North side and one foot on the South side in a brewing civil war. His life is forcing his actions into a certain kind of narrative that's forcing him to recognize he can't make everyone happy. And he's going to lose a lot and gain a lot."
Consider us intrigued for sure. Unfortunately, we have to wait until October 11 when the show's second season premieres to see how this all plays out…
Read and download the full Den of Geek SDCC Special Edition magazine here!