News
Riverdale Season 1: 13 Secrets We Learned On Set
Is Veronica a bad person? Where's Reggie? Will we meet Hot Dog? We talked to the Riverdale cast about what to expect in Season 1.
Riverdale, the TV show adaptation of Archie Comics, premieres on The CW this Thursday. We had a chance to visit the set of the new show last year. Here are some of the most interesting things we learned about this new, subversive take on these iconic characters…
The Buzz: Riverdale Season 1 by denofgeek
Jughead will narrate each episode.
As you'll notice in the Riverdalepilot, Jughead is the narrator of this world, with voiceover from the character bringing us into and out of every episode. According to Cole Sprouse, this formula will continue moving forward. He told us: "The narration really takes place at the beginning and the end of every show, so we're bookending each episode. And, no, even in the Jughead-heavy episodes, we still see that narration."
Sprouse, who said he never thought he would be doing such voice-centric work, gave us some insight into how he developed his narration voice, saying:
I've watched my film noirs. I'm getting into it. It's funny, when I originally read for Jughead, they had his introductory monologue for the audition. And I was in a weird place, so I just spent like a week watching the old Twilight Zones, and of course Rod Serling. 
Veronica is more likeable than she might have been in the comics.
Camila Mendes gave us some insight into her Veronica and how she is different from some of her comic incarnations:
We've added dimensionality to her and the fact that her father is involved with all this fraud and embezzlement, got arrested, and kind of forced the family to readjust their lifestyle, and now we have no money and my mom and I are kind of on our own. I think that's really humbled Veronica. So, in that way, I think it's really easy to sympathize with her.
More generally, Mendes said of Veronica: "I think she's a good person. I don't think she's playing bad, I think, sometimes, bad just happens to her."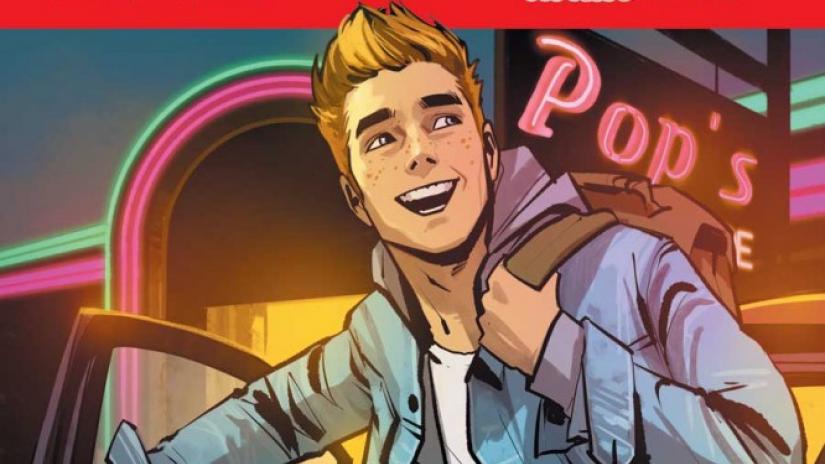 Riverdale is most similar to the Mark Waid/Fiona Staples Archie comics.
KJ Apa said Riverdalemost closely compared to the Mark Waid/Fiona Staples era of the Archie Comics. To learn more about these issues, check out our review of Archie #1.
It will be a while before we find out what happened between Archie and Jughead.
As it becomes clear by the end of the Riverdalepilot, best friends Archie and Jughead are not as close as they once were. KJ Apa told us that, by Episode 7, he still doesn't know what happened to cause a falling out between these two, so it sounds like this is going to be a major narrative arc of the first season.
Jason's memorial will take place in Episode 5.
We learned from Madelaine Petch (Cheryl Blossom) that we won't see Jason's memorial until Episode 5, which tells us a bit about the pacing of the show — i.e. that there won't be a lot of time jumps (at least in the early episodes) and that we will stay in the immediate aftermath of the discovery of Jason's body.
Also noteworthy: Episode 5 is Petsch's favorite episode so far, so expect some good Cheryl stuff in this installment.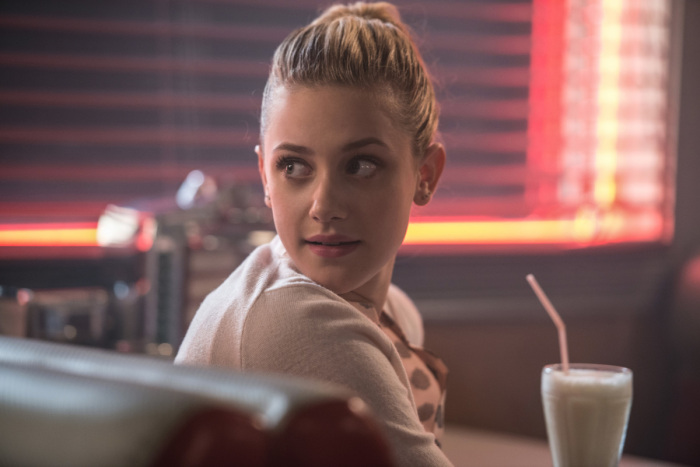 Betty is "a volcano" that will erupt sometime in Season 1.
Speaking about Betty's emotional state in the early episode of Riverdale,Lili Reinhart teased that a Betty blowup is coming, saying:
[Betty] has a lot of built up anger that you kind of can see in the pilot when she's digging her nails into her hands. You can tell there's more going on inside than meets the eye … and you see that come out in the following episodes in the season.

She kind of has a breaking point a little bit. And I think all the characters do, but you see Betty's breaking point and it's a huge surprise and a big blowup, but, again, it's out of love for her family.

People keep pushing her and she keeps finding out that her parents are lying to her about her sister and all this drama with Archie and Veronica. It comes out. It boils. She's a volcano.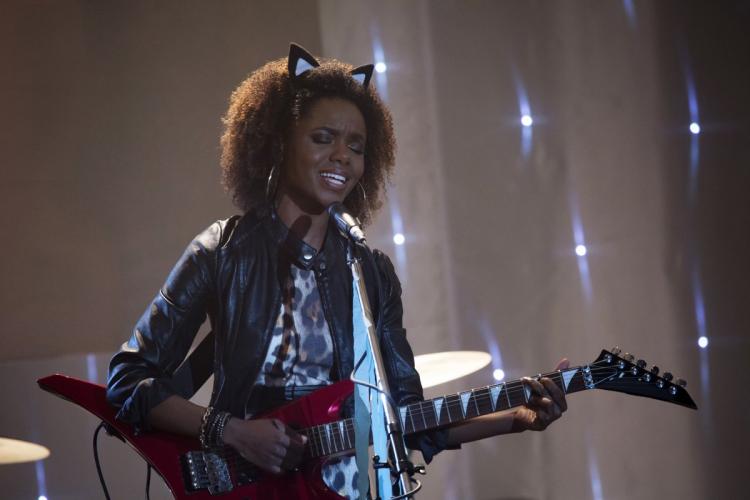 We'll see many different side of Josie.
Though Josie comes off as a bit of a mean girl in the Riverdalepilot, actress Ashleigh Murray says you'll "definitely [see] a softer side" to Josie moving forward:
I actually just wrapped like Josie's spotlight episode, where you'll be able to see who she is behind the ears, and you'll see what her family life is like and her relationship with her mom and her dad, which kind of influences this persona that she keeps whenever she's on stage or whenever she's at school around her Pussycats.
Murray added that, though Josie "definitely has an ago," she's "not too mean to the point where she is too standoffish to fans and she recognizes that." Furthermore: "There's a couple things that happen that kind of keep her in check and help level her out."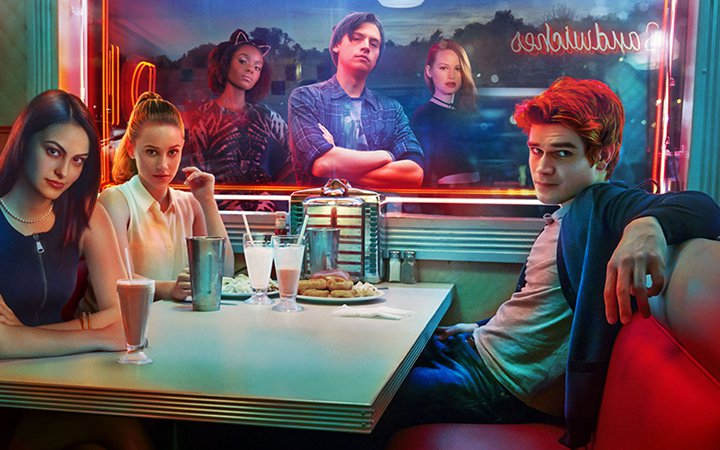 Pop's will serve as a meeting place for the gang.
Pop's diner is an important part of the Archie Comics, and this will hold true for Riverdale,where the old-fashioned "chock'lit" shop serves as a meeting place of sorts for many of the characters. Sprouse told us:
Pop's is not just Jughead's haunt. Pop's has really become the main set in terms of when we return. It's a comfortable place and it's well-lit, in contrast to some of the darker sets and some of the darker tones that we have on this. To have this well-lit, familiar diner location is a nice way to bring the audience back to like a more comfortable palate cleanser of a tone, and I think that's what we're using Pop's as.
The set itself looks great, built in its entirety outside of the Vancouver stage where Riverdalefilms. It's so realistic that, as Sprouse told us, an actual driver-by mistook it for a working diner…
We had a big rig pull into the diner recently, thinking it was an active diner. We had to turn him around. It's built as a fully-functioning diner, so I'm trying to convice everybody when we're off-season, you know, just turn it around. Make a little cash with it. Who knows. But, no, I love that set. It's my favorite.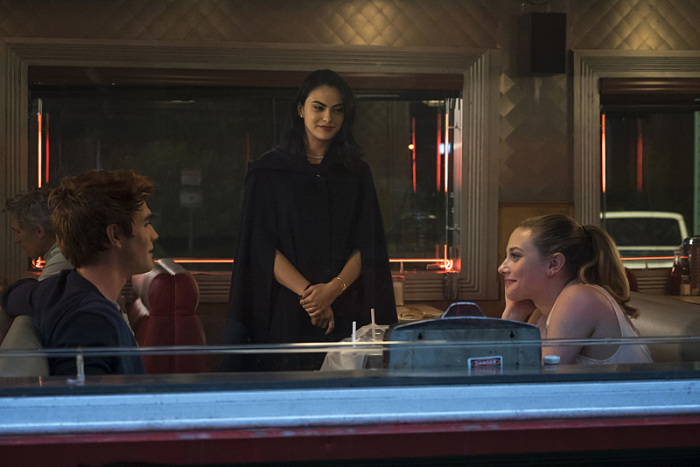 We'll probably see Veronica's father in Season 1.
Veronica's father (and his criminal activities) are the reason Veronica and her mom moved to Riverdale from New York City, but will we get to meet the Lodge patriarch? Mendes said: "I think we are. I'm not entirely sure, but I think it's coming." Mendes also mentioned that there's a chance that Riverdalemight have an episode where Veronica returns to NYC and we learn more about what her life was like there.
The likely appearance of Veronica's dad is particularly interesting given Mendes own personal theory (not based on anything from thr writers) that her father had something to do with Jason Blossom's death. The plot thickens!
Speaking of Riverdale's big murder mystery, Mendes said that, though Veronica might not have known Jason, she's still pulled into the investigation because of her friendship with Betty…
She's definitely intrigued by it and helps… Betty kind of plays detective in some of the episodes, and so Veronica will chime in, but I think her relation to that mystery will probably be more towards the end of the season.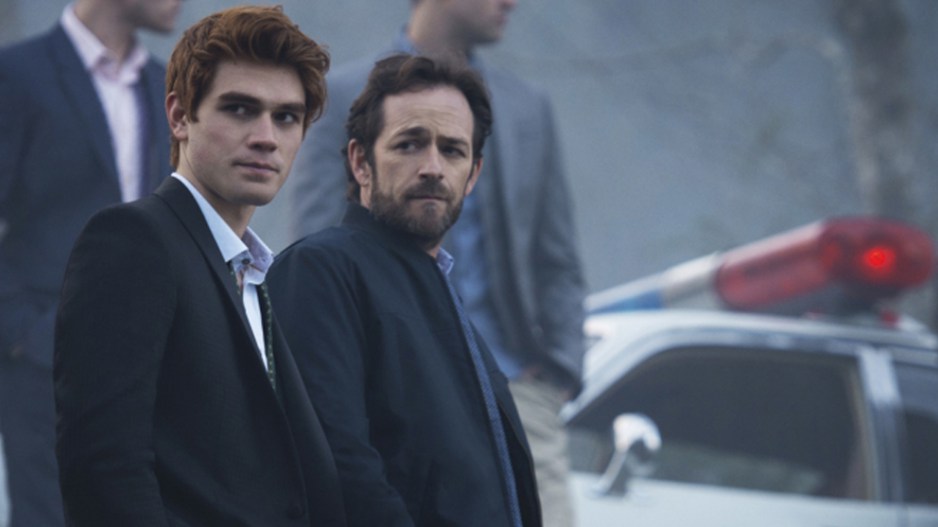 The parents have just as much drama as the kids.
Speaking with Luke Perry, who plays Archie's dad Fred Andrews on Riverdale,the actor teased that the adults would have just as much drama as the kids, saying:
With Roberto [Aguirre-Sacasa ] getting to create so much of the universe here on the show, you know all the parents went to high school together. And we were all in the same graduating class, or a year or so apart, and so we've got all that stuff still cooking from the time we were in high school. And I guess what happens to some of these old high school rivalries and things, they never die. They never go away, especially when you all stay in the same little town and you just keep seeming them over and over and over.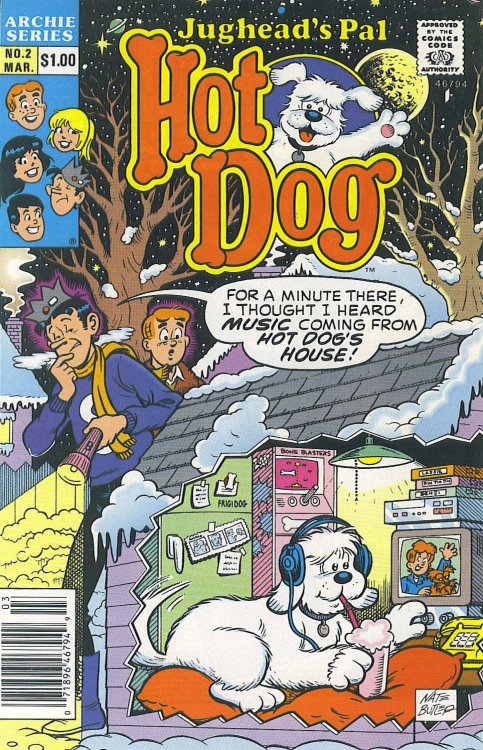 We will eventually see Jughead's dog Hot Dog.
When asked if we will eventually get to see Jughead's home life and potentially his dog, Sprouse told us: "Oh, yeah. Definitely … In terms of Hot Dog, I'm not going to say too much, but yeah." 
We won't get a lot of Reggie in the early episodes.
Reggie Mantle will be a recurring character in the early episodes of Riverdale, but, due to the actor's commitment to another show, we won't be seeing a lot of the character in early RiverdaleSeason 1. Sprouse told us:
Reggie Mantle, right now, has been a kind of complicated character to pursue, in my opinion. He is played by basically our favorite guy Ross Butler, but Ross is a talented, working actor on another show. So we don't want to sacrifice him playing that character, so it's kind of been a juggle between when he's available to come on the set to play Reggie and when he's not.

He's still very much an antagonizing character. He's wealthy and large and imposing and he certainly doesn't like Jughead because Jughead is quick-witted. That has never really been Reggie's strong suit, so we play that a little bit. As of now, he's not really been a primary antagonist.
Sprouse added that Butler will be wrapping his other project soon, which means he could have more availability for Riverdaleappearances soon, should the writers wish it.
— Den of Geek News! (@DenofGeekUS)
November 5, 2016
There could be a Riverdale CD.
Between Archie's musical ambitions and Josie and the Pussycat's domination of the high school's musical scene, music is a big part of Riverdale. Ashleigh Murray teased: "We're definitely doing some original songs and some covers and, I gotta tell you, it's really good," adding that she teared up durin a recent scene when Archie sings one of his original songs.
Will we be getting a RiverdaleCD? That question seems a long way off, but Murray was optimistic, saying: "Hopefully. That is the plan."
Riverdale premieres Thursday, January 26th on The CW at 9 p.m. ET. For more information on the TV show, check out our hub.