News
Riverdale Musical Episode: Everything You Need to Know About the Carrie Musical
The infamous Stephen King musical adaptation of Carrie lives again on an upcoming Riverdale episode.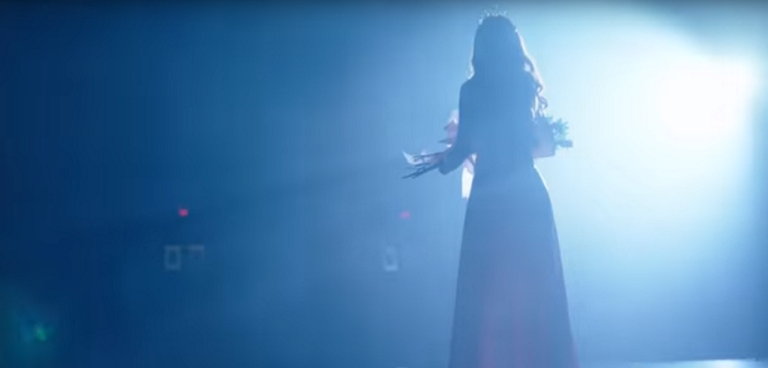 Do you even realize what a gift Riverdale truly is? We just got clips from tomorrow night's musical episode, and they are glorious.
Here's a video of Archie, Betty Veronica, Cheryl, Kevin, Ethel, and more singing "In"…
And here's the gang singing "A Night We'll Never Forget"…
Now in its second season, the CW reinvention of Archie Comics/Hot Topic merchandising juggernaut is carefully building its own heightened reality, one that, with the Netflix companion series Chilling Adventures of Sabrina in the works, is slowly incorporating supernatural elements into its storylines. (What's with all the Lovecraft references of late, and will this show eventually morph into Afterlife with Archie? Here's hoping).
The greatest example to date of Riverdale embracing the paranormal will come on April 18th, in a special episode in which the Riverdale High Drama Department mounts a production of the infamous Broadway megaflop Carrie: The Musical.
Some context would be helpful at this point: After a prolonged pre-production period, writer Lawrence D. Cohen (a screenwriter who also adapted Stephen King's novel for the 1976 fantastic film adaptation of Carrie) teamed with songwriters Christopher Gore and Dean Pitchford (arguably best known for their work on Fame) to bring the story of the troubled telekinetic teen to the Great White Way. The show went about as well as Carrie's prom experience did. After a mere 16 previews and five performances, the show — which cost over $7,000,000 to mount — closed unceremoniously.
Like so many great things that are underappreciated in their time, Carrie: The Musical has found an audience in the subsequent 30 years since it was first release. Bootlegs of the show, including its trial run in Stratford-upon-Avon, were once a hot commodity in those dark pre-YouTube days. Since word-of-mouth on the show was all over the place, many fans of musical theater and/or interesting failures embraced the ill-fated production, listening to the songs and watching the graining footage that escaped being lost to the ages. Recent years have seen several revivals of the show, proving once more that nothing can keep Carrie White from rising from the grave.
One noteworthy fan is Riverdale showrunner Roberto Aguirre-Sacasa, a man whose own theatrical roots include writing a spoof play about Archie and the gang that earned him a cease-and-desist notice, as well as notable work on the American Psycho musical and, most notoriously, Spider-Man: Turn off the Dark. (Not for nothing, but he also teamed up with Cohen to write the script for the underrated 2013 remake of Carrie). With Riverdale now being enough of a success that it can take bold, left-field chances, the series is totally pulling a Head of the Class by devoting an episode to students staging a musical…just one with a lot more pig's blood that usual.
Titled "A Night to Remember," the April 18th episode will take the form of a Jughead-produced documentary on the Riverdale High Drama Department's Spring production of Carrie: The Musical. From the glorious press release:
Future Tony Winner Kevin Keller helms as director, combining iconic elements from the novel, 1976 movie, 1988 Broadway production, 2012 Off-Broadway revival, and 2013 remake to create a retro-yet-timeless interpretation of Stephen King's horror classic. Additionally, a behind-the-scenes documentary following the making of "Carrie: The Musical" will be filmed by student videographer and journalist Jughead Jones.

 The book of "Carrie: The Musical" was written by Lawrence D. Cohen, with lyrics by Dean Pitchford, and music by Michael Gore. The show debuted on Broadway in 1988 and ran for only 16 previews and 5 performances. But "Carrie" was given award-winning new life when it was reworked and revived Off-Broadway in 2012. It includes the unforgettable songs "The World According to Chris," "A Night We'll Never Forget," and "Unsuspecting Hearts."

Riverdale High's tragic heroine Cheryl Blossom leads the cast as Carrie White in this avant-garde production, where she is antagonized by mean-girl Chris Hargensen (recent transplant Veronica Lodge) and supported by golden-couple Sue Snell and Tommy Ross (Riverdale High's brightest, Betty Cooper and Archie Andrews). Special appearances by budding star Josie McCoy (playing sympathetic gym teacher Miss Gardner) and Riverdale High alum Alice Cooper (as Carrie White's mother, Margaret).
If you audibly gasped when you saw that Cheryl would be portraying Carrie, with Alice Cooper typecast in the role of her overbearing mother in this most meta of productions, you are not alone. And this is hardly the first time that Aguirre-Sacasa has infused his love for Carrie with Archie Comics characters, as evidenced by this house ad for his Chilling Adventures of Sabrina comic, featuring art by Robert Hack:
The press release also included in-universe Playbill style bios for the cast, some of which include mysterious redacted information that just further builds anticipation for this certain to be spooky installment:
Archie Andrews (Tommy Ross) may be making his theatre debut in Carrie: The Musical, but it's certainly not his first stage performance! Archie is an avid musician and singer/songwriter, excited to be exploring his thespian side. He would like to thank his girlfriend, Veronica, for always being there and his dad, Fred Andrews, for helping build and construct the sets.

Betty Cooper (Sue Snell) usually spends her time as Riverdale's foremost teen journalist, but between news stories, she is thrilled to be a part of Carrie: The Musical, performing alongside her Mother, Alice Cooper. Congratulations to her long-time best friend, director Kevin Keller, for realizing his vision, and much love to her boyfriend, Jughead Jones. #bugheadforever

Veronica Lodge (Chris Hargensen) was born and raised in New York City, mere blocks from Broadway, and was bit by the thespian bug at an early age. Her previous roles include Evita in Evita, Velma in Chicago, and Maria in West Side Story at Spence Prep School. She is excited to make her Riverdale High stage debut in Carrie: The Musical. She'd like to thank her parents for their love and support of the arts.
Riverdale Carrie Musical Air Date
The episode, featuring 11 songs from the actual Carrie: The Musical, airs on April 18th. Yes, we are losing our minds over this.
Riverdale Carrie Musical Trailer
Chris Cummins is an Archie Comics fan/historian who now is hoping beyond hope that next season of Riverdale gives us a Starlight Express episode. Follow him on Twitter @bionicbigfoot.