News
Riverdale: Betty & Veronica Are More Than Their Relationship to Archie
We talked with Camila Mendes and Lili Reinhart about what motivates their Veronica and Betty.
In the first few episodes of Riverdale,it's not the relationships between Archie and Betty or Archie and Veronica that get the most attention, but the burgeoning friendship between Betty and Veronica that takes center stage. 
In Riverdale, the friendship between these two is much more important than any building love triangle with Archie (at one point, Veronica even sends Betty flowers — yellow roses, for friendship). In fact, in these early episodes, the love triangle is less of as triangle and more of a love line that keeps poking holes in Veronica's attempts to become best friends forever with Betty. Seriously, she's pursuing Betty's hand in friendship like Anne Shirley friend-campaigns Diana Barry post-The Currant Wine Incident.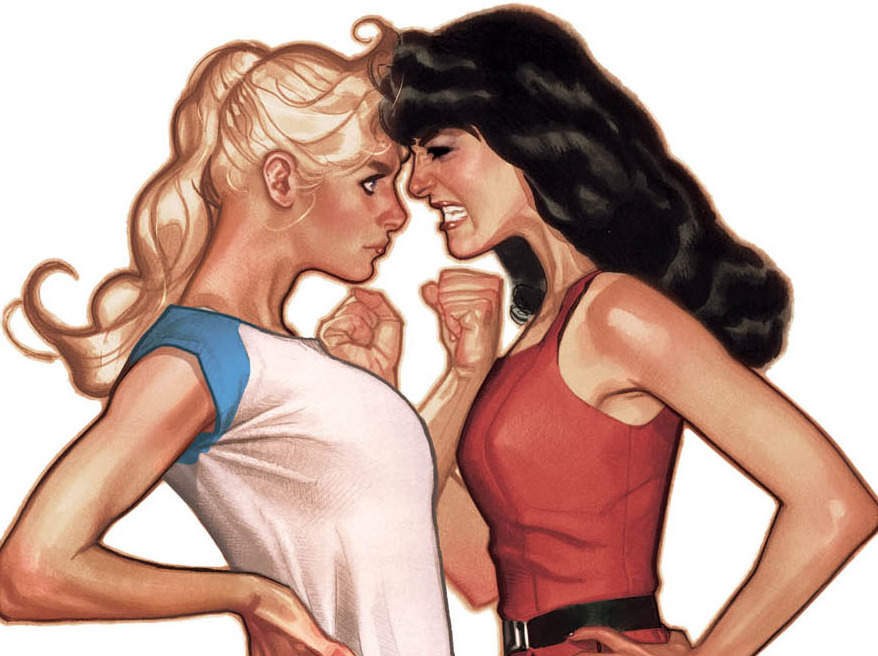 What is it exactly that immediately draws Veronica to Betty? We had a chance to sit down with Camila Mendes (Veronica) during a recent visit to the Riverdaleset. Here's what Mendes had to say… 
I think [Veronica] sees all this potential in [Betty] that is being pushed down because of her mother. [Betty's] mother really has a negative effect on her life and I think Veronica recognizes that and is trying to bring all the strength in Betty out so that the world can see it.
This makes sense, as it is Veronica's own desire to separate herself from her family name that Mendes says drives Veronica. The actress teased: "I think her overall objective is to redeem her family name and to take hold of her own identity and separate it from that of her parents." See, Veronica has bigger things to worry about right now than Archie.
Not that Archie has particularly noticed. Mendes went on to tease that Archie is busy with other objects of affection (notably, in the premiere, teacher Mrs. Grundy) in the first few episodes, saying:
For a few episodes, Veronica or Betty can't really get to Archie because he's distracted. I think that's part of what makes Archie, Archie: that he wants everyone. It's not even just Betty or Veronica. He wants Cheryl, he wants whatever. Any girl who comes his way that gives him every slight bit of attention, he's going to want to receive it.
We also spoke with Lili Reinhart (Betty) about the classic Betty/Veronica/Archie love triangle and the pains Riverdaletook to ensure that Betty and Veronica are more than love interests, with desires past their romantic lives. She said:
There's a lot more to Betty than just wanting to be with Archie, and I think that's very important for us. That was important that we kind of set that tone for our show that Betty has a lot more going for her than just Archie. Both the girls …

In the comics, it's just kind of a back and forth, you know, between which girl Archie wants which day. But, in our show, that's definitely not the case. These girls are very strong and independent women and they don't get walked all over by Archie.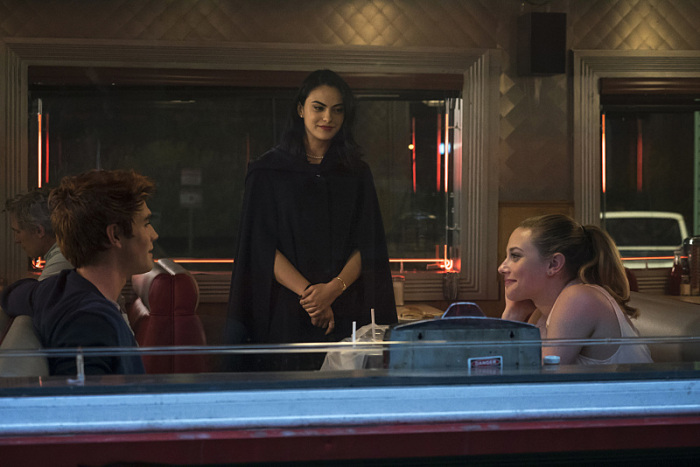 What is it that Betty wants (in addition to Archie's heart)? It sounds like the character will be very much drawn up in the murder mystery currently gripping the town. Betty's sister dated Jason Blossom and was shipped off before his death, so Betty has a vested interest in getting to the bottom of the boy's mysterious murder. Reinhart teased:
Betty is dealing with a lot of family problems in this show and in this season. She's dealing with her sister is sent away and Betty's uncovering or trying to discover why and so many parents are keeping so many secrets from her and there's just a very big divide between Betty and her parents. And that's a big arc for Betty. She's still dealing with Archie and a love interest, but there's a lot more to it than that.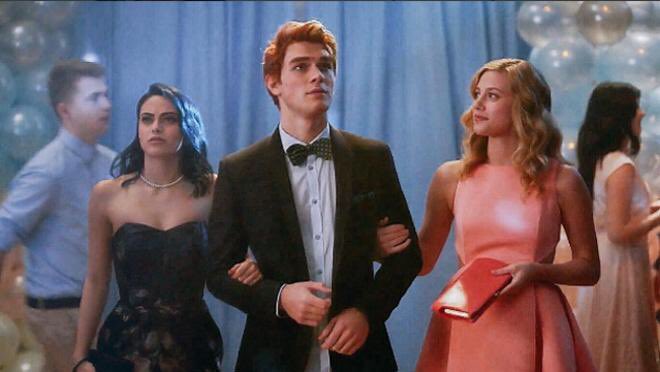 Of course, the love triangle is there and, from the sound of it, will continue to build over the course of the first season. Mendes teased: "[The writers] are doing a really good job of letting that build rather than rushing it. We all know the triangle's coming, so we're trying to gradually get there rather than starting with the triangle."
In other words: though the love triangle between Archie, Betty, and Veronica is far from the only thing this show — or these characters — have going for it, it will always be an integral part of the Archiestory… at least in Riverdale.
Riverdale premieres Thursday, January 26th on The CW at 8 p.m. ET. For more information on the TV show, check out our hub.