News
Rise of the Teenage Mutant Ninja Turtles Trailer and Release Date Revealed
Everything we know about Rise of the Teenage Mutant Ninja Turtles, including latest news, release date, trailers, and much more!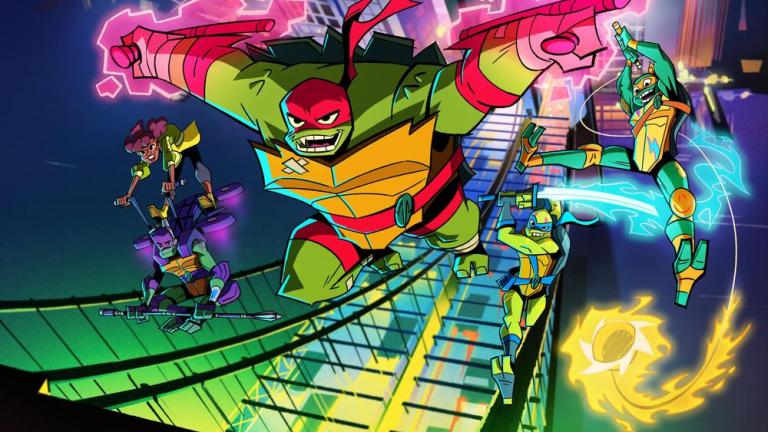 The conclusion of Nickelodeon's Teenage Mutant Ninja Turtles marked the end of the Turtles' run in 3D animation. But there are a few things certain in this world, and one is that there will pretty much always be a Teenage Mutant Ninja Turtles cartoon on the air somewhere, so when the door to one sewer lair closes, another opens. 
The new TMNT animated series scheduled to kick off in 2018 on Nickelodeon will be called Rise of the Teenage Mutant Ninja Turtles and this one is going back to 2D animation, something that seems to be coming back into fashion with Disney's DuckTales reboot (which is amazing) and Marvel's new Spider-Man series (which is a lot of fun, too). One of the executive producers on Rise of the Teenage Mutant Ninja Turtles is Andy Suriano, who has worked on character design on Samurai Jack, and he's working with Ant Ward, the supervising producer who helped make the previous TMNT series a critical success.
Rise of the Teenage Mutant Ninja Turtles Release Date
Rise of the Teenage Mutant Ninja Turtles will run for 26 episodes when it arrives on Sept. 17, 2018. It will air on Nickelodeon.
Read the Den of Geek SDCC 2018 Special Edition Magazine Here!
Rise of the Teenage Mutant Ninja Turtles Trailer
Check out the brand new TMNT trailer out of SDCC:
And here's the first trailer, too!
Here's the official synopsis, courtesy of Nickelodeon:
Rise of the Teenage Mutant Ninja Turtles follows Raphael, Leonardo, Donatello and Michelangelo on all-new adventures as they seek to unlock the mystical secrets of New York City. From the tallest skyscraper to the dankest sewer drain, the Turtles will encounter absurd new mutants and battle bizarre creatures all while enjoying their favorite slice of pizza. Tapping into mystic, ninja powers they never knew existed, the four brothers must learn to work together and navigate the perils of the modern age and hidden realms in order to fulfill their destiny to become a team of heroes.
It looks like they're leaning on some mystical elements a little more heavily than in previous versions of the franchise. The return to 2D animation (where arguably the Turtles have had their greatest success historically) and the creative team involved mean this will certainly be worth a look. 
Check out the official character descriptions for the team!
Raphael, as the oldest and physically biggest brother, he is now the leader and his enthusiasm and bravado puts him front and center for most of their bizarre adventures; Leonardo, the self-professed 'coolest' brother possesses irreverent charm and a rebel heart; Donatello, an unflappable mechanical genius and tech wizard whose ninja skills are second only to his coding; Michelangelo, the youngest brother, an artist and awesome skateboarder with a wild colorful, and imaginative personality; and the Turtles' most trusted ally, April O'Neil, a street savvy native New Yorker who is always ready to join in the fun. 
Check out the opener for the new series!
The reveal comes with information about Nickelodeon's plans for Rise of the Teenage Mutant Ninja Turtles at San Diego Comic-Con, including "Rise of the Teenage Mutant Ninja Turtles Live, a virtual reality experience that immerses users in the Turtles' iconic New York City world and allows them to have a conversation with Mikey or Donnie—voiced live on the scene by Brandon Mychal Smith and Josh Brener, respectively. More details will be available soon for this off-site opportunity."
The Nickelodeon booth will also feature "a towering New York City cityscape, featuring the bright lights, energy and iconic billboards of Times Square; a hidden Turtles lair, housing a gif opportunity; the Double Dare hamster wheel, where fans can take photos with the iconic obstacle course challenge; a photo opportunity with life-size characters from The Loud House; a 23-foot-tall, Reptar hovering above a retail area; INVADER ZIM-themed transaction zone, featuring exclusive Nick-themed collectibles and custom t-shirts and totes; costumed-character appearances; and autograph signings with the voice casts and creators from Rise of the Teenage Mutant Ninja Turtles, INVADER ZIM, SpongeBob SquarePants and more."
Check out a closer look at the characters: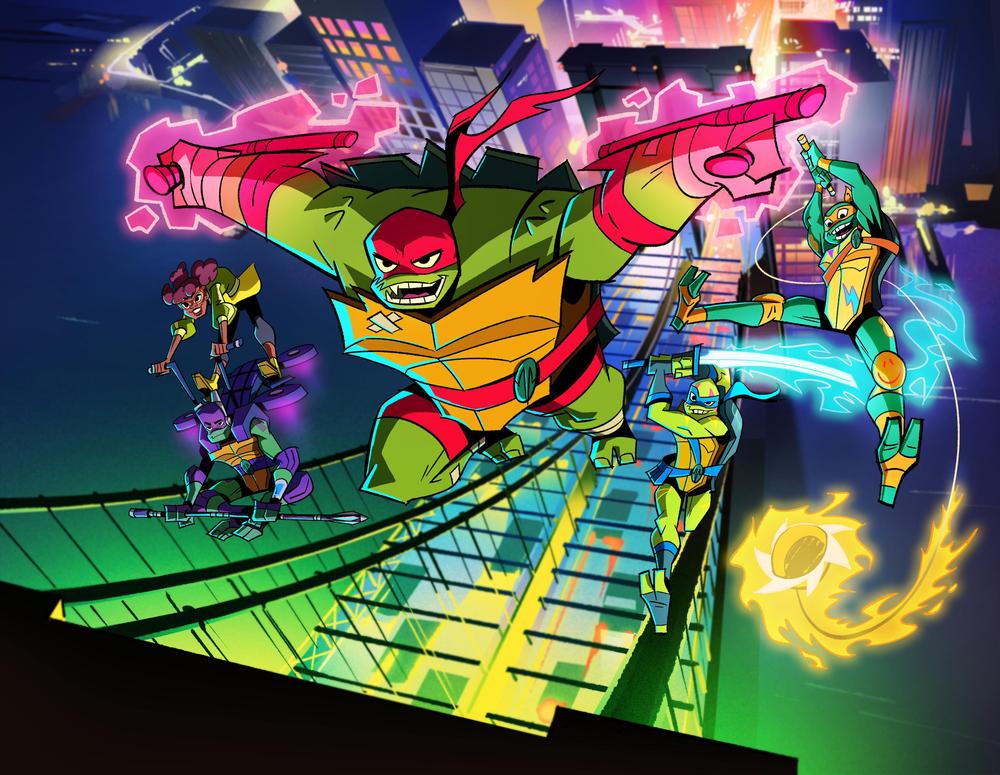 Nickelodeon offered a little context for these designs, too…
Rise of the Teenage Mutant Ninja Turtles reimagines the characters in a fresh new way, featuring jagged-shelled Raphael as a snapping turtle, wielding twin tonfas as his weapons; Leonardo as a red-eared slider, using an ōdachi sword; Donatello as a soft-shell turtle, sporting a tech-bo staff; and Michelangelo as a box turtle, arming himself with a kusari-fundo. Along for the adventure is the Turtles' most trusted ally, April O'Neil, a street savvy native New Yorker and Splinter, father figure and sensei to the Turtles.
This is definitely a more distinctive take on each Turtle than we're accustomed to seeing in animation. It's interesting that they've positioned Raphael as the leader rather than Leonardo, who has traditionally held that role. Raphael is historically the most popular member of the team, but this is a big development in TMNT history. It's also notable that, while the recent movies weren't the franchise starters everyone hoped (although I loved the second one), Raph's design and massive size seem influenced very much by that take on the character.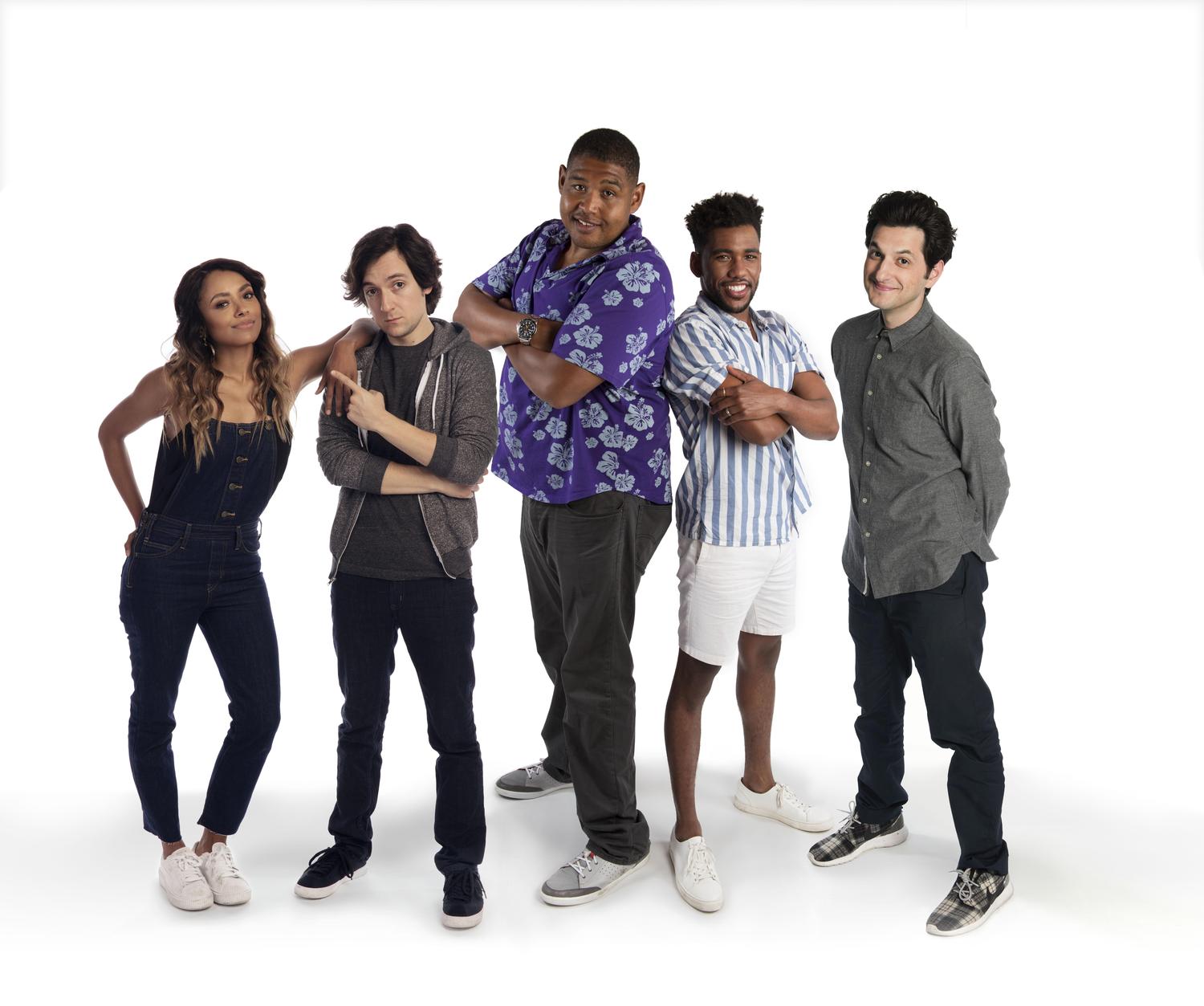 Rise of the Teenage Mutant Ninja Turtles Voice Actors
The impressive voice cast includes Omar Miller (Ballers) as Raphael, Ben Schwartz (Parks and Recreation) as Leonardo, Josh Brener (Silicon Valley) as Donatello, Brandon Mychal Smith (You're The Worst) as Michelangelo and Kat Graham (The Vampire Diaries) as April O'Neil. Eric Bauza will voice Splinter.
Additionally, WWE superstar John Cena will voice a villain named Baron Draxum. We have more info on that right here.
I have to confess, I missed the boat on the most recent TMNT series on Nick, but by all accounts it's a solid show that blends the best elements of Turtle history together. I'll get caught up eventually, but I'm looking forward to getting in on the ground floor of a new series.