News
Rise of the Teenage Mutant Ninja Turtles Coming to NYCC
Native New Yorkers the Teenage Mutant Ninja Turtles will have an NYCC 2018 panel!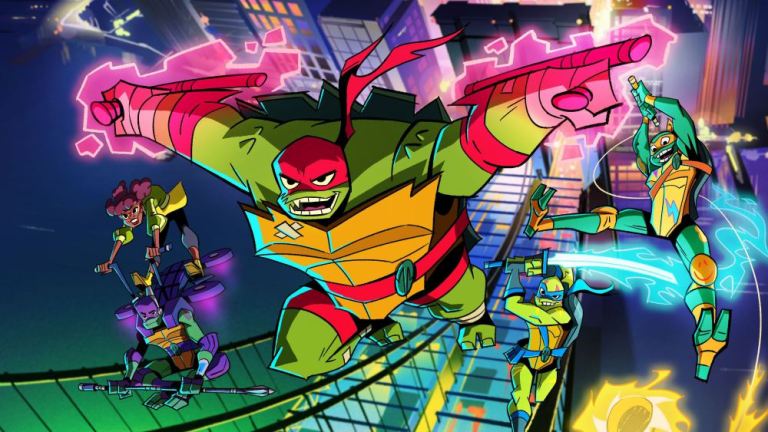 Of course Leonardo, Donatello, Raphael, and Michelangelo are going to be at New York Comic Con. The Teenage Mutant Ninja Turtles have as much New York City in their DNA as they do, well…turtle. Seriously, other than Spider-Man, you'd be hard-pressed to find other superheroes so closely associated with the Big Apple.
And with a new animated series, Rise of the Teenage Mutant Ninja Turtles about to make its debut on Nickelodeon later this month, what better place to show off this new take on the heroes in a half shell than New York Comic Con!
Here's the official details on the panel:
Rise of the Teenage Mutant Ninja Turtles
Friday, 10/5, 4:15-5:15 p.m. (Location: Javits Center, Main Stage)
Rise up! The Teenage Mutant Ninja Turtles are back in the next mutation of New York's half-shell heroes. Join us as we celebrate the latest incarnation of The Turtles.  Featuring Omar Miller (Ballers) as Raph, Josh Brener (Silicon Valley) as Donnie, Brandon Smith (You're the Worst) as Mikey, and Kat Graham (The Vampire Diaries) as April. Joining the cast are co-executive producers, Andy Suriano and Ant Ward, and legendary voice director Rob Paulsen. Panel highlights will include never-before-seen clips from the series, special guests and exclusive giveaways. 
Can't wait that long? You're in luck, dudes. Rise of the Teenage Mutant Ninja Turtles will premiere on Nickelodeon on September 17, so that should help give you an idea of what the latest incarnation of our favorite terrapins are up to. 
Check out the trailer to get an early, pizza-flavored taste…
And here's the official synopsis for the series, too…
Rise of the Teenage Mutant Ninja Turtles follows Raphael, Leonardo, Donatello and Michelangelo on all-new adventures as they seek to unlock the mystical secrets of New York City. From the tallest skyscraper to the dankest sewer drain, the Turtles will encounter absurd new mutants and battle bizarre creatures all while enjoying their favorite slice of pizza. Tapping into mystic, ninja powers they never knew existed, the four brothers must learn to work together and navigate the perils of the modern age and hidden realms in order to fulfill their destiny to become a team of heroes.
We have everything else you need to know about the series right here.
That's enough of the details, right? We'll be all over New York Comic Con all weekend long, but we'll see you on October 5 at 4:15 for the Rise of the Teenage Mutant Ninja Turtles panel!
Michelangelo Cecchini is the Editor in Chief of Den of Geek. You can read more of his work here. Follow him on Twitter @wayoutstuff.