News
Rip Torn: Fearless Film, TV, and Stage Actor Dies at 88
Rip Torn, who played characters from Judas Iscariot to the producer on The Larry Sanders Show, dies at 88.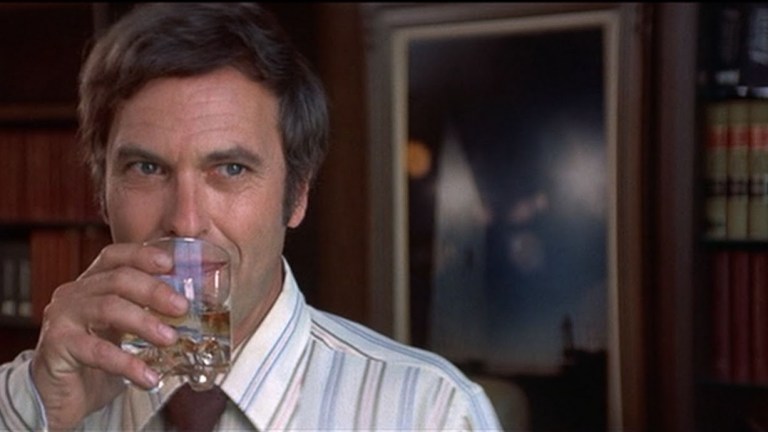 Respected and versatile character actor Rip Torn died Tuesday in Lakeville, Conn., according to Variety. Publicist Rick Miramontez did not release a cause of death, but said Torn was with his wife, Amy Wright, and two daughters, Katie and Angelica. He was 88.
Torn believed actors should "play drama as comedy and comedy as drama," according to the statement, and the actor was equally at home both. He starred in comedies like Albert Brooks' Defending Your Life and the Men in Black films, as well as TV comedies 30 Rock, playing General Electric CEO Don Geiss, mentor to Alec Baldwin's Jack Donaghy, and Curb Your Enthusiasm.
Torn won an Emmy for his part in HBO's The Larry Sanders Show, and was nominated for a Tony award in 1960 for his Broadway debut as Tom, Jr. in the original cast of Tennessee Williams' Sweet Bird of Youth. He played the son of the town boss in the theater production, before replacing Paul Newman in the starring role of Chance Wayne. Newman, Torn and Geraldine Page, whom Torn married in 1963, reprised their roles in the 1962 film adaptation. Torn starred as Boss Finley in NBC's 1989 television adaptation, which was directed by Nicolas Roeg, who directed torn in The Man Who Fell to Earth, starring David Bowie. Torn was nominated for a supporting-actor Oscar in 1984 for his role in Martin Ritt's Cross Creek. He won an Obie for his Off-Broadway debut role in Norman Mailer's Deer Park in 1967. He was also nominated for Emmys for his work in the 1985 CBS telepic The Atlanta Child Murders and a 1994 a guest role on Chicago Hope. Torn was nominated for six Emmys for The Larry Sanders Show. He won in 1996.
Torn's career stretched seven decades. Torn first found success 1950s live television shows like Omnibus, Playhouse 90 and The United States Steel Hour. He was born Elmore Rual Torn Jr. in Temple, Texas on Feb. 6, 1931. Rip was a family nickname. He studied animal husbandry at Texas A&M and the University of Texas before he studied acting under director B. Iden Payne. Torn served in the U.S. Army before heading to Los Angeles in the mid 1950s for an acting career. He also studied acting under director Sidney Lumet's father, Baruch Lumet, at the Dallas Institute of Performing Arts.
Torn made his film debut in Elia Kazan's 1956 film Baby Doll with an uncredited role. Kazan also cast him in his 1957 film A Face in the Crowd. Torn moved to New York City in the late fifties to study at the Actor's Studio under Lee Strasberg. Torn was fellow Actors Studio student Burt Reynolds' roommate while at the summer-stock troupe at the Hype Park Playhouse.
On Broadway, Torn also played in Daughter of Silence, and Eugene O'Neill's Strange Interlude. He made his Off Broadway debut in O'Neill's Desire Under the Elms. Torn was Ben Gazzara's understudy in the original production of Cat on a Hot Tin Roof. Torn worked to racially integrate the theater world, defending every line in James Baldwin's Blues for Mr. Charlie. He acted in O'Neill's Anna Christie with Liam Neeson and Natasha Richardson in 1993. Torn starred in Horton Foote's The Young Man From Atlanta in 1997.
He played historical figures like Carlo Ponti in 1980 NBC telepic Sophia Loren: Her Own Story, as well as Henry Miller and Kit Carson; Presidents Lyndon Johnson, Ulysses S. Grant, and twice played Richard Nixon, in the 1979 miniseries Blind Ambition and onstage in Expletive Deleted. He also played Walt Whitman twice. He played Gregory Peck's brother-in-law in the 1959 Korean War movie Pork Chop Hill. He played a country singer in Payday (1973), a farmer in Heartland (1982), and a best-selling author in Wonder Boys (2000). In the 1970s he starred in the film Tropic of Cancer, and appeared in Crazy Joe, Coma, The Seduction of Joe Tynan. He also acted in Jinxed, Airplane II: The Sequel, Canadian Bacon, Down Periscope, Where the River Flows North and Cash.
Torn directed the 1988 feature The Telephone, which was written by Harry Nillson and Terry Southern and starred Whoopi Goldberg.
A fearless actor, Torn played Judas in Nicholas Ray's 1961 biblical epic King of Kings, and appeared in the independent X-rated film Coming Apart in 1969. He played the evil wizard Maax in the 1982 cult film Beastmaster. Torn founded The Mercer Arts Center, which was called "the Lincoln Center of Off-Broadway" until it tumbled down as a rock club, in conjunction with actor/director Gene Frankel, Viveca Lindfors, Steina and Woedy Vasulka. 
Torn was reportedly as volatile as he was versatile. He attacked Norman Mailer with a hammer during a scene in Maidstone while the cameras were still rolling. Mailer responded by biting Torn's ear. They had to be pulled off each other by the cast and crew. Torn allegedly attacked Dennis Hopper with a knife during filming of Easy Rider before being replaced by Jack Nicholson. Torn later sued Hopper for defamation, saying Hopper pulled the knife. Torn was awarded $950,000. He was arrested for insisting Jefferson Airplane be allowed to finish their the lunchtime rooftop concert the Schuyler Hotel in Manhattan on December 7th, 1968. He also was arrested in 2010 after he got drunk and broke into a bank with a loaded gun. Torn later claimed he thought it was his home.
Torn was married to actress Ann Wedgeworth. He was married to Geraldine Page until her death in 1987. He is survived by his third wife, actress Amy Wright, six children, four grandchildren, and sister Patricia Alexander.
Culture Editor Tony Sokol cut his teeth on the wire services and also wrote and produced New York City's Vampyr Theatre and the rock opera AssassiNation: We Killed JFK. Read more of his work here or find him on Twitter @tsokol.