News
Ring of Honor Takes an Old-School Approach to New Show
Ring of Honor harkens back to the old days of pro wrestling with its one-hour show on Destination America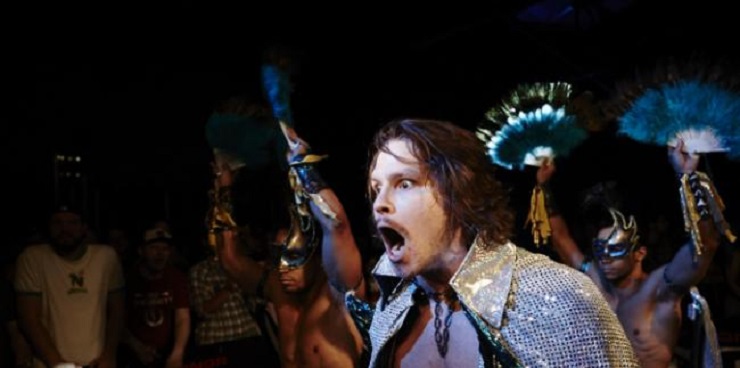 If you're a new Ring of Honor viewer, you've probably enjoyed what you've seen the last two weeks. There was some interesting data stemming from ROH's debut on Destination America last week. The viewership numbers were good — better than what Destination America had in the previous show in that timeslot — but the average viewer was around 50 years old, which is not a target advertising demo, and also not what ROH typically draws to its live events.
However, if that trend continues, here's a theory on why …
When it comes to its booking, ROH is old school. The format is simple and easy to understand. Match-promo-match-promo-match-promo-match.
That's your show.
That's how wrestling was typically broadcast in the 1980s, before the Monday Night Wars made companies feel as if every segment needed to be a main event. The last time wrestling was broadcast in such a way, most of these 50-something viewers were probably in their 20s, and regular watchers of pro wrestling on the old TBS Superstation or whatever else was on at the time.
ROH is proving that the old formula can still work, and they do such a great job producing a one-hour wrestling show. It really makes me wish even more that WWE would cut Raw back to two hours, because there is no rest period with ROH. There are no lulls. Everything seems important.
For the older viewer, it harkens back to a day when wrestling was a lot more simple and easy to understand. If you win, you move up, if you lose, you move down. ROH also typically gives clean finishes to its matches, with less run-ins and disqualifications (with the caveat being that this most recent show did happen to feature a lot of DQ finishes).
Sinclair Broadcasting also has just four stations in the Northeast, so the booking, until this point was geared towards a more southern or midwest audience. Living in the northeast, I can tell you, it's nuts here. People want things fast-paced and there's never time to breathe. Back in the territory era, the promotions in the south and midwest were booked entirely differently than WWWF was in New York. The audience was different, and until this national exposure, that was the same audience that ROH was largely booking its television for.
That's not to say that ROH should change, because they shouldn't. They're doing something that right now, no one else is doing, and it's working.
Match Results
1. Kyle O'Reilly def. Christopher Daniels & Kazarian via DQ: The story of this match was that Kazarian and Daniels injured Bobby Fish, so he wasn't medically cleared to compete. In reality, Fish couldn't get into Canada for unknown reasons, and ROH had to call an audible. So they instead told the story of O'Reilly coming out for the ROH Tag Title shot on his own, and really showing a ton of heart. Daniels hit O'Reilly with one of the tag belts to force the disqualification, and I'm sure we'll get the actual tag match here down the road. But given the circumstance, very good match and very good booking.
2. Jushin Liger def. Dalton Castle: Another very good match — this is ROH though, so no surprise there. The only thing I didn't like about it was ROH color man, Steve Corino, mentioning to the audience that Liger "moves well for a 50-year-old man." With the mask and gear that Liger wears to the ring, the casual audience, which I'm guessing there is more of now that the show is on Destination America, would have no clue that Liger is as old as he is. He still moves like a man in his 30's, so pointing that out seemed kind of silly to me, especially if they were having Liger go over.
How does it look for the 20-something Dalton Castle to lose to a man double his age? Overall, I like Castle's act and thought he could have been protected a bit more, but Liger is a legend.
3. "Brutal" Bob Evans & Cheeseburger fought to a no-contest: Some aren't a fan of Evans, but I am as a heel. He's not the typical young, crisp, fluid ROH wrestler, but as a heel, I think that works. He's a grizzled veteran who just wants to fight. That's not typical ROH, so if marketed right, he can be a good heel in this company.
His overall look reminds me a lot of Bob Backlund in the mid-90s, when he was feuding with Bret Hart. The match ended when Evans hit Cheeseburger with a sideslam off the apron and through a table on the floor.
5. Doc Gallows & Karl Anderson fought Matt Taven & Michael Bennett to a no-contest: The match ended when the referee took a pair of bumps during a brawl. For a big match, I was a little disappointed with the cheap finish. Granted ROH didn't know this would be their second show on Destination America, but having three of the four matches end by either no-contest or DQ is not only not the norm for ROH, it's not what would be pleasing to a television viewer, either. Viewers want closure, usually.
The Finish
Other than the non-finishes, this was a good show. The promos by Jay Lethal and Jay Briscoe building up their title match were good, and also they made the contract signing for next week seem very important, which is also a good thing.