News
Ring of Honor Does Authority Figures Right
Ring of Honor the perfect example of why authority figures in wrestling shouldn't be heels …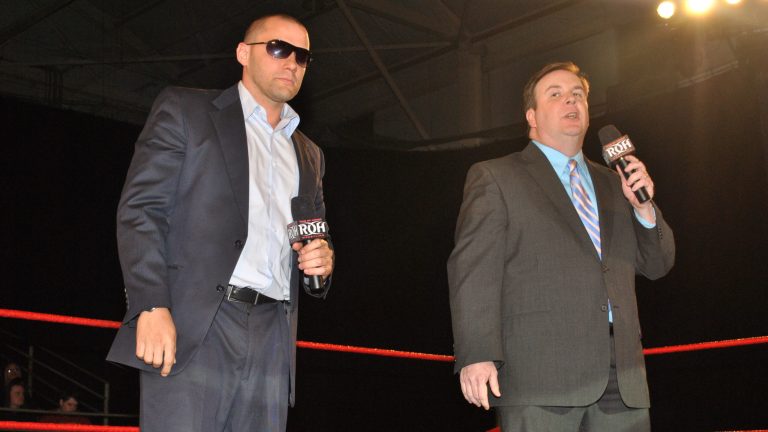 If you're a new fan of ROH since its Destination American debut, you've noticed that Nigel McGuinness is Ring of Honor's official matchmaker. He's the man in charge. He's "The Authority" of Ring of Honor, if you will. But he's much different than what we've become accustomed to seeing in the person in charge of a pro wrestling company.
McGuinness isn't a heel. He's not an evil, power-hungry tyrant. He's just the man in charge and acts as such. It's refreshing, and it's also a little part of what makes ROH so special.
We talked about this a lot with Roman Reigns' push ahead of WrestleMania 31 earlier this year. The WWE has conditioned its fans since 1997 that "the authority" in the company is the bad guy. Vince McMahon, Stephanie McMahon, Triple H, Eric Bischoff … you name it, for the most part, the GM or owner or whoever has been an evil character in WWE, with maybe the exception of Teddy Long's run on SmackDown, and that's it.
So WWE conditioned its audience to hate its power structure for years, and yet they were surprised when the audience gagged on the man everyone knew that power structure, behind the scenes, had anointed as the next top guy. Luckily for Reigns, he handled it well and he seems to be getting past it. But, it's one real problem with booking your authority as a heel. Who wants to support a company run by a bunch of assholes?
McGuinness is the complete opposite in Ring of Honor. He's a former champion who the fans respect as one of the best wrestlers in the company's history. He's also making fair and balanced decisions, even if they're not always easy for his character to do. It's so refreshing, and gives ROH's product that sport-like feel that's lacking in many other pro wrestling companies.
You don't see Joe Silva or Dana White being devilish heels in their dealings within UFC. They make decisions — sometimes hard ones like suspending Jon Jones — but they generally make them fairly and with reason. It's legitimate, and legitimacy is what McGuinness brings to ROH in his role.
Match Results
1. War Machine def. Adam Page & Colby Corino: The Corino build has been fantastic, and ROH commentator Steve Corino is doing great work selling how much it's bothering him watching his son get sacrificed to protect B.J. Whitmer. It's building so well, I genuinely can't wait to see Corino finally turn on Whitmer.
2. Cedric Alexander def. Moose: I'm a little surprised to see Moose's winning streak just end so abruptly, but I like the story here. Alexander was down and out and needed to use a weapon to beat his friend. There's some different angles ROH can take this, and I'm interested in the next step. Moose losing obviously hurts him, but I think he's protected enough considering Alexander needed the weapon, and it seemed pretty clear that  Moose was winning the match if it wasn't for Alexander using the wrench.
3. Tanahashi & Naito def. ACH & Matt Sydal: I thought this match was very, very good. ACH and Sydal had plenty of offense and it was just very entertaining. ROH was closing the show with an angle, which is unusual for them, so I thought that this match really needed to deliver, and it did.
Final segment: Jay Briscoe and Jay Lethal signed the contract for their Champion vs. Champion match this coming Friday at Best in the World on pay-per-view. It was a rare contract signing, in that it didn't end with any physicality. Kudos to ROH for being different. Contract signings in general are so predictable. There's a table, it gets knocked over, then the heel usually cheapshots the babyface as a go-home angle to a big title match. Yawn! ROH went a different route here and I liked it. They left you waiting for something physical, and it never happened.
I'm not a big fan of Ring of Honor billing this match as the biggest in ROH history. I understand the logic, obviously, but it doesn't feel like the biggest match in ROH history. Sure, it's title vs. title, but there have been so many huge matches in ROH's past. It feels like they're overhyping this match, which shouldn't hurt the buyrate or anything like that, because it's a big match, one of ROH's biggest of the year for sure, but it doesn't feel like Punk-Joe or even most of Kevin Steen's big matches.
Last year's title match, where Michael Elgin defeated Adam Cole for the title, felt like it had more of a "I can't wait to see this" buildup to it. Cole and Elgin had a personal element to it, which helped. Title vs. Title is clearly a big deal, however. I just hope the audience isn't tuning out or groaning at ROH's insistence that this is bigger than anything the company has done to this point.
The Finish
Really, this was the perfect build for Best in the World, with the contract signing being the official last-thing-you-see before the big event. Ring of Honor pushed what was big at this show, and that's obviously Briscoe vs. Lethal. The undercard should be solid as well, though. The three-way match for the No. 1 Contender spot is going to be a physical war, and I like that War Machine got on the card. I still think Hanson is a future World Champion in ROH if he's protected and booked correctly.