News
The Righteous Gemstones Season 2 Set by HBO
HBO wasted little time giving Danny McBride comedy The Righteous Gemstones a second season renewal.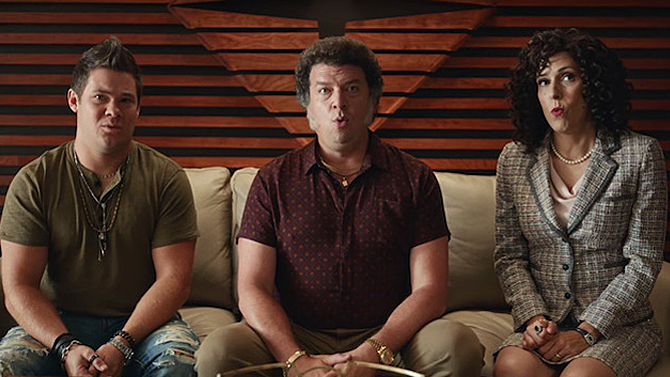 The Righteous Gemstones Season 2 is officially happening at HBO!
The evangelically-centric satire series didn't have to pray too long for a second season, since HBO granted the ensemble comedy a quick renewal, arriving the day after its still-running debut season aired Episode 4 this past Sunday night, set to cross the midway point of its 9-episode frame.
Star Danny McBride, who created the show, also serves as director and executive producer, joined in a creative capacity by Jody Hill, a writer/director on McBride's previous HBO series Eastbound & Down and Vice Principals, along with David Gordon Green, who also worked on those shows, and (in a genre divergence,) worked off McBride's script as director of the 2018 Halloween revival film, set to repeat the process for two sequels in 2020's Halloween Kills and 2021's Halloween Ends.
Further Reading: The Righteous Gemstones: Jody Hill and David Gordon Green on New HBO Series
As Amy Gravitt, executive vice president of HBO Programming, lauds of The Righteous Gemstones creative coalition in a statement:
"Danny, Jody and David are among our favorite collaborators and we're thrilled that their take on a family comedy has been met with such enthusiasm. We cannot wait to share the next steps in the Gemstone family's epic journey. Hallelujah!"
The Righteous Gemstones – starring Danny McBride, John Goodman, Adam Devine, Edi Patterson, Cassidy Freeman and Walton Goggins – follows the exploits of the Gemstones, a family of American televangelists. While their Jesus-pushing proselytizing affords them an extravagantly wealthy existence – living in multiple mansions located on a palatial family property – their dysfunctional (un-Christian-like) offscreen dichotomy is dominated by a seemingly interminable array of ever-escalating bad choices. The series provides a steady mix of killer comedy and just the right amount of plot twists to maintain an intriguing dynamic.
The primary personnel of McBride, Hill and Green are joined by executive producers in returning Eastbound/Principals creative personnel in John Carcieri, Jeff Fradley and Brandon James, along with producer David Brightbill, co-producers Justin Bourret and Melissa DeMino and consulting producers in cast member Edi Patterson, along with Grant DeKernion, Chris Pappas, Jared Hess and Kevin Barnett.
The Righteous Gemstones Season 2 doesn't have a release date as of yet. However, considering Season 1's August 18, 2019 debut, it will most likely manifest as a summer 2020 offering. For now, the show's inaugural season airs on HBO Sundays at 10 p.m.
Joseph Baxter is a contributor for Den of Geek and Syfy Wire. You can find his work here. Follow him on Twitter @josbaxter.