News
RiffTrax Live to Feature Doctor Who: The Five Doctors
This August, you can check out Mike Nelson, Bill Corbett, and Kevin Murphy as as they make fun of the Dr. Who 20th anniversary special.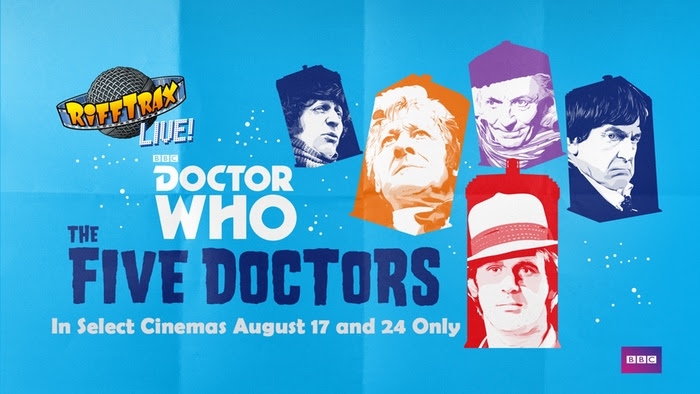 Recently, the guys at RiffTrax finished off another successful Kickstarter to fund their annual set of live performances. As always, RiffTrax Live will be showcased across the country via Fathom Events. We already knew about them tearing apart Samurai Cop on April 13 and a Summer Shorts Beach Party on June 15, featuring the likes of Paul F. Tompkins, Mary Jo Pehl, Bridget Nelson, Trace Beaulieu, and Frank Conniff. Now we know that on August 17, their big mystery show will be none other than Doctor Who: The Five Doctors.
I personally know only a limited amount of stuff about Doctor Who – nothing against the show, but there are only so many hours of the day for one man to devote to geekdom – but what I do know about this 1983 TV special does make it seem like good fodder. Celebrating twenty years of Dr. Who, the special was a big crossover featuring all then-five iterations of the Doctor. Except the First Doctor had to be recast due to the original actor being long dead and the Fourth Doctor's actor refused to take part, so they simply used footage of him from an unfinished episode.
Regardless, it's 80s camp, which is the best kind of camp.
Previously, Mike, Bill, and Kevin have tackled 60s Who stories Dr. Who and the Daleks and Dr. Who: Daleks – Invasion Earth: 2150 AD. Unfortunately, those installments are no longer available to purchase due to rights issues.
While the show will be shown on Thursday August 17 and a week later on August 24, those will be your only chances to catch it. Unlike Samurai Cop and Summer Shorts Beach Party, there won't be a version to download or buy on DVD. Rights issues are a bitch sometimes.
NOTE: We had previously noted that this event was taking place in April, not August. Things had gone a little timey-wimey for us. Sorry about that.
Gavin Jasper is jazzed that the RiffTrax Live for Samurai Cop is the day before the new season of Mystery Science Theater 3000. Life is cool sometimes. Follow Gavin on Twitter!