News
Rick and Morty Soundtrack Coming From Sub Pop and Adult Swim
Listen to all the classic tunes from the past three seasons on your fancy audio medium of choice.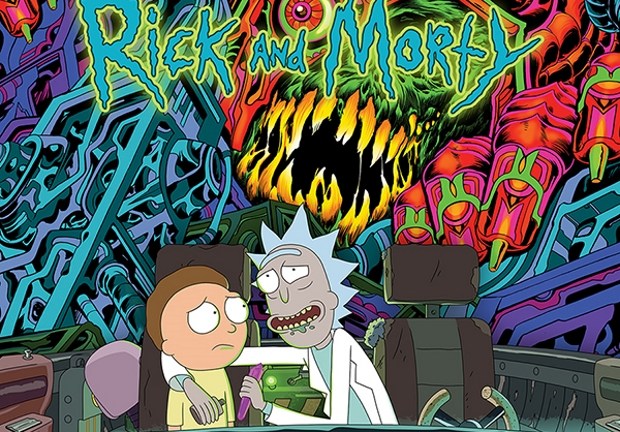 Rick and Morty has always been a pretty damn cool series when it comes to music. The series' in-house composer, Ryan Elder, does a bang-up job of writing original tunes ("Goodbye Moonmen" is an obvious standout) and putting together the rousing score that accompanies the titular duo's sci-fi shenanigans.
Beyond that, the series has also incorporated some brilliant choices of songs from indie artists the creators love, such as Belly, Chaos Chaos, and Blonde Redhead (whose haunting "For The Damaged Coda" has become Evil Morty's official theme).
So it only makes sense that a soundtrack album would be produced and it's going to be a whopping 26-track release featuring all the original music, licensed songs, and stupid ad-libbed nonsense ("The Flu Hatin' Rap" and, duh, "Get Schwifty"), not to mention two original, series-inspired tracks from artists Chad VanGaalen and Clipping.
The album will be released digitally, on CD, and on double vinyl LP on September 28th through Sub Pop. You know you're in good hands with Sub Pop; they basically put out all the cool people music, like that Kurt Cobain's Nirvana that the children love so well.
But that's not all! If you love extra, fancy, overpriced crap, you can wait until November 23rd for some insane deluxe vinyl that has a plexiglass window and LED lights and it glows and stuff? Honestly, I got lost just reading the description of this thing, so just check out the press release for all the details and the full tracklist.
Also worth noting is that there will be limited edition exclusive colored vinyl variants of the deluxe box set available for pre-order at the Adult Swim campground at San Diego Comic-Con and then a whole other exclusive variant that you can pre-order at the Adult Swim Festival in LA on October 5-7.
Make sure you get to ALL of these places and buy EVERY version of the LP available before realizing you don't own a record player and are now too poor to afford one to play your new vinyl. What a life!
Oh, and Sub Pop has already released two of the tracks to listen to now: the Rick and Morty theme and "Goodbye Moonmen." I don't know how you haven't already heard these yet and why you're excited about this, but whatever, YouTube links of those below, you goof.