News
Rick and Morty Season 4 Negotiations Ongoing, Dan Harmon "Optimistic"
Dan Harmon tells us that he is optimistic about the direction contract negotiations are taking in regards to Rick and Morty Season 4.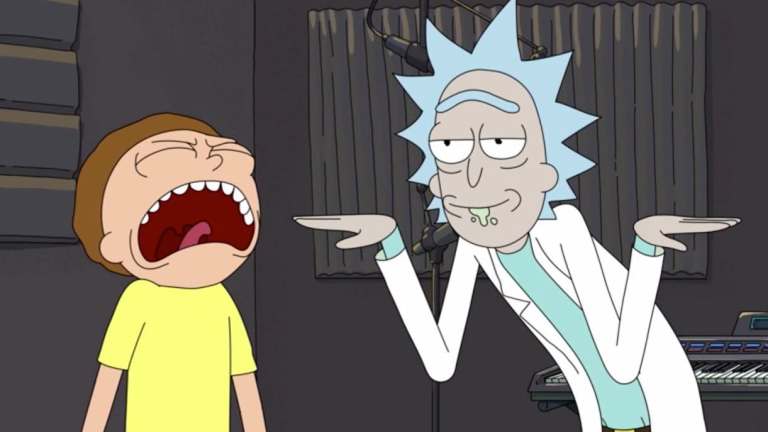 Perhaps more than any other animated series for adults in the last decade, Rick and Morty has broken into the zeitgeist in a major way, leaving its growing fanbase always eager for another adventure with Rick, Morty, Summer, Beth, and even Jerry. Which is perhaps why so much anxiety met Dan Harmon's tweet last month when he stated it's hard to write for a series "that hasn't been ordered by a network." Indeed, both Harmon and co-creator Justin Roiland then further elaborated that contract negotiations have "gotten complicated."
So when we sat down with Harmon at the Tribeca Film Festival, we had to ask if the last month has brought better news for fans. Harmon appeared in relatively good spirits on the subject, as well as his new film, Seven Stages to Achieve Eternal Bliss by Passing Through the Gateway Chosen by the Holy Storch, despite claiming he was nursing a hangover. Even so, he still seemed more upbeat about the prospects of Rick and Morty Season 4.
"I'm optimistic right now, at the moment," Harmon said. "Negotiations are tough. It's an unprecedented situation, and everybody's being real cool and wants to make an agreement happen so that we can get started. That's about all I can say."
Certainly more enthusiastic than his words on the matter during an appearance on Kevin Smith's SModcast last month, these are cautiously positive tidings, especially as Harmon is still contemplating what more Rick and Morty adventures should (and should not) look like. We even tried to hear his pitch for one in honor of the most auspicious "holiday" our interview was conducted on, 4/20.
"How would Rick and Morty observe it," Harmon said about the possibilities of a 4/20 episode. "I guess Rick would observe it by revealing that it actually had some other significance on some other dimension or something, or he'd take Summer to a timeline where all drugs are legal and show her why that can't be the case in our timeline." Then after pausing to laugh at his own suggestion, he added, "This is awful. I'm so hungover I'm writing bad Rick and Morty fan fiction."
He might feel that way, but we're sure there is audience for how he'd approach the material further, just as there is an audience for his next film, Seven Stages to Achieve Eternal Bliss. In the unique comedy, Harmon is intriguingly utilized as an actor as opposed to a writer. Within the story, Harmon plays Cartwight, a bitter and, at best, marginally competent police detective who's more interested in finding a Hollywood career as an action movie screenwriter than in figuring out how to stop cult members from ritualistically committing suicide in the homes of a sweet Midwestern couple played by Kate Micucci and Sam Huntington.
We were able to sit down with the stars, Caldinelli, and comedy legend Mark McKinney to further discuss Seven Stages and how each of them would achieve their own personal eternal bliss, and we'll have that on the site soon. Meanwhile the film is still playing at the Tribeca Film Festival on Saturday night at 10:45pm.