News
Rick and Morty Season 3: Rick's Gonna Be Okay, Probably
We may get a quick resolution to a season two cliffhanger as Rick and Morty season 3 production is underway...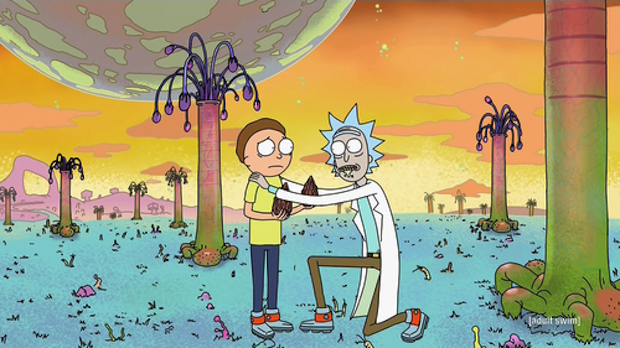 Production on Rick and Morty season 3 just got going about a month ago, but evidently it's going very well! Writer Dan Guterman recently tweeted that it had been a good day at the Rick and Morty factory. He's since deleted the tweet—probably so nerds would stop asking him for spoilers—but I swear he said it!
Speaking of nerds asking for spoilers, I recently spoke with Dan Harmon who confirmed that everything's been great in the writers' room so far.
"We hired a bunch of new writers," he told me. "There was a craving for a gender balance in the writers' room that we had never had, but I'm also very proud of the fact that we didn't compromise ourselves following that craving. We just looked harder and I don't know if it was coincidence or because the show was popping up on the radar of a lot of great female writers noticing, 'Well, they don't have any women writers in there. I'm gonna submit something.' It was probably a combination of all those factors."
Harmon added that the new blood has definitely had a positive effect: "We've gone from a bunch of dudes shooting Nerf guns at each other and asking each other questions about women that we don't know the answers to to…I think it's like a 50/50 balance now, like in the early days of Community, which is really great. Because I think the important thing about gender in the writers' room is not representation, it's balance."
As far as season two's cliffhanger finale goes, I asked if they'd already managed to, in the words of Mr. Poopy Butthole, unravel this mess.
Harmon replied, "I don't think anybody wants to do a third season that simply spends a whole bunch of episodes dealing with a situation that we created at the end of the second season. So I think that's a non-spoiler way of saying things should be okay pretty quickly."
"So," I pried further, "you fixed all the problems at the end of Season 2? What happened with Rick is all good now?"
"Well," said Dan, "we'll keep you posted on that in the form of our cartoon."