News
Rick and Morty Season 3: Can They Keep Up The Joke Pace?
After a record-breaking premiere, we asked Rick and Morty's creators if they can keep the jokes coming.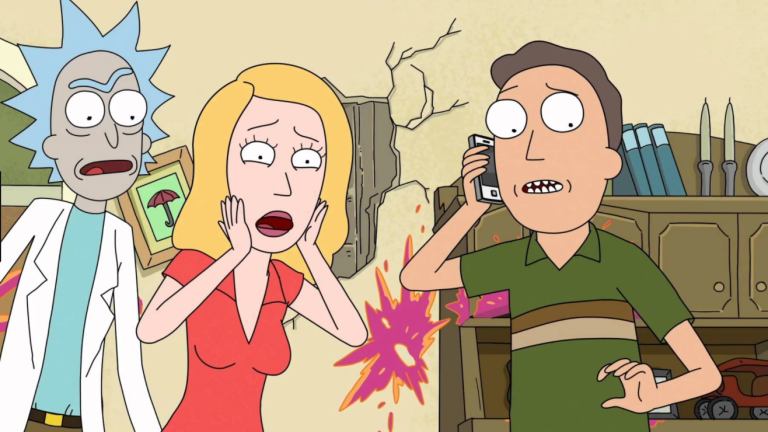 One of the reasons Rick and Morty episodes are endlessly dissected by its fan base is the frenetic pace of the joking making.
Give Rick and Morty the eye (and ear) test and it's easy to see how the show is pound for pound one of the funniest on television. We wanted to put that theory to test, so we enlisted our staff writer Alec Bojalad to deconstruct each season one episode minute-by-minute. What he came up with was a scientific, totally non-subjective analysis and formula for jokes per minute. 
Rick and Morty season 1 finished with an average of 5.40 jokes per minute, a full joke more on average than VEEP season 4. Clearly, co-creators Justin Roiland and Dan Harmon weren't satisfied. They went out an topped themselves in Rick and Morty season 2, finishing with 5.96 jokes per minute average.
So were they trying to top themselves with the rate of jokes they were able to squeeze in from season one to season two? 
"I think so," Roiland told Den of Geek. "In season two, we were running a joke room. In season one, we weren't doing it at all. It was a much more home spun kind of operation when it came to the writing and crafting of the scripts. And then in season two, we had some amazing people, like Dan Guterman. We had a fucking amazing writing team. Both seasons two and three. And it was like, fuck it, let's spin off a joke room." 
Roiland and Harmon would go through scripts during season two and highlight lines to send off to the joke room. There they'd come up with alternate lines and pick their favorite one to include in the final script. 
"That's probably how we jacked up from season one to season two," Harmon said. "Because we have the alt list, sometimes we'd have Rick do the alts. Like Rick would just say to Morty, like in the fart episode, 'Talk about silent and deadly. If you don't like that one, Morty, an alt for that would be…' And then he just goes down the list and that probably raises the average." 
Roiland would then record the alternate lines and figure out which one to use in the next step of the production process. 
It may not be intentional, but they've already significantly raised the JPM bar for season three. Though the show currently doesn't hold our JPM record (Angie Tribeca Season 1 holds a 6.17 JPM average), the Rick and Morty season 3 premiere smashed our single episode record book with 9.1 JPM.
Can Rick and Morty keep that pace up? We'll be keeping track after each episode of season three airs. Come check our math! 
All-Time Jokes Per Minute Records: 
Angie Tribeca season 1 – 6.17
Rick and Morty season 2 – 5.96
Rick and Morty season 1 – 5.40
Veep season 4 – 4.28
Individual Episode Studies: 
Rick and Morty season 3 episode 1 "The Rickshank Rickdemption" – 9.13
The Simpsons season 4 episode 12: "Marge vs. The Monorail" – 7.14
Happy Endings season 2 episode 15: "The Butterfly Effect Effect" – 6.99
30 Rock season 1 episode 7: "Tracy Does Conan" – 6.15
Seinfeld season 4 episode 11: "The Contest" – 5.33
Arrested Development season 2 episode 4: "Good Grief" – 6.62