News
Rick and Morty Season 2: Everything We Know
Our final Rick and Morty Jokes Per Minute stats are calculated, plus all the latest reviews, news, features and more...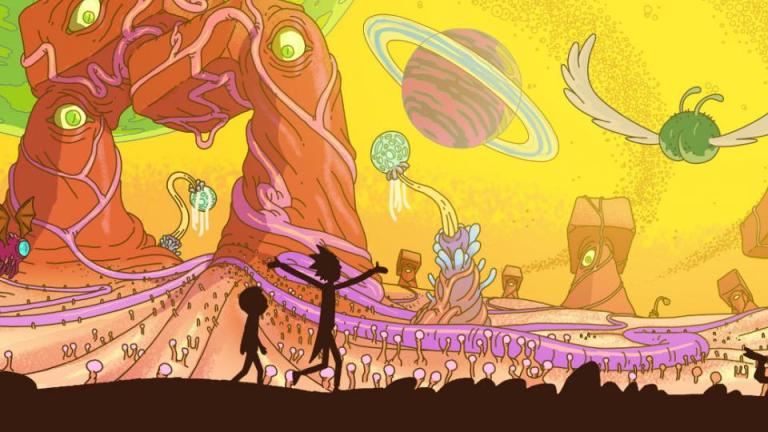 Episode 8: "Interdimentional Cable 2: Tempting Fate"
Episode 9: "Look Who's Purging Now"
Episode 10: "The Wedding Squanchers"
When does Rick and Morty Season 2 Premiere?
We've been patiently waiting for Rick and Morty season two for what feels like an eternity now but we're starting to see the light at the end of the intergalactic tunnel. Rick and Morty's official Facebook page teased us "Summer 2015. Summer. This. Summer." Now we have an official date. 
Rick and Morty returns to Adult Swim on Sunday, July 26th at 11:30 p.m.
There will be one less episode of Rick and Morty this time around. In total, season two will comprise 10 episodes.
Rick and Morty Season 2 Teasers:
This new promo for Rick and Morty action figures is our favorite teaser yet…
Make science your bitch!
Is that a Mr. Meeseeks sighting? In a Rick and Morty season two promo, we spotted some familiar characters in the background, as well as some intriguing new ones. Have a look…
Adult Swim released another promo, which offers even more clips, including Rick's Lost hatch, Sanchez ski shoes, and an insane amount of gross and weird stuff.
Rick and Morty crossed over with The Simpsons on Sunday, May 17th. We're biased, but it's safe to say this was the best Simpsons crossover ever. If you missed it, watch it here: 
Why was Rick and Morty Season 1 so popular?
At New York Comic-Con 2013, the Rick and Morty panel was hidden away in a smaller room at the Javits Center. It was just a few months before the series would premiere and co-creators Justin Roiland and Dan Harmon were still looking for a way to sell their new animated project.
"It's centered around and old insane grandpa character who's infinitely capable of any kind of sci-fi trope or device and then him carrying his young, idiot grandson around on crazy adventures around the galaxy," Roiland said in an interview during NYCC 2013.
Rick and Morty evolved into so much more than that. 
A year later, the series was prominently featured on the main stage of NYCC 2014 during Adult Swim's panel block, complete with passionate fans dressed as Rick sprinkled throughout the audience. There was even a Mr. Meeseeks and Summer spotted, a testament to the rich, fantastical world Roiland and Harmon created. The series was a breakout hit for Adult Swim, earning nearly universal acclaim. As for the haters, you can almost hear Rick off in the background yelling his new catchphrase, "I don't give a fuuuuck!"
The packed Rick and Morty Comic-Con panel showed what a whirlwind year it's been for Roiland and Harmon (who also has another high profile project in Community to worry about). The duo is approaching rock star status in the animation world as they've grown a dedicated fan base. The panel also gave us plenty of nuggets about what to expect from Grandpa Rick, Morty, Summer, Beth and Jerry in season two.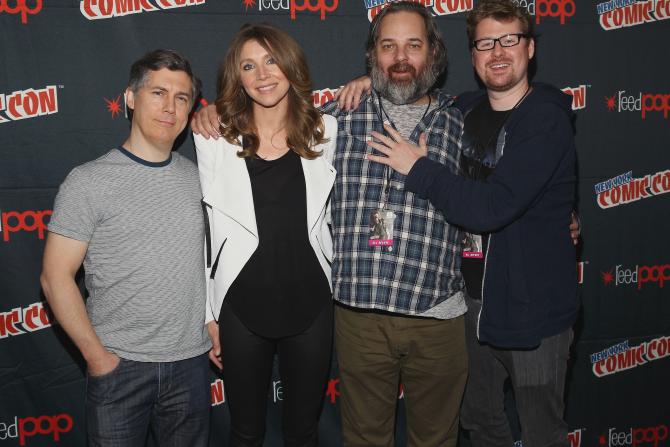 Season 2 Storylines:  
An interview with Dan Harmon is usually nothing short of fascinating. It would be a disservice for us to pull quotes from Harmon's "mega" interview with HitFix critic Alan Sepinwall. Head over there to read about the origins of Rick and Morty, balancing R&M and Community, and Rick's true feelings towards Morty. 
New York Comic-Con also gave us a pretty solid idea of where the series is heading. Sarah Chalke, the former Scrubs star and voice of Beth, revealed the central plot for one episode, which we detailed here. 
As for the teasing, a special Rick-sclusive clip was shown to the NYCC crowd. Rick is known for his either vulgar or cliché catchphrases, and in a mash up of season two clips, we see that they've kicked it up about six levels.
They may not have done a live ad-libbed scene like at last year's New York Comic-Con, but from the Rick and Morty SDCC 2015 panel came a fair share of important information. Like we now know that Rick is gay, pansexual and anti-vaccination. "Big time," on the last one, according to Dan Harmon.
In all seriousness, creators Harmon and Justin Roiland and producer Ryan Ridley did get into the creative process for season two, which is going to leave some familiar faces behind.
"There was a heavy impulse in season two to not call anything back from season one," Harmon told the crowd of close to 5,000. "Community became an inside-joke show."
Ridley, however, gave the fans exactly what they wanted. "We ironically brought the characters back that nobody asks if we're bringing back," he said. "Y'all remember Deerhead, right?"
Rick and Morty Season 2 Guest Stars: 
The notable season one guest stars included Dana Carvey, Alfred Molina, John Oliver and David Cross. 
Roiland confirmed that we'll hear the voices of Community alum Jim Rash, Stephen Colbert and Werner Herzog in season two. 
I really don't want to wait until the summer of 2015 for more Rick and Morty. What should I do?
Unless you have the means to create a multi-dimensional TV, you're shit out of luck. However, Adult Swim is doing the smart thing and attempting to capitalize and all the good press and great word of mouth by making every episode of the show available on their website for free. Season one is also on Blu-ray, with commentary and other goodies if you prefer to pay for your content. 
We also found out at NYCC that a Rick and Morty comic book is hitting shelves in 2015.
Finally, the best way to get your Rick and Morty fix is to read Den of Geek! Here's our coverage from season one:
We'll continue to update this page as we learn more about Rick and Morty season two so stick with us, biiiitches!  
*Images courtesy of Adult Swim.* 
Den of Geek deputy editor Chris Longo is tweeting about Two Brothers on a website called Twitter.