News
Remembering Bernard and the Genie
Rob remembers a BBC classic from Christmas past, as Lenny Henry, Alan Cumming and Rowan Atkinson unite for Bernard and the Genie...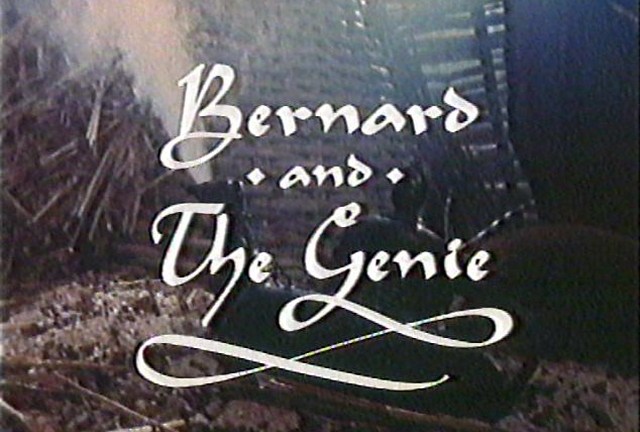 Sitting here at home putting up our Christmas tree with Roy Wood blaring out in the background and the tin of Quality Street open, it's nearly the time of year to dig through the old VHS collection and to find a Christmas special that deserves a little more recognition.
Bernard and the Genie was one of those Christmas specials that was on in the mid-1990s, and starred Lenny Henry, Alan Cumming (before he went to Hollywood and got all really famous) and Rowan Atkinson. Written by Richard Curtis the plot is a proper Christmas cheer with ups, downs and, erm, flying carpets.
Set in London, Alan Cumming plays Bernard Bottle, a junior buyer for a famous and very posh auction firm run by the evil (you can tell he is evil as he has a Goatee) Charles Pinkworth. He's played in full pantomime villain role by Rowan Atkinson and, well, life is going all rosy for him… he has a nice apartment, a loving girlfriend and has just made a huge commission from his most recent sale. However things are not as it seems, his girlfriend is having an affair and after a gesture of goodwill on Bernard's part, Atkinson has decided to sack him and take all the money he has made for the company for himself…
Left with no job, no missus and potentially having his flat repossessed, all that Bernard has to keep him company is the ever cheery, compulsive liar of a elevator operator Kipple who works in his building and a pile of antiques left to go through and sort.
Moping around his flat and sorting through all these antiques he stumbles upon an ancient lamp and after giving it the obligatory rub comes face to face with a genie. While not large, blue, fat and having the voice of Robin Williams this genie instead appears in the form of an over the top Lenny Henry whose mad shouting personality is perfect for the part. After the reasons why he was trapped in the lamp are explained, the genie – whose real name is Josephus – grants Bernard as many wishes as he wants (blimey, in my childhood you had a quota of three… how things change) and proceeds to make friends with Bernard, where of course hilarity ensues.
Instead of being sickly sweet story packed with over-sentimentality, which is a surprise from Curtis, the show is packed full of festive cheer while also having a very human side. Even though the entire plot is based in fantasy and the genie is a mythical creation, Henry's over exuberance slowly burns out and we get instead somebody who greatly misses his former life.
While the whole 'person stuck in another time' act is a well used avenue for comedy Henry pulls it off very well, whether he is sticking his head down a loo to wash his dreadlock to actually laughing at a Frank Carson joke, there are enough fish out of water scenarios to bring a chuckle or two.
Playing next to the Henry is Alan Cummings' Bernard, who is really the straight man to the entire thing. Pulled into the whirlwind of Josephus' lust to explore his new surroundings Cummings' character is unassuming, quite easily embarrassed and is not after gold, riches and power. Instead, he wants to have a happy life and to have somebody to love. And of course this is what he gets in the end, and while there are fireworks, magic and the usual nonsense that goes with this type of thing, there has to be a personal happy ever after and that's what you get. Bernard find love, Josephus is given a wish by Bernard to return home to his friends and family and even Kepple manages to get a bit of Christmas cheer by 'winning' the pool.. With a bit of genie help of course.
So with everyone getting what they want for Christmas what happens to the bad guy in any good pantomime? Well Atkinson's Pinkworth gets what he deserves too when the genie fixes it that the entire fortune that the Pinkworth auction house has made for him is given across to charity….serves him right
So with magic, fun and a script that will bring a smile to anyone's face watching, Bernard And The Genie, for me and my family, is as big a tradition at Christmas as turkey and too much Baileys. From Atkinson's great one liners such as the classic  'Bugger ye off Bottle' – delivered with enough venom and malice as to give Voldermort a run for his money – to the great 'real' wishes given out to kids by Bernard and Josephus at the department store, it's all fun stuff.
And while we have the movie on DVD its still nice to dig out the old VHS copy from 1991, watch the promos and adverts from Christmases of yesteryear and sit down for a hour stuffing toffee pennies into my mouth and smile like a big kid at this most festive of family movies.