News
Reinventing the Women of Sci-Fi TV
Polly Washburn wonders if the US networks will follow Battlestar Galactica's lead in developing strong female characters in sci-fi TV.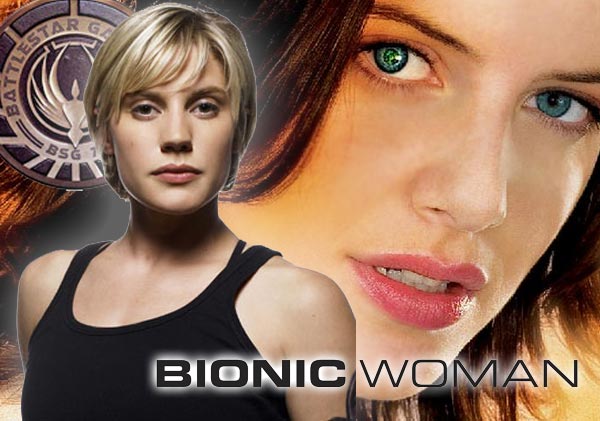 With Sunday's eagerly-anticipated broadcast of Battlestar Galactica: Razor in the US and Canada, it's an appropriate time to look at what the show offers that no other program on television quite matches: a solid collection of bad-ass female characters who are strong on many levels, and fascinating in their moral and emotional complexity.
The Razor special will apparently give us a new perspective on Admiral Helena Cain, the hard-core leader of Battlestar Pegasus. But what I'm most looking forward to is getting a Starbuck fix to hold me over to April when the fourth and final season begins.
Kara 'Starbuck' Thrace has many non-admirable character traits, but there is never any doubt as to her abilities as a leader and a fearless fighter (in the air and back on base). She makes few apologies for who she is and what she wants (including her inability to choose just one man). By the end of season three, she has risen to the level of a messianic figure – ready to lead her people to the promised land of Earth.
BSG's Laura Roslin too is seen as a religious leader by those who have faith in the holy book of the colonies. A school teacher and government worker thrust into a position well above her training, she has grown into a true, ambitious, morally ambiguous leader as President of the Colonies, and as a rebel leader during the occupation of the Cylons. She has made many morally ambiguous decisions over the last three seasons, and the fact that her reasoning is not always cut-and-dried makes her much more compelling than if we easily agreed with every choice she makes.
Meanwhile in the Cylon camp, three strong women dominate the activities, decisions and future of that race too: Number Three with her belief that she has a special mission from god, Number Eight (Sharon) whose love for a human created a scandal and the first mixed-race child; and of course, Number Six with her expert espionage that started this whole thing off with the destruction of most of the human race. All three are breaking out of the mold their Cylon origin originally cast for them.
So, in contrast, what do the mainstream networks offer as options for sci-fi heroines? Heroes had the opportunity to create powerful and exciting female characters, but has so far squandered it on Claire, a teen who can recover from fatal wounds, and multiple-personalitied Nikki/Jessica/Gina, who is ashamed and afraid of her powers. This year's introduction of three new female heroes this season has given us Monica, a young woman who can imitate actions she sees, and Maya, a woman who feels awful about her tendency to involuntarily kill people. The only (anti-) hero who seems like she might have some drive is Elle, who can channel electricity through her fingertips and isn't afraid to use it to get what she wants. Meanwhile, three older women on the show theoretically have kick-ass powers that have never been revealed on screen: Claire's biological mom, a fire-starter; the matriarchal Mrs. Petrelli, and Micah's paternal grandmother.
And then there's the Bionic Woman Jaime Sommers, also reborn three decades after her original birth. While the character has grown stronger and more interesting as this first season has progressed, she still has a ways to go, mostly because we haven't seen her dark side. Her nemesis/bionic predecessor Sarah Corvus has all the dark side for both of them, and steals all the scenes the two share, because her personality is much more mesmerizing.
So far, we haven't seen Jaime do anything 'bad' or selfish. She's a model citizen. She's raising her teenage sister and feels guilty about not spending enough time with her. Her new boyfriend is a straight-laced boy-faced CIA agent. Although she was originally reluctant to join the secret government agency Berkut Group, her biggest self-interested move so far has been to talk on the cell phone with her boyfriend when she's supposed to be watching bad guys. Sarah, in contrast, has a whack of mixed emotions and desires at her disposal: revenge, lust, ambition, and despair to name a few. If Jaime is going to develop as a relevant and absorbing heroine, we need to see her have and act on needs and desires of her own.
Ironically, the not-exactly-coincidental casting of Katee Sackhoff, the actress who plays Starbuck, as Sarah Corvus brought this theoretical cage fight between Jaime Sommers and Starbuck-as-Sarah to an on-screen reality during what was the highlight of the pilot of Bionic Woman. After a fun roof-top rain-drenched fight scene between the two, Sarah tells Jaime "You're going to have to do better than that."
And she will, and all other shows will, if they want to create female characters strong and intricate enough to match those who inhabit the world of Battlestar Galactica.
***
Polly Washburn is a writer based in Toronto, Canada. Her blog Strong Female Lead examines the role of women on television and in film.