News
Red Dwarf special: The Promised Land release date, trailer, poster, cast
A 90-minute Red Dwarf special is on its way next month. Here's all the news about The Promised Land…
Two years after series XII aired on Dave back in October 2017, confirmation arrived that Red Dwarf was coming back to TV, but not (yet) in the form of a full series XIII. Instead, the boys from the Dwarf were returning for a feature-length special.
Craig Charles, Chris Barrie, Danny John-Jules, Robert Llewellyn and Norman Lovett will all appear in 'The Promised Land', a 90-minute episode due to air on Thursday the 9th of April on Dave.
Regrettably, the London press screening and cast Q&A for 'The Promised Land' had to be cancelled due to the global spread of COVID-19, but here's all the latest about the new episode, including the first full trailer and the beautiful new poster.
Red Dwarf: The Geek Lowdown
How many series are there? 12 (including 'Back To Life') with a 90-minute special on the way
Renewed or cancelled? So far, only the extended special has been officially confirmed
Air date confirmed? Thursday April 9th 2020
Where to watch? Dave, UKTV Play
Created by: Rob Grant and Doug Naylor (I to VI), Doug Naylor (VII to XII)
What happened last time: here are our spoiler-filled series XII reviews
Red Dwarf: The Promised Land teaser trailer – brace for impact
Here's the first full trailer for the special, which sees Lister attempt to convince the evolved Cats trying to worship him as a god that he not only has feet of clay, but that you also wouldn't want him to take his shoes off anywhere near you.
And before that was this melancholy-feeling first teaser, which shows Starbug under attack from an enemy fleet while Lister urges solidarity against a common enemy…
Red Dwarf: The Promised Land poster – Star Wars, eat your heart out
What a beauty this is. Rimmer and Lister gazing heroically off into the horizon, the Cat and Kryten looking alarmed, Ray Fearon's tyrannical cat leader Rodon looking fiery and unhinged, and Holly just looking like… Holly.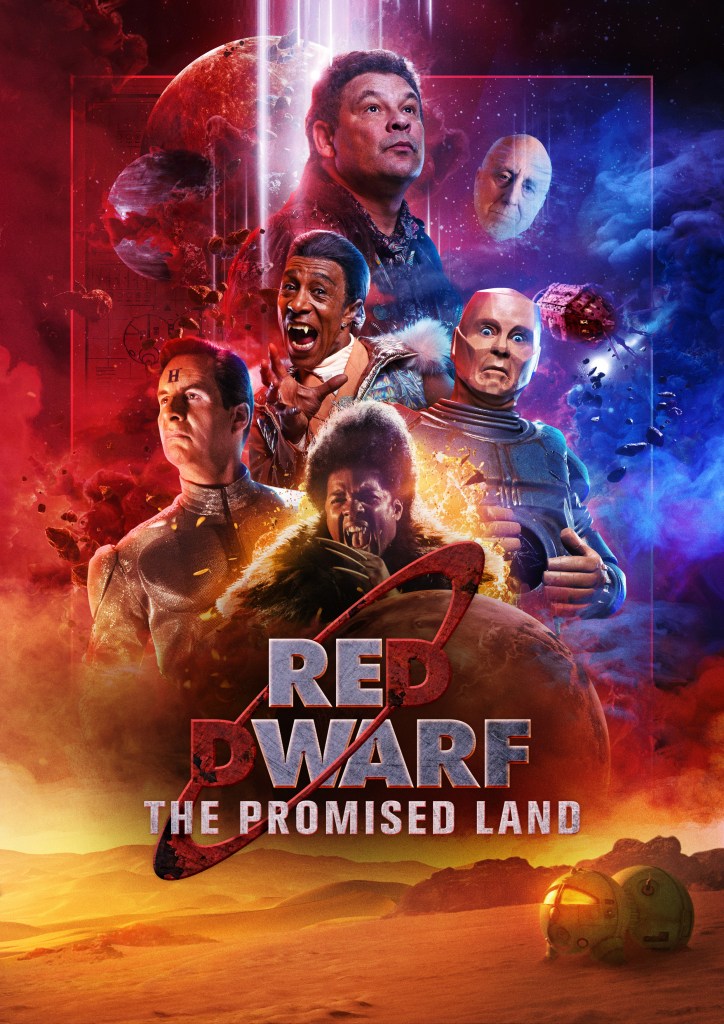 Red Dwarf: The Promised Land story – the cat(s) came back!
Here's the official synopsis from the channel Dave:
"Three million years ago… David Lister, a vending machine repairman, was sentenced to eighteen months in suspended animation for smuggling his pregnant cat aboard the mining ship Red Dwarf. While Lister remained in stasis, a radiation leak killed the rest of the crew. Safely sealed in the hold, the cats evolved into humanoid form. The cats now roam deep space in a fleet of their own…
The special will see the posse meet three cat clerics (Tom Bennett, Mandeep Dhillon, Lucy Pearman) who worship Lister as their God. Lister vows to help them as they're being hunted by Rodon, the ruthless feral cat leader (Ray Fearon) who has vowed to wipe out all cats who worship anyone but him."
Red Dwarf: The Promised Land creators and cast
Along with regular stars Chris Barrie, Craig Charles, Danny John-Jules, Robert Llewellyn and Norman Lovett, The Promised Land is set to welcome the following guest stars:
Mandeep Dhillon (After Life, The City and the City), brilliantly weird stand-up Lucy Pearman (The Mind of Herbert Clunkerdunk) and the always-funny Tom Bennett (Rocketman, PhoneShop) in the role of Cat Clerics, alongside Stath Lets Flats' Al Roberts, and Da Vinci's Demons' Ray Fearon as Rodon, tyrannical leader of the feral cats.
Doug Naylor has written and directed the episode, which was filmed in front of a live studio audience at Pinewood Studios in December 2019 and January 2020.
Here's what he had to say on the show's return:
"I'm absolutely thrilled to have the opportunity of making more Red Dwarf. UKTV has been a never-ending source of support and encouragement since we first started working together ten years ago. Can't wait to start shooting a format that I don't think has ever been done before. Smoke me a kipper, we're back and not just for breakfast."
Red Dwarf: three 60-minute retrospectives on their way to Dave
Along with the new feature-length Red Dwarf, Dave has also confirmed that it has commissioned three 60-minute retrospectives, which will "offer fans the definitive story of the show from day one – over thirty years ago – right up to the present day" and will include "rare and un-broadcast material, as well as new interviews with cast and crew."
We'll bring you air dates for those as soon as they're announced.
Red Dwarf: The Promised Land release date – an early Easter present
The feature-length special will air on Thursday 9th of April 2020 on Dave and UKTV Play, just ahead of the bank holiday Easter weekend.