News
ReBoot: The Guardian Code Trailer and Release Date
The reboot of ReBoot is the most perplexing take on an old franchise we've ever seen.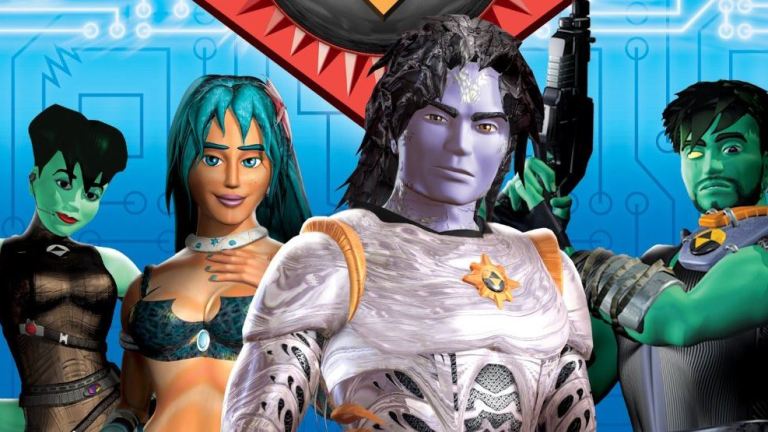 Do you all remember ReBoot? It was the first major completely CGI show back in the '90s. It followed the adventures of Guardian Bob, his friends Dot, Enzo, Phong, AndrAIa, and more attempting to stop the evil Megabyte. It took the limits of CGI at the time and made it integral to the show, setting the series inside a computer and making the "users", those who would input games into the system, the unseen gods.
While various attempts have been made to bring the franchise back, it looks like we'll finally be seeing a reboot of well… ReBoot.
ReBoot: The Guardian Code Trailer
Two new promos dropped featuring new footage of the Guardians in action.
We've even got a character specific promo for Austin/Vector.
We've also got the first full length trailer for ReBoot: The Guardian Codeas well.
It certainly… is a show! It barely resembles the classic ReBoot until Megabyte shows up and even then it's all surface level. It still resembles more of a Super Human Samurai style series than the actual ReBoot series.
ReBoot: The Guardian Code Release Date
The trailer revealed all the episodes will drop on March 30th, 2018.
Thanks to an interview in Roundhouse Radio, Michael Hefferon, president and chief creative officer at Rainmaker Entertainment revealed that characters from the original ReBoot cast would return in the new series with their original voice actors.
"There is a point where our new Guardians meet Bob and the original Reboot group. We have Bob back, Dot is back, Enzo is back, Hexadecimal is back." 
This includes Michael Benyaer who was the original voice behind Bob the Guardian in the first two seasons and season four. Thanks to a voice demo we've learned that Timothy E Brummond will be filling in as Megabyte, who was originally voiced by Tony Jay who passed away in 2006. In the voice demo Megabyte says, "Release it into a data stream. I… am Megabyte."
Rainmaker also plans to pay off the original series cliffhanger.
"We want to finish the hunt that was left off, put a resolution for the great fan base, that idea is still in the works," Hefferon says. "We certainly would be reaching out to the original creators of Reboot and people that were involved to come back as a reunion show to finish the original off. We would probably look to do a special video conclusion of it."
Speaking to Animation Magazine, Hefferon let slip a few other details about the series. He mentioned a new villain, the Sorcerer, and that the team would be attacked by a swarm of digital locusts in one episode. Thanks to ReBoot Revivial we've got an image of the Sorcerer and… I guess we should have expected a human villain.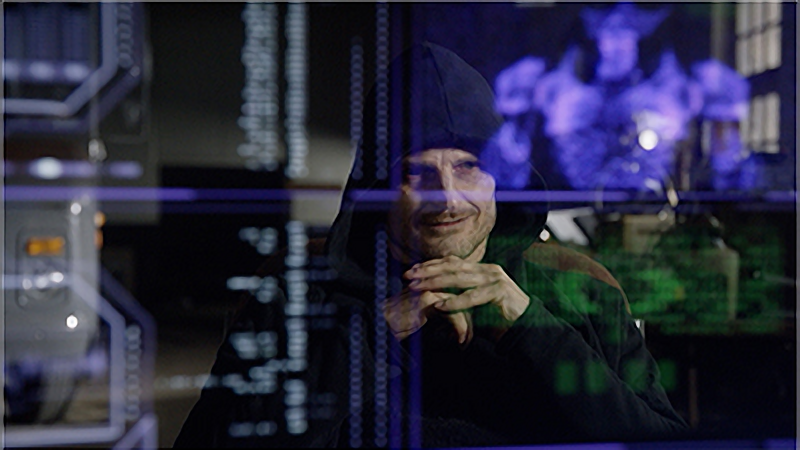 Any fan of ReBoot will of course see the image of Megabyte there. Will this be a new version of the old Megabyte? We'll have to wait and see. We've also got two images of our new Guardians, who we've also learned will be named Vector, Googz, Enigma, and D-Frag when they're in cyberspace.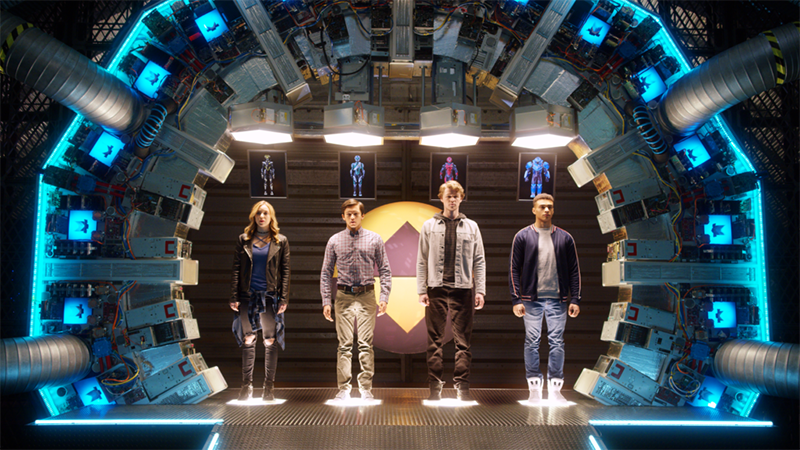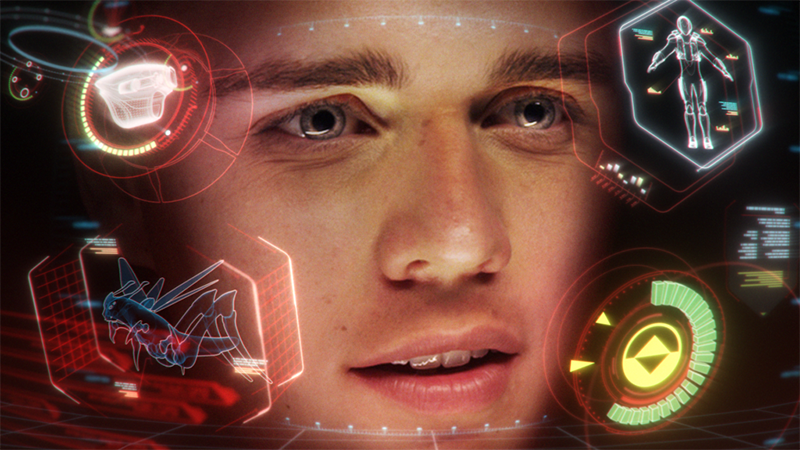 Well that second image REALLY looks like Iron Man. So if the kids are in some kind of super suit in cyberspace…. Wow this is REALLY turning into Super Human Samurai.
The series will be animated using Maya and the Unreal Engine. 
We've also got a picture from the new series which at least has the familar Guardian symbol.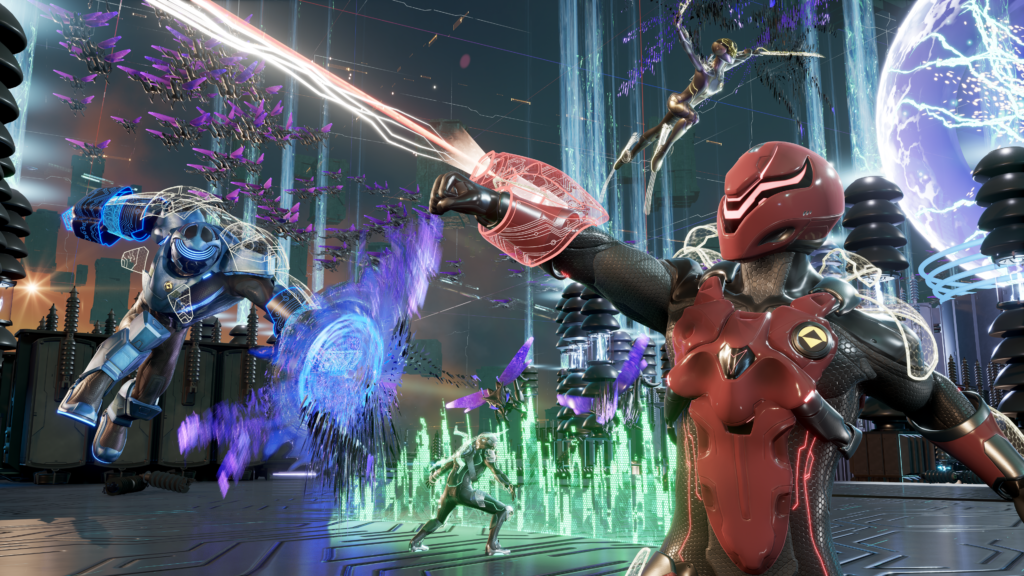 Other than that, there isn't much about this picture that screams ReBoot to us. We've also got a plot summary and cast list that gives us a few clues into what this new series could hold.
After playing the multiplayer Cyber Guardians video game together, four teenagers are recruited by V.E.R.A (Hannah Vandenbygaart, Bruno & Boots: Go Jump in the Pool!), the Virtual Evolutionary Recombinant Avatar, to fulfill their mandate to mend and defend cyberspace. Austin (Ty Wood, The Haunting in Connecticut), Tamra (Sydney Scotia, Some Assembly Required), Parker (Ajay Parikh-Friese, Mr. Young), and Trey (Gabriel Darku, Shadowhunters: The Mortal Instruments) now must protect cyberspace from threats that pose true consequences to both the virtual and real world. It's more than these kids expected when they started at Alan Turing High. Way more.
To go along with that, we've got a picture of the whole cast.
For more information on the characters, let's take a look at the casting notice that was released a year ago.
Role #1 – Austin

The Skater Dude (In an ideal world, we would love to find someone that is an avid skater). Austin is cool, smart and capable but somewhat aloof and detached. Always moving, never still, Austin is a natural athlete with terrific reflexes, interested in individual pursuits and extreme sports. He's not team oriented at all. Still dealing with his father's sudden death a year ago, Austin masks his grief behind his wisecracking, carefree persona and doesn't want to talk about it – at all. Ever. Austin is a natural leader, he just doesn't know it yet, and isn't ready to accept that kind of responsibility. His best friend is Parker. They've been like brothers since they were little kids. Austin teases Parker, but he always has his back and knows that Parker has his.

Talent specs:Gender: MaleEthnicity: CaucasianAge: 15 – 16Body Type: Athletic
….So hey guys, remember Bob? How he was basically killed but came back as Glitch Bob and sounded a lot like Cheetor from Beast Wars? Remember that time he rocked out with Megabyte? This Austin guy sounds nothing like that. Was his father murdered by Megabyte? I guess his extreme sports will come into play as they zip around the net?
Role #2 – Parker

The Techno-Geek. Innovative and daring, Parker is an avid gamer and prides himself on being an A+ student, excelling in math and science. He skipped a grade, has a bit of a superior attitude about being so smart, and he's sometimes impatient when others don't catch on quickly enough. When Parker likes something he is excitable and enthusiastic, but he can also be judgmental of things he doesn't like. Ultimately, Parker wants to fit in, be respected and appreciated, but he also likes being different. It's become part of his identity, a badge he wears proudly. He's often awkward, not fully understanding social cues. Parker looks up to Austin but he's not afraid to challenge him if he doesn't agree with his point of view.

Talent specs:Gender: MaleEthnicity: AnyAge: 14 – 15
There's a really easy Parker Lewis Can't Lose joke in here that I'm going to avoid. Remember Enzo? That whip smart little kid who so badly wanted to be like Bob but turned into a battle hardened soldier? The dude lost an eye and became bitter to the entire world around him. This Parker kid uh, seems like he'll be just as annoying as Enzo was in season one?
Role #3 – Tamra

The Social Media Maven. Tamra is an intense, opinionated, alt chick. But under her edgy, sarcastic exterior she is actually quite sensitive, open and empathetic. Her YouTube channel gives her a voice and a means to share her thoughts and feelings. She enjoys having an online following but isn't so thrilled when people recognize her in person. She's not after fame, she just wants to engage. Tamra is into music, video games, and has a purple belt in karate. She has a strong sense of right and wrong and doesn't trust people who are dishonest and manipulative.

Talent specs:Gender: FemaleEthnicity: AnyAge: 15 – 16Body Type: Athletic
Are we sure this wasn't a break down for the new season of Degrassi? It is made in Canada after all.
Role #4 – Grey

The Jock. Big, athletic and strong, Grey's a terrific football player, although deep down he doesn't care for it that much. But he always tries to please so he sticks with the sport at which he excels. A fitness nut, he's always exercising; push ups, sit ups, squats, lunges, whatever. He comes from a military family, and has a tough "drill sergeant" father. While he's highly competitive, he's also fair and supportive. The exception to that rule is when rules aren't followed. Then Grey can be harsh. He needs structure and likes things planned and by the book.

Talent specs:Gender: MaleEthnicity: AnyAge: 15 – 16
Does anyone else remember Super Human Samurai Syber Squad? Yeah, it was another 90's series about four kids who had crazy giant monster battles inside of a computer. One of them was a meathead football player named Tanker. Grey reminds me of Tanker. Not any of the ReBoot characters mind you, but at this point what did you expect?
Role #5 – Vera

Attractive. V.E.R.A. (Virtual Evolutionary Recombinant Avatar) was designed as an adaptive construct with one purpose; to train and mentor the Next Generation Guardians. Her programmer didn't want her getting distracted, so he programmed her to be focused and determined. But once she's 3-D bioprinted as a 15-year-old girl, some of her programming is altered, and she becomes more easily distracted. But Vera is a multitasking marvel, exploring all the fascinating aspects of this world and figuring out who she wants to be, while making sure the Guardians fulfill their mandate to protect and defend cyberspace. As an odd duck new human, Vera will provide a lot of comedic relief.

Talent specs:Gender: FemaleEthnicity: AsianAge: 15 – 16
So… ReBoot: The Guardian Code is going for the whole Code Lyoko thing, aren't they? In that series, the team also had a helper from within a computer. This series is paying homage to so many other classic series that featured characters inside computers. Except for one big one. What is it? Oh yeah, ReBoot.
The site also features full casting sides that include scenes from the show, and they read like a bad attempt at appealing to what kids are all about these days. There isn't a single reference to the old series outside of the term Guardians. It feels more like a teen drama with elements from Code Lyoko and Super Human Samurai.
In an interview conducted with The Verge in 2015, Hefferon spoke about fan reaction to the initial summary.
I know there's been some comments posted about "well the rules of ReBoot" and "that doesn't sound like ReBoot." But let it play out a little bit. I think people will find the core of the mythology, and how the world works, will be quite similar. It's just upgraded to work within the framework of today.

But I think you'll see how The User works, how the original cast fits in. You're going to have fun. Our new Guardians — which are going to represent kids of today — don't know what a dot matrix is. So there's going to be a great chance for new technology.
It seems odd to focus a ReBoot series on a group of Users, when the core mythology of the series had the Users as gods. A computer program could not understand humans. It's like if you or I attempted to understand God. So this show will have a lot of work to do in order reconcile those differences.
The sides also confirmed the series would consist of twenty half hour episodes. 
The original plot summary also might give us a few more ideas about where the series might be headed.
Transcending age groups with appeal to kids, tweens and teens, ReBoot: the Guardian Code is an adventure-comedy series about four teens (Austin, Parker, Grey and Tamra) who discover that they're next-gen Guardians with a mission to save the world, by defending it in cyberspace. The Internet revolutionized the world, but it also left it vulnerable to attack. With the help of VERA, the last surviving cyberbeing from the original Guardian Program, our heroes stream into cyberspace where they use their awesome code-based powers to battle viruses that have been unleashed by a ruthless hacker. Known only as the Sourcerer, he seeks to rule the world by controlling cyberspace. Original fans of the show will be happy to hear that Megabyte will be back and he's getting a major upgrade. ReBoot will showcase leading edge technologies and bring coding into the mainstream for kids.
More on this reboot of 
ReBoot
 as we hear it.
Shamus Kelley tried so hard to not title this article 'To ReBoot Or Not To Reboot ReBoot'. Follow him on Twitter!