News
Real Story With Maria Elena Salinas Bares a Killer Valentine
A cadaver dog smells something suspicious on The Real Story with María Elena Salinas: Killer Valentine.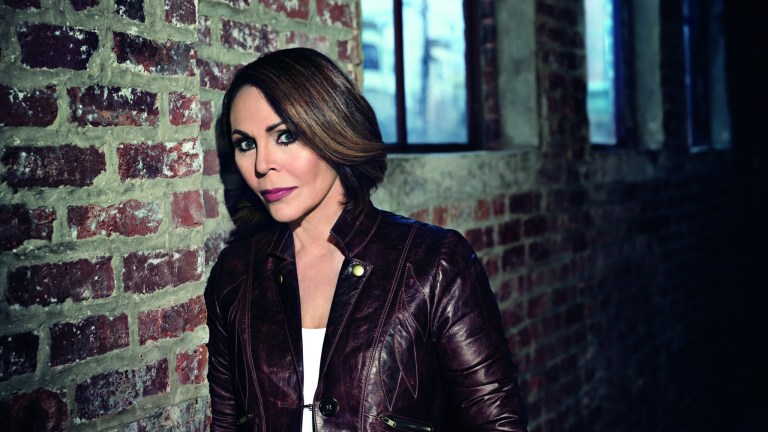 Pamela Butler disappeared in 2009, her remains recovered a while after. When her boyfriend, Jose Rodriguez-Cruz, was first arrested in April 2017, prosecutors didn't know his first wife had been missing for more than 25 years. Rodriguez-Cruz was previously arrested for assaulting Marta, who vanished after leaving her job at Saint Elizabeth's Hospital. The Real Story with María Elena Salinas exposes a two-timing murderer in Killer Valentine, which airs Monday, August 6 at 10/9c on ID
"Pam Butler is a successful woman living alone in the nation's capital when she vanishes over Valentine's Day weekend," reads the official synopsis. "Her panicked family calls the Metropolitan Police, but with no body, no blood, and no murder weapon, the crime scene leaves detectives stumped for years. Their only evidence is Pam's home surveillance system which mysteriously reveals Pam entering her home but never leaving.  But when shocking information from the past suddenly comes to light, can investigators solve what happened to Pam and bring her killer to justice?"
On the upcoming episode of The Real Story with María Elena Salinas: Killer Valentine, police double back to see if a bad breakup turned deadly. While no blood, tissue or weapons were found, a dog trained to sniff out cadavers smells something funny in a car. That's not enough for an arrest, though
You can watch the exclusive clip here:
The previous installment followed Judy Henderson, was convicted of murder in 1982 for her "relatively minor" role in the shooting death of Springfield jeweler Harry Klein, and sentenced to life in prison without the possibility of parole for 50 years. Her boyfriend, Greg Cruzen, who pulled the trigger, was acquitted. Henderson was prevented from testifying after Cruzen reportedly paid four witnesses to lie about her. Henderson's life sentence was commuted by the Missouri governor in December 2017. "A Love to Kill For," the upcoming episode of The Real Story with María Elena Salinas will mark the first time Henderson will share her side of the story. The episode airs Monday, August 6, at 10 p.m. on ID.
"A respected husband and businessman named Harry Klein is found riddled with bullets in a field outside Springfield, Missouri," reads the official synopsis. "With little evidence at the crime scene, detectives dive into Harry's private life, and discover the married man might have been involved in illicit affairs. Detectives therefore weren't surprised to learn that Harry was last seen with another woman named Judy Henderson. But the sweet, single mother has just fallen in love with a new boyfriend. Could Judy or her boyfriend have anything to do with Harry's murder?  Over 35 years later, Judy herself is ready to share her story. "
The series takes ongoing testimony from a a one-on-one interview Salinas conducted with Henderson. The arc opened with the convicted woman's claims on the series of events that led to Klein's murder. She give shocking details about her trial and the way she was treated by her own attorney.
You can watch the first clip here: 
Previously, The Real Story with María Elena Salinas released clips from the episode "Deadly Brotherhood," about the larger conspiracy behind the cover-up of a college hazing death.
National fraternity Pi Delta Psi was banned from operating in the state of Pennsylvania for 10 years and ordered to pay a $112,500 fine for the 2013 hazing death of a pledge at Baruch College in New York. The Asian-American fraternity was found guilty on a felony count of involuntary manslaughter and assault. Baruch College said the young man died participating in an unsanctioned fraternity pledging event at a school that had a "zero tolerance policy regarding hazing." The Real Story with María Elena Salinas: "Deadly Brotherhood" will take an in-depth look at the brutal hazing ritual death.
"What happened to Michael Deng was so wrong in so many ways," María Elena Salinas told Den of Geek. "It wasn't an accident. It was total disregard for the value of life – his life. When those who claim to support you turn their backs on you, there's a lot of soul searching to be done and a price to pay. I hope the outcome of this story will have a lasting impact on the way fraternities across the country conduct their crossing rituals and that those who go too far are held accountable."
In the episode, Salinas, who spent over three decades as co-anchor and correspondent of Noticiero Univision and co-host of Aquí y Ahora, sits down for exclusive interviews with the detectives behind the years-long investigation that ultimately exposed a "grand cover-up and the dark side of Greek life," according to Investigation Discovery, which airs the episode on Monday, July 9 at 10 p.m.
"When Michael Deng, an 18-year-old college freshman from New York City, arrives at a hospital in the Poconos Mountains with a traumatic brain injury, detectives are called to investigate a tragic accident," reads the official synopsis. "But, when they arrive at the house where the incident occurred, 22 young men emerge from the basement. As the day wears on, Michael's condition worsens and the men at the house are tell the detectives partial truths and straight out lies. Will investigators ever uncover a tight web of secrecy to get to the bottom of what exactly happened to Michael?"
In this exclusive clip, Salinas' team shows how text messages established a timeline that let them get to the bottom of a larger conspiracy.
The show also conducted new interviews with those close to Michael Deng. The episode will feature real audio recordings from the detective's initial interviews with Deng's fraternity brothers. They will also show surveillance footage.
The Real Story with María Elena Salinas: "A Love to Kill For" airs Monday, July 23, at 10 p.m. on ID.
Culture Editor Tony Sokol cut his teeth on the wire services and also wrote and produced New York City's Vampyr Theatre and the rock opera AssassiNation: We Killed JFK. Read more of his work here or find him on Twitter @tsokol.
Read the Den of Geek SDCC 2018 Special Edition Magazine Here!