News
Rare NES game sells for over $35,000 on eBay
A sealed copy of NES exercise game Stadium Events has sold on eBay for an eye-watering - and potentially record-breaking - $35,100...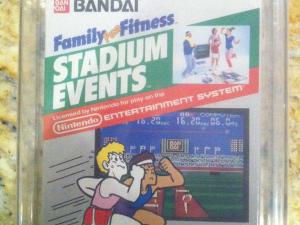 Behind every collectible game, there's usually some kind of interesting story. Tetris on the Mega Drive is so scarce because of a legal wrangling between Sega and Nintendo which Sega promptly lost, forcing it to withdraw copies of the game from sale. As a result, the few remaining Mega Drive Tetris cartridges are among the most rare and sought after on the system.
A similar thing happened to an otherwise forgettable title called Stadium Events. Released by Bandai for the Nintendo Entertainment System in 1987, the game was compatible with the company's own Family Fun Fitness peripheral – essentially a floor mat with pressure-sensitive buttons sewn inside it.
Stadium Events was therefore the 8-bit forerunner to Wii Fit, and Nintendo clearly saw some potential in Bandai's products. Nintendo made a deal with Bandai to release the Family Fun Fitness peripheral as a first-party device in the US, which meant that, as part of that deal, Bandai had to withdraw all copies of both the gizmo and its compatible games.
As a result, copies of Stadium Events are now extremely rare, and sealed copies have been known to change hands for five-figure sums on eBay.
Over the past few days, a factory sealed copy went up on the auction site and attracted plenty of attention from collectors – not all of them scrupulous, it seems. At one point, the bidding soared to a startling $99,000, before settling back down again to a still dizzying $32,252, which implies that the previous bid was either a mistake or fraudulent.
On January 15th, bidding ended at $35,100. 
According to an interview on GameSpot, the US seller is a former Nintendo employee, who kept the sealed game in a box for several years before digging it out after he left the company in 2012.
It's not currently known how many factory sealed copies of Stadium Events remain in existence, but given that only around 2,000 copies of the game were produced in the first place, the number's likely to be tiny – it's estimated that only a handful may still exist.
In 2011, a sealed copy of Stadium Events sold for $22,800 – previously the highest confirmed price for the game in an auction. A year earlier, the story of a copy of the game selling for $41,300 hit the headlines, before it emerged that the winning bidder had never bothered to pay for the item.
Assuming the copy of Stadium Events has legitimately sold, this makes its final bid of $32k a new record.