News
Psych Returns to USA with Two-Hour Holiday Movie
Fake psychic detective agency didn't see it coming, but USA Network will bring us a Psych movie for the holidays.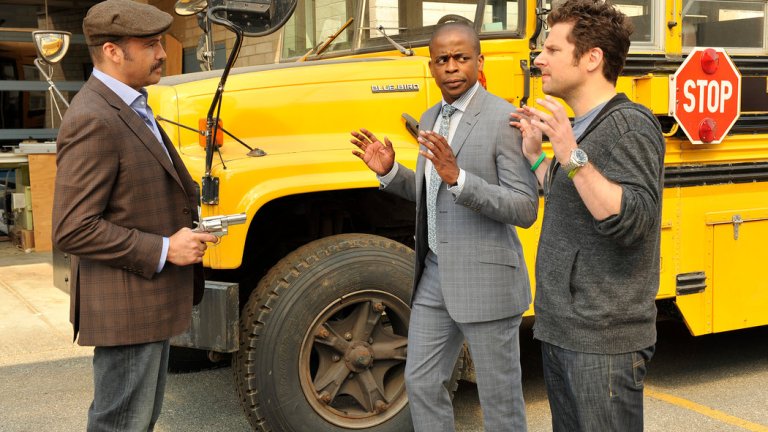 Psych-Ohs rejoice!Psych is about a fake detective with real psychic talent, and the USA Network thinks that's a gift that will keep giving, for a least two hours. The network and Universal Cable Productions announced that they will premiere Psych: The Movie in December 2017. Psych ended its run three years ago after season 8 finished in spring of 2014. The network's spirit guides think a season's worth of cryptic comedic clues can fit into 120 minutes.
Psych stars James Roday as fake psychic detective Shawn Spencer, and Dulé Hill as his best friend, Burton "Gus" Guster. Psych: The Movie special will be directed by the show's creator Steve Franks, who co-wrote it with Roday.
"Psych is a beloved part of our USA family, and what better time to reunite with family than the holidays," Chris McCumber, Entertainment Networks for NBCUniversal Cable Entertainment, said in a statement.
"Steve and James have taken the unique brand of comedy that the series honed over eight seasons and packed it in to a two-hour movie that successfully rekindles one of the greatest bro-mances in television history."
Psych: The Movie picks up three years after the series finale, and brings back Lassiter (Timothy Omundson), Juliet (Maggie Lawson), Henry (Corbin Bernsen) and Chief Vick (Kirsten Nelson).
"The ambitious friends, along with some returning fan-favorite characters, come together during the holidays after a mystery assailant targets one of their own," reads the official press statement. "A comedic thrill ride follows, as the wild and unpredictable PSYCH team pursues the bad guys, justice …and food!"
Psych ran 121 episodes over eight season. The show "packed up its pineapples and said farewell in March 2014," according to the press statement. During its final season, Psych was cable's top original series in its timeslot among multiple demographics. The show averaged more than 3 million viewers.
"Psych has an absolutely phenomenal and constantly refreshing fan base. We couldn't be more thrilled to gift our Psych-os this holiday season with Psych: The Movie," said Jeff Wachtel, Chief Content Officer, NBCUniversal Cable Entertainment, and President, Universal Cable Productions. "Steve, James, Dulé and the rest of the gang are all returning for a delightful holiday movie that will not – nay, dare not – disappoint!" 
Psych: The Movie is executive produced by Franks, Roday and Hill, along with Chris Henze and Kelly Kulchak via Tagline Pictures.
Psych: The Movie goes into production on May 24.
Read and download the full Den of Geek SDCC Special Edition magazine here!