News
Project Blue Book Season 2: The Cast Reveals What Lies Ahead
The inspiration for the General Harding character, Roswell, and Area 51 were topics discussed at the SDCC Project Blue Book Panel.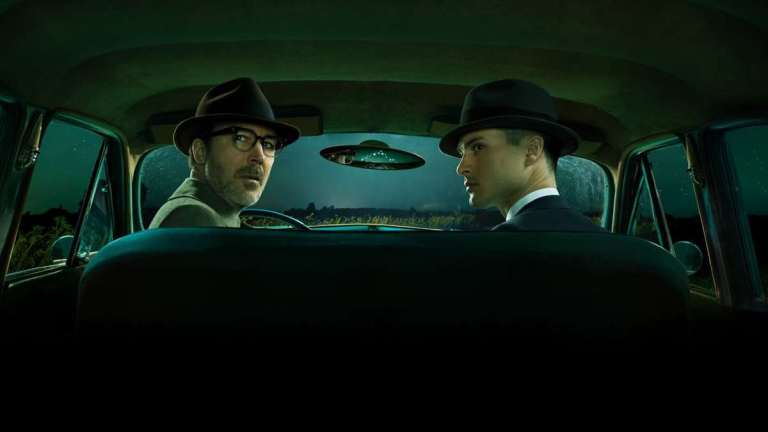 At San Diego Comic-Con 2019, Project Blue Book held a panel to tease information about the second season of the series. The panel included Aidan Gillen (Dr. J. Allen Hyenk), Michael Malarkey (Captain Quinn), Laura Mennell (Mimi Hynek), Neal McDonough (General James Harding, David O'Leary (Creator/Executive Producer/Writer) and Sean Jablonski (Showrunner/Executive Producer/Writer).
Starting off the discussion were O'Leary and Jablonski who say they are looking to have more fun in the second season. This comment likely translates to exploring more fictional storylines. The duo explained they do try to make the show fact and science-based, but feels it also has to be fun.
Some UFO enthusiasts have been frustrated at how much fiction the show added to the real-life story of Dr. J. Allen Hyenk. Hynek was a consultant for the U.S, Air Force in the 1950s and '60s when the U.S. Air Force conducted UFO investigations. Dr. Hynek never ran across Russians or conspiracies, as the show portrays, at least as far as we know.
"We read the books and do the research," O'Leary told the crowd. However, he says it is also vital to create a compelling drama. He feels the show allows them the opportunity to entertain and educate at the same time.
further reading: Project Blue Book Actor Michael Malarkey Caught the UFO "Bug"
The conversation then moved to Mimi and Dr. Hynek's relationship. Moderator Damian Holbrook asked if Hynek was going to spend some more time at home this season, because while he was away, a lot was going on at home. Among other adventures, Hynek's wife Mimi faced a stalker, a missing neighbor, and was seduced by a new girlfriend. The show is set during the cold war, and perhaps most of us worried about Russians in those days had little to worry about. Mimi is not so lucky. Little does she realize that the Russians killed her neighbor and that her new friend, the seductress, is a Russian spy.
Mennell assured the audience Mimi and her husband will become closer in the second season. This year she has a new ark in which she works with her husband searching for answers and seeks help from a civilian UFO research organization. Mennell also hinted at Mimi having a moral dilemma related to shocking information she uncovers during her investigation.
Actor Neal McDonough also shared revelations regarding his character, General James Harding. He says Harding is based on General Nathan Twining who he says is one of the guys who started the UFO coverup. McDonough says he believes Twining, like Harding, are trying to be patriots.
Twining is famous in UFO circles for a letter he wrote on September 23rd, 1947. It is often referred to as the "Twining Letter" or "Twining Memo." The subject of the letter is the "AMC [Air Material Command] Opinion Concerning 'Flying Discs." The letter states that "the phenomenon reported is something real and not visionary or fictitious." It goes on to explain most of the objects are reported to be large "man-made aircraft" that demonstrate characteristics such as "extreme rates of climb, maneuverability (particularly in roll), and action which must be considered evasive when sighted." The letter suggests these characteristics have led to the belief in "the possibility that some of the objects are controlled either manually, automatically or remotely."
The objects could be part of a "high-security project" being conducted by the U.S., according to the letter. However, it also includes reasons to doubt this is the case. It also suggests the possibility that a foreign nation could have developed "a form of propulsion possibly nuclear, which is outside of our domestic knowledge." However, the lack of physical evidence, such as a crashed craft, has made it impossible to determine their origins.
In the conclusion of the letter, Twining recommends a "detailed study of this matter." Until then, he says the AMC will continue to investigate on their own. This conclusion likely influenced the decision to follow Twining's advise. In late 1947, the U.S. Air Force created Project Sign, their first official UFO investigation. Later it would become Project Grudge, and finally in 1952, Project Blue Book. It would remain Project Blue Book until 1969 when the U.S. Air Force determined researching UFOs was not worth the hassle.
McDonough added that another inspiration for Harding is his father. McDonough says when he plays Harding, he is playing his dad.
A member of the audience asked McDonough if Harding is beginning to have doubts about Quinn. He replied that he does not think Harding doubts Quinn. McDonough said Harding sees Quinn as a good patriot and a younger version of himself,  but he says Hynek is the problem that Harding needs to take care of. We will see more tension between these two characters. McDonough says they recently filmed a scene in which Hynek and Harding go nose to nose, and it is some "awesome" drama.
As for Hynek, Gillen says Hynek is resolved to do his job and as a civilian, doesn't have to take orders from Harding.
A couple of other pieces of info were dropped along the way. O'Leary says mystery around the antarctic will be covered in some way, and the Man in Black will return. The production crew refers to the MiB as "The Unseen," although the name "The Fixer" has been attached to the MiB by the public.
Season 2 has a lot of territory to cover, and after all the wild areas season 1 went, who knows where the second season may end up.
According to History, production for the second season is underway in Canada. The crew says they were even able to find desert landscapes in Canada for Roswell and Area 51 scenes. Season 2 is set to air this winter. 
Read and download the Den of Geek SDCC 2019 Special Edition Magazine right here!